The Bow of Seven Swans
The ultimate tool of The Hunter; a bow that comes with seven different types of arrows.
Appearance
A longbow fashioned from a beautiful dark wood, almost ebony. It has seven swans carved down the bow with their beaks pointing forward and their wings outstretched behind them towards the archer. One of the swan's wings appear to be made of real feathers, however, rather than wood.
Benefit
One of the seven wondrous items gifted to the Kings of Adelheim, its power increases as each of the other items is pledged to the same cause. In the Kings' case, that cause was to "protect the kingdom and its people." For each item so pledged, one of the swans will sprout real feathers where its wings are carved, 3 on each side. Pulling on one of those feathers will draw a magical arrow, ready to be nocked and loosed. Each swan's arrows have a different color and a different effect. Some wound the target as normal, while others stun, slow or cause pain. Others cause the target to fall into a deep slumber or allow easy (almost telepathic) tracking of a target struck. The last swan can even cause instant death. Additionally, the placement of the arrows makes drawing and shooting two at once possible, though it requires much practice.
Drawback
If the bearer of this bow ever betrays the cause to which he has pledged himself, the consequences are severe. All of the swans (save the one that wounds) will turn back into normal wood, and the bearers of the other items will be instantly notified that someone has left the cause. Also, bad luck will begin to plague the bearer. He will miss shots, or hit targets that he didn't intend to. Until the bow is passed on to another bearer or the original owner manages to redeem himself, the effects will continue.
Lore
Chosen by Darren, The Hunter. Darren had a great love of the outdoors and made it his life's work to know every inch of his kingdom as well as the back of his own hand. There was no creature within its borders who could outmatch him for speed and cunning, or escape his magic arrows. During his reign, he slew many threats to the kingdom -- from vicious wolves that attacked the winter flocks, to unnatural horrors, unleashed by the kingdom's enemies. After Darren's death, this bow passed to his favorite son, who had accompanied Darren on many of his patrols since boyhood.
Twist
The arrows will never run out, but the more powerful ones may require some time to regenerate (up to the GM's discretion).
Quest - Magic Items Description
In association with Johnn Four, and all the fine folks subscribed to his Roleplaying Tips Weekly mailing list, we bring you our second collaborative Quest!
Here's the required stat block template to use for your entries:
* Awesome Name
* Appearance
* Benefit
* Drawback
* Lore
* Twist

For an awesome description and guide to these stat blocks, check out Johnn's post describing it.
There will be three sets of *random* prize draws: Nov 7, Nov 21 and Dec 5 -- XP awards per normal as well!)
All entries submitted before each date will be eligible for each random draw. So enter early and often.
Thanks to Gator Games for their prize sponsorship!
?
Hall of Honour (1
voters
/ 1
votes
)
?
Dossta's Awards and Badges
Not Registered Yet? No problem.
Do you want Strolenati super powers? Registering. That's how you get super powers! These are just a couple powers you receive with more to come as you participate.
Upvote and give XP to encourage useful comments.
Work on submissions in private or flag them for assistance.
Earn XP and gain levels that give you more site abilities (super powers).
You should register. All your friends are doing it!
?

Responses (3)

A nice item on its own, but I especially like how the various subs are being tied together. I look forward to more.

Cool magic item...a mother of one and in my games it would be an artifact. I like the different use of it and that it produces it's own projectiles and being somewhat sentient. Cool Item:)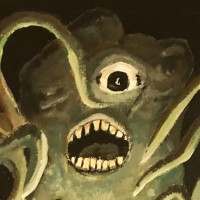 I think detailing the various arrow effects would have been a good addition to this item. It is good as it stands.
" Castoria was once a thriving and prosperous nation, a rich trade center for the surrounding lands. This all changed when, on one fateful night nearly a century ago, the Mist of Eternity rolled in and surrounded the land, obscuring more of the outside world as days and nights passed. By the time the Mist blocked out the sun, a new light shone during what was assumed to be daytime: The Starpoint Spire, a mysterious place atop Castoria's highest peak in the northern-central region. Some say that there is some sort of building atop the mountain shining the dim 'sunlight' onto the land, but it is only ever too bright or too dark to fully make out any structure, not to mention the mountain's immense height. Not a month after the Spire's light lit up, the stars fell. Flaming rocks and debris from far-flung edges of space plummeted downward onto the eastern region of Castoria. Once the shower subsided, a strange energy from within the fallen stars transformed the eastern lands in what are now known as The Voidwastes, a barren gray land littered with craters and strange alien creatures (these can vary, but I had Pathfinder's Akatas in mind). To the south, strange mechanism of eldritch origin are again at work after aeons of rest in the Ruins of Kchuthngnl, an ancient city of non-human creation that is estimated by scholars to be no less that five millennia old. To the west, the once peaceful and serene forest, now known as The Plagued Woods, has been experiencing corruptions of the wildlife and humanoids living there. Some humans have reported creatures that appear not unlike a halfling, except that they can open their mouths to massive proportions to swallow creatures the size of an ogre. When adventurers and citizens alike try to make an escape from Castoria, they are never seen again, and it is utterly unknown whether they found hopeful sanctuary or agonizing death withing the Mist's depths. What is unknown to all residents of Castoria is that all of these events occurred because of the actions of a secret but powerful cult loyal to the Elder Gods who call the space between the planes their abhorrent home. The cult still lives on, larger than ever, and their plan is for the alien horrors to incubate and thrive within the dome of mist that now envelops Castoria, so that when the Elder Gods return as the cult's prophecy foretells, they will have an army of blasphemous creation at their disposal that they will use to make war with and enslave the denizens of the Material Plane."
" A land where virgins are immune to magic (although they cannot cast it.)"
" It looks like a cook's book. It is a cook's book. It is also where the cook, who happened to be a master spy, encoded all his secrets and contacts. The book has innocently fallen into your group's hands. Everyone wants it, and many are not subtle or peaceful in their attempts."