Announcements
Legacy Quest
Legacy Quest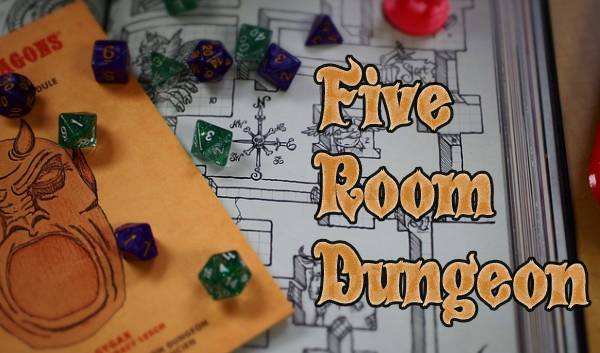 In association with Johnn Four, and all the fine folks subscribed to his Roleplaying Tips Weekly mailing list at, we bring you our first collaborative Quest.
Room One: Entrance and Guardian - There needs to be a reason why your dungeon hasn't been plundered or why your adventurers are the ones for the job.
Room Two: Puzzle or Roleplaying Challenge - A trial that cannot be solved by steel alone.
Room Three: Trick or Setback - Build tension through tricks and setbacks and give them a double-dose of gameplay such as more combat or another roleplaying challenge.
Room Four: Climax, Big Battle or Conflict - The final combat or conflict of the dungeon.
Room Five: Reward, Revelation, Plot Twist - The dungeon is complete but what is it about this dungeon that made it different or memorable. What kind of mystery have they discovered, what kind of reward have they won, and what kind of information have they recovered?
Read Johnn's Full Article: 5 Room Dungeons for more tips and thoughts on how to write one, an example is the Library of the Ancients.
Submissions to the quest will each earn an extra 15XP can be inputted on the site as normal or can be emailed to Johnn at roleplayingtips.com.
Prizes for this quest include a D&D Icons Gargantuan Black dragon from Legend Games, MyInfo Personal Reference Software licenses from Milenix Software, DCC #46 Book of Treasure Maps – DCC #$7 Tears of the Genie - #50 Vault of the Iron Overlord from Goodman Games, and 1 on 1 Adventures #5 Vale of the Sepulcher - #6 Shroud of Olindor - #7 Eyes of the Dragon - #8 Blood Brothers - Advanced Adventures #3 Curse of the Witch Head from Expeditious Retreat Press. Winners for these prizes will be chose randomly so every submission has an equal chance of winning. Also, all the quest submissions will be combined and edited with what the folks at Roleplaying Tips come up with and they all will be offered back to the community.
------------ Strolen's Citadel Quest, Five Room Dungeon was an awesome collaborative success. The total amount of quest submissions between Johnn's Roleplaying Tips and the Citadel was a whopping 87 Five Room Dungeons! The winners of this set were chosen randomly so congratulations to all. But here are those that won a gift from the sponsors: Gillian Wiseman Tyler Turner Nik Palmer Daniel Burrage Uri Lifshitz Clayton Blanchard Jean-Christophe Pelletier Jason Kemp Pirate Queen Wulfhere Valadaar Thewizard63. Congratulations to Everybody!!!
Site Stats
Random Tags
" 'Binding the Life Coil' is an ancient quasi-mystical technique rediscovered to prolong one's life at the expense of one reproductive ability. It is a simple magikal technique that anyone can learn (a skill or feat). The promise of near immortality or a lifespan of a thousand years or more makes everyone want to learn it. This technique has a price though, the amount of immortality is in direct response to the strength of ones reproductive spirit. Those that have never breed will live longer than those that have. The use of the technique makes conception difficult, if not impossible. So you trade the future of your society for the chance for you to see much of that future."
" Elven prison sentences even for small offenses seem very long to humans, but this is not because their rulers are draconian, but because elves live so long that a six year sentence, for example, is like a six week one in human terms.Humans in Elven countries are well advised to behave themselves"
" A young girl with a dirty face and tattered dress stands near the town market offering to sell the PCs freshly cut flowers. They are only a single copper a piece, and smell nice. Perhaps the PCs will be generous with their wealth, or they will not. Great for paranoid parties."