Company Steamsword
The adventurer picked up the hilt, wondered where the blade was, and turned the handle with the hilt pointing towards his face. His screams of pain as the blade of steam cooked his face could be heard a long way away. He had just learned the hard way not to mishandle a Company Steamsword.
Full Item Description
The Company Steamsword, when not *turned on* appears to be a well-padded sword hilt with a symbol of the De Madden Company on the pommel and a large hole where the blade should be. When twisted, however, there is a loud hissing sound and a foot long jet of steam shoots out of the hilt, one hot enough to at once cook any flesh that touches it.
History
This is one of the weapons that was designed by the scientists of the De Madden Company, to equip their divers with during the war against the Kraken States. The traditional cutlass was greatly slowed down by water resistance, whilst the short diving knife was not much good against the long, sucker lined tentacles of the Krakens.
This could cook any naked flesh that touched it. Whilst most useful against the naked Krakens, it could also scald through normal clothing and chainmail armour and could wound even those wearing plate armour, though it had a lesser effect. As such the Krakens could no longer find Company divers to be a good meal, as they risked having their tentacles cooked if they reached out to ensnare them.
Magic/Cursed Properties
The blade is composed of steam heated to 500 degrees Centigrade, created when a chemical created with thaumatechnology mixes with ordinary water, and works juast as well in water as on land.
No solid blade can parry it, on the minus side it cannot parry blows either, or cut through solid non-living objects such as prison bars. It also lasts only a short time, for only six minites, so a secondary weapon is advisable in a long fight. If the user is careful, he or she can use it to cook their food.
Lastly, the hissing when turned on means that it will attract any foes within earshot, so it is not best used as a weapon of stealth.
Quest - Steampunk Description
Steampunk!
Any sort of steampunk at all from thaumatech to simple old-fashioned steamtech.
Wind up your imaginations and start the kettle boiling!
15XP for each submission with 100XP for 1st and 50XP for second.
?
Cheka Man's Awards and Badges
Not Registered Yet? No problem.
Do you want Strolenati super powers? Registering. That's how you get super powers! These are just a couple powers you receive with more to come as you participate.
Upvote and give XP to encourage useful comments.
Work on submissions in private or flag them for assistance.
Earn XP and gain levels that give you more site abilities (super powers).
You should register. All your friends are doing it!
?

Responses (4)

This is good for any steampunk setting, I think. I like the imagery. It´s bulky, it´s unlikely, it´s overly complicated. Very steampunky. /D

It's... A steamgun. With a sword hilt.
I am rather confused here, I must admit...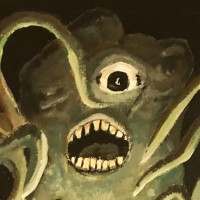 Or Steamsaber :)
Simple and effective - it has a nice visual.

An interesting close quarter weapon, although I would worry about its effectiveness in strong winds and risk to the wielder.
" I once read a book about a group of people who discovered a hidden temple city in a mountain range, where the Incas-the ancient civilisation of Peru- had fled to when the spanish invaded. When this group found the burial chamber of one of the inca high priests, they unleashed a powerful curse upon them all..."
" Now, this ol' ramblin fellow tends to walk his talk a bit too far down the train sometimes.. So I'll be brief in my recantin' of how it was my Tavern 'came to bein'' on the multiverse as a weave of it's own spell.. And how I'm even alive to tell the story! You see it's simple really, trust me.. that's my specialty, keepin it elementary. And you can trust this old Bard. Anyway, this one night these wizards get a ramblin' on about the temporal exististance of space and time and how it could be manifested in a weave of super dimensional space. whereupon the folded space would give rise to an infinite number of entrances and exits to one or many spaces. Now, seein' how my talkin' sometimes get's locked into the way us folks used to talk back in the ol' west. These wizards didn't know I was a master of the word. and I had heard everything they said. They were also a bit over the wagon, while I was steerin' the show. So that's how it came to pass, I struck a bargain with the wizards. They come to me in the morning and conjure up their idea into reality and I'd pledge them my life, my existance.. in essence my soul. but in a much nicer sense of the word. So they came by in the morning a half remembering our talks the prior evenin'. And I recanted their words verbatum, and that's how it came to be. The spell was complete that afternoon. My tavern would be the super dimensional cube that would exist in this weave of space and time, folks could come and go as they please, knowin in mind some of the rules and limitations set forth. A few of 'em as follows. No feller can be causin a ruckus inside any of my fine establishments, as always rule number one god damnit. n' second the portal works kinda tricky. When ya outside ya cast the spell and lend your will to luck a bit and regardless the doors to the bar will appear, the windows a luminescent amber.. you can hear the chattee but ya can't see in. And the catch is the door might be locked, in which case you chalk it up to lady luck and go walk off and try again in an hour. Now most times the door pops right open and from the outside you always come in the front door, immediately greeted by myself or one of our many fine patrons of Hooper McFin's Ale & Steakhouse. Now when ya cast the spell from inside the Tavern, another catch comes up. The back door is mainly a secret for the non-initiated staff and the regulars but for sake of the prose let's assume we all know there's a secret door in the back with a portal there. Now when you go on through this one, you got two scenario's you oughta be aware of. One is ya pop outside relative to the same spot you came out. The other is, you walk back on into this one or another of our many Hooper McFin's Ale & Steakhouse. so it's a clever quantum railroad I got my tavern and my people's caught on. But, Hey the show's sure as always goin. ohhh' rutin tootin skidoodle - ** And that's it.. that's the only notes I found on the spell, apparently out there somewhere is a Tavern caught on the mighty ebb and flow of the multiverse. Well. at least I can put to rest my torment as to the condition now referred to as 'Hooper McFin's Teleportation Paranoia'. Dr. Clarke T. Mulligan - Professional researcher of Time & Space. Hooper McFin's Ale & Steakhouse"
" <b>THE COVEN</b> When the characters approach a clearing in the forest, they will see 4 ogres who are guarding, and preventing from escape, 4 human males, and 3 human females. The ogres will see the party and leap to attack. The females will scream 'OUR SAVIORS!!' and run screaming straight across the currently forming battlefield, in between ogres and party members, to hide behind the rearmost party members. They will be safe there. The males will try to skirt the battle to the north side to join the women. To the south, giants will be hiding in the thick underbrush until the party has engaged the ogres and then attack the most opportune target EXCEPT the ones that the females are next to. It should be noted that the female commoners are not female commoners at all, nor are the male commoners actually male commoners. The female commoners are the hags, who have polymorphed themselves as the commoners in their stewpot to escape detection. The males skirting the battle are actually MORE ogres, the hags were in the process of polymorphing ALL the ogres into regular humans for ambush purposes. The REAL commoners are already dead, having found their way into the coven's cauldron for dinner. The hags (the women) will position themselves near to any spellcasters in the rear first, and then near anyone else in the back of the fight. The ogres (the men) will wait until the hags shift form, and then attack first the rear folks, then shift into the melee. It is possible that the characters, as they approach the ogres, will notice the giants in the bush, and be able to warn the others of the ambush. <i>GAME NOTES</i>: If you sell the screaming women correctly, they will not even be suspected until it is too late. Therein lay the problem. This encounter is ESPECIALLY deadly to the rear eschelon of the party. It is entirely possible that the hags will finish off half the party before they even realize they have been duped. Caution is required if the game master wishes to avoid a TPK(total party kill)."