Patrisha Swan
A ambitious cook who uses steam technology and a love for all things edible to make the world a tastier place.
Appearance
A short, almost gnomish sized woman of subtle beauty and red hair. Small framed and clothed in a over sized black chefs hat that is continually slipping down over her eyes.
Besides this she wears only a red blouse and black and white checkered one piece ankle length dress and white jacket, over which she has fastened a simple black silken apron.
History/Background
Her parents were proud owners of a medium sized steam ship they called the Morning Dove, and the trade vessel she called home.
From her youngest days Patricia always found herself in drawn to the kitchen of the trade ship, spending long hours talking with the grandfatherly cook Abraham, listening to his tales of far away lands and exotic cultures with amazed awe.
With every tale of another culture Abraham would often fix a small dish of their favored cuisine for her to enjoy. Fried Dandelion flower cookies, water crescent and shrimp soufflé, Butter nut rice with rose hip sauce, and many other delectables made every story memorable.
As she grew older she eagerly assisted him in the preparation of the daily meals, at times finding new recipes from the ports they docked at for them to recreate and experiment with.
Also as she grew older her father insisted she learn the details of steam engine repair and maintenance, a task she found fascinating and exciting; the ships workings holding an air of mystery. Her natural creative interests proved to be a huge benefit to her work in this area, before long allowing her to make small improvements to the steam devices used upon the ship.
When she reached 20 and was pronounced old enough to make her own path in life her parents rewarded her with a ship of her own she called the Black Swan.
Although weather beaten and in need of much repair, to Patricia it seemed the most beautiful vessel to part the seas. Now at lest she felt she had the perfect opportunity to combine her loves of cooking and steam technology in one place.
With a passion and excitement that few had seen in her for years ,Patricia set about overhauling and rebuilding the Black Swan into the elegant ship of her dreams. With the help of her friends from childhood and their combined savings this arduous task was accomplished in a matter of months.
Instead of cracked and sagging planks a deck of strong study metal reinforced oak was laid, the rusted and leaky bronze boiler was refitted with custom design of solid steel.
The pitted and salt scarred ships bust of a mermaid she replaced with a beautifully carved swan painted in the darkest ebony with, glowing blue gemstones for eyes.
The entire rear cabin area she tore the contents from, merging it with the galley to form the worlds first steam kitchen. A maze of pipes, mechanical hands, automated beaters and slicers stood poised to aid her in the creation of any dish her mind could fathom.
At long last her dream, and the worlds first floating restaurant had come into existence.
With the coronation of the ship and it's maiden voyage across the seas, Patrica further secured her name as a chef of renown, raising a stir among those from all walks of life when it pulled into port.
Bringing tropical dishes to the frozen north, and far off delicacies to the comfort of a nobles home port, Patrica and her crew are known as one of the most revered and well known ships of the lands.
Special Equipment
A complex steam powered backpack, with multiple cooking attachments stored in a rack. The long mechanical arms quickly switch between knives, graters, and measuring spoons as she controls the whirring chugging device to speed the preparation of her fabulous dishes.
Also as a few unlucky pirates have found, the backpack can make for a formidable offensive weapon when Patrica finds need, tenderizing hammers and butcher knives working as well on the soft flesh of scalawags as on the tougher sides of beef.
Roleplaying Notes
Playful and energetic, most of your conversations and observations should be about either food or steam inventions. These are the things you find most wondrous and make life most enjoyable.
Recipes, everyone has a family recipe handed down from their mother or aunt, and these dishes are something you cannot bear to live without knowing the details of. Make a point of asking anyone you talk with if they know of any good dishes their mother used to make, and if they'd be willing to part with the recipe. If necessary you'll pay handsomely for 'secret recipes', and exotic spices.
Romance? Food is your first love, (a small fruit basket is always kept freshly stocked near your bed for those midnight urges.) and inventions the second. For someone to win your heart they must be as capable in the kitchen as yourself. As you're fond of telling the handsome lads (and occasional lovely lass) that courts you: 'It's not what you look like, but what you cook like that turns my steam gyros!'
Plot Hooks
A restaurant ship? What better place for the pc's to have their next meeting with someone of importance? Her kingly dishes make the ship a common place for nobles and those of high society whenever she's in port. Of course such a dinner could easily degenerate into a expensive and eternally memorable food fight if the wrong person has a little too much to drink, or gets overly offended.
Spices and rare cuisine make the world go round. Nothing like having the pc's hired to do a little acquisition of recipes and spices from hard to reach places inland. Granted the Hill Giants of Mount Balkoerst are said to be cannibals, but they gotta have a few good recipes for cooking people that can be adapted to other meats right?
Being a chef of such renown makes Patrica a target by jealous cooks everywhere, some of which are willing to hire assassins and ruffians to put her out of business. A perfect opportunity to hire the pc's for much needed bodyguard work. Best of all, the meals are included as part of the payment!
Perhaps one of the pc's is old time friends with her, having traveled with her as a child or helped her repair the Black Swan from the start? Founding a campaign centered around the adventures of the Black Swan can make for a lighthearted change from saving the world from great evils and slaying dragons.
Quest - Steampunk Description
Steampunk!
Any sort of steampunk at all from thaumatech to simple old-fashioned steamtech.
Wind up your imaginations and start the kettle boiling!
15XP for each submission with 100XP for 1st and 50XP for second.
Not Registered Yet? No problem.
Do you want Strolenati super powers? Registering. That's how you get super powers! These are just a couple powers you receive with more to come as you participate.
Upvote and give XP to encourage useful comments.
Work on submissions in private or flag them for assistance.
Earn XP and gain levels that give you more site abilities (super powers).
You should register. All your friends are doing it!
?

Responses (7)-7

haha, I enjoyed reading this one. Funny and original - and its always more interesting with a character who has NOT dedicated her life to hurting other human(oid)s.
Im looking forward to reading more of your work.
/David

Yum yum, tasty, orginal and fun.

The steam powered backpack kinda threw me for a loop, but its a quest sub so tally-ho! I like the idea, and wouldnt mind taking in a lunch service on Ms. Swan's ship. How extravagant is getting a boat for your birthday?

Small question, would anyone be interested in seeing a floor plan layout of the ship? (Campaign Cartographer 3 quality)I've got some good ideas for it, but don;t really feel like putting forth the effort if no one really cares one way or the other.

Im a great fan of putting illustrations in subs. It makes the sub that much more attractive and will definitely increase the chances of someone actually using it. Besides, it´ll give you that warm cosy feeling of a job well done...
/David

Only voted.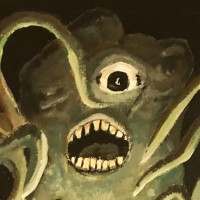 An interesting background character. And of course I like steampunk.
" With a huge number of sacrificial victims, another realm long ago secretly bound a Prince of the land spirits, Iorstonn by name, thus ensuring the fertility, and improving the magical defences, of their realm. But binding that Prince to one spot has disrupted the weather and magical patterns (ley lines?) over half the continent. Things have become bad enough that a coalition has been formed to rectify the situation, once divinations have established the cause. Your party is one of the teams assembled to do the rectification: find the binding object and steal it ('so that we can destroy it here in our realm, of course'...*) or destroy it over there. Presumably the Prince will be grateful to his rescuers and angry at the binders, but with a greater spirit like Iorstonn one can never be sure: such beings are 'tricksy'. * Of course, the rulers of our realm might want to control Iorstonn for their own ends..."
" Next time you're contemplating a horse variation, but don't want to get too dramatic, how about a Zorse? An offspring of a zebra stallion and horse mare. In nature they are infertile, but in a fantasy world, not necessarily. They are also known to be extremely cantankerous. 'It soon became apparent that zorses are not the most easiest of the equine family to get along with.' -- Trainer Pat Parelli, on working with zorses"
" In a certain nation, no-one except the Emperor is allowed to have a name. Therefore, the people give themselves pseudo-names called 'callings'. Examples of callings: A family is known as the Red Sparrow family. The father is called Swooping Red Sparrow. The wife is Bright Red Sparrow Blue Lizard because she was called Bright Blue Lizard before marriage. Their daughter, until she becomes an adult, is Daughter of Red Sparrow. Their sons are Eldest Son of Red Sparrow and Younger Son of Red Sparrow."