Martin Kendall (30-The Hedge Wizard)
His day in the power center of the realm is long over. He now helps the down trodden and forgotten peasants the ruling class seem to overlook.
Appearance
Martin Kendall is an older man in his mid 70's. He is of average height although somewhat stooped, relying on a staff for balance. He has long silvery grey hair and beard. He wears a non-descript robe that has seen better days.
History/Background
Martin Kendall was at one time a mage of extraordinary power. He was the Court Mage for a now vanquished ruler. Martin was on a diplomatic mission for the ruler when an unforeseen military coup brought the rulers reign to an abrupt end. Martin returned and was captured. Since he had a hand in the abuses of power that brought about the uprising, he was ordered to be executed for his crimes against the people. Before he could be executed, he escaped by means of his magic.
Martin fled into the countryside and by means of his magic disguised himself. He traveled from village to village, keeping one step ahead of the authorities that sought him out. It wasn't long before he ran out of money and valuables to trade for food and shelter. Seeing the conditions that most of the peasant lived in, he didn't relish the idea of thievery. Many of the needy villagers, not recognizing him for who he really was, gave him food and shelter when he asked for it (usually some stew and bread for the meal and a barn to sleep in) and asked for nothing in return. They would usually find an item or two that was in need of repair fixed after he was gone. His compassion for the peasants grew until he realized his previous life at court had a hand in causing some of the misery these people suffered.
Martin has spent the last 20 years traveling from village to village performing little tasks that help the villagers as needed; doing minor repairs of tools and buildings, blessings, healing injuries or illnesses, making a little rain to help crops. He will sometimes stay for a few days or as long as a couple months. Martin accepts an occasional coin but usually takes payment in food and lodging. He is still capable of performing great feats of power but prefers to remain obscure and insignificant. He had his time in the power center of the realm and wants nothing to do with it. He is only interested in using his magic to help the forgotten peasants that the rulers seem to dismiss unless extra taxes or conscripts are needed.
Special Equipment
Martin carries only a few components hidden in the multitude of pockets inside his robe. His magic is extremely powerful and he will use it to protect himself if needed but he prefers to use his power to help the peasants instead.
Roleplaying Notes
Martin could be found almost anywhere where peasants need a little help. The PCs could need some help or advice and the villagers point them to Martin for his well known and helpful sage advice.
Quest - Expand-a-30 Description
We have a lot of 30's around here.
In this Quest, choose any random entry from a 30 and expand it into a full submission. Pick something from The 30, The Other 30s, or through the 30 freetext. Don't use your own, there are so many you won't have a problem finding something.
Please make sure to link to the 30 that inspired you. The first place winner will receive a 100xp award. The second place winner will receive 50xp. Make the small ideas great!
?
Hall of Honour (1
voters
/ 1
votes
)
Not Registered Yet? No problem.
Do you want Strolenati super powers? Registering. That's how you get super powers! These are just a couple powers you receive with more to come as you participate.
Upvote and give XP to encourage useful comments.
Work on submissions in private or flag them for assistance.
Earn XP and gain levels that give you more site abilities (super powers).
You should register. All your friends are doing it!
?

Responses (9)

Why exactly does he insist on avoiding the royal court even though the man who ordered his execution, is long since dead? Does the order still stand? Or is he simply wary of being betrayed again by the royal court?
---

Martin was part of the corruption at court. Once the coup took place and he was able to escape, he hid in peasant villages. He saw first hand how the peasants were misused while he was in exile. He is making amends for his past transgressions by helping the poor.
---

This motivation would be a good inclusion in the sub itself; a little backstory that he was part of the corruption, and that after he fled he saw the abuses of the common folk, and perhaps was given shelter by some families who pretty much had nothing to share, but shared anyway.
An archetypal character, really.

A nice ceracter with a good motivation for what he does. 3/5

Which 30 did this character come from?
---

This character is from the 30 Wizards

Updated: Updated the background to reflect Martin's motivations properly.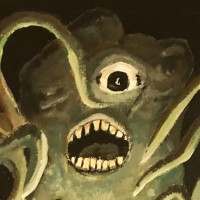 A very good character - the evil wizard who has made an effort to reform. I like it!

Me too.
" The greatest tree in the woods has a secret, there is a dungeon under it made from the intricate web of roots. What creatures could reside here? What secrets will the PCs uncover?"
" Molk Peruda is encountered by the PCs on the second day of their journey west from the salt-choked port of Quyn, as they prepare to explore the jungle. He appears a gaunt, wolfish man, with matted, dark hair that sprouts from his head in dreadlocks, contrasting with his well-oiled, blue-black, conical beard. His eyes are hidden ebon shards beneath thick arching brows, his nose, crooked, long, and reminiscent of a snout. His mouth is a thin, dark line, his teeth unseen even when he parts his lips to speak. His skin is the color of tallow, surprising perhaps for a renowned jungle guide, yet his natural helm of dreads and the jungle's canopy keeps the sun from bronzing his originally pale flesh. On his back are tattooed three women from the waist up, side-by-side, each resembling the other but of different ages. This is a tattoo of Molk's mother, sister, and daughter. His wife (don't bring her up to him!) was killed by marauding Qullan years ago, and appears as her own tattoo on his broad but sunken chest. His feet shockingly are turned around 180 degrees at the ankle, facing towards his back! A curse from a pernicious shaman. Molk walks feet backwards (he's used to it) and walks backwards, forwards. This can be very disconcerting and outright creepy to the PCs as he guides them through the rainforest. Slung from his back is an archer's quarrel of treated wood carved to resemble a stalking leopard, in his hand a re-curved composite bow of horn and sinew, with a pair of vivid, red eyes, each one painted on the opposite side of the hand-grip. In a leather sheath at his belt, hangs a falchion, its pommel adorned with a curved bird's head and beak."
" The Chinese, when attacking a castle or fort, flew kites over the city wall and used the length of string it took to get it there as a measurement to know how far they had to dig a tunnel to get under the wall."