Lady Alice Carmont
24.) The Broken Victim - Her coachman tried to rein the team of horses back in, but in their wild dash he fell from the carriage, and his customer was found dead along with the horses in the ravine where the broken pieces finally stopped rolling. Her limbs are mangled and broken and she screams through what is left of her throat...where is her coachman, she has a meeting to attend...everyone is waiting.
-Valadaar, 30(+) Walking Dead
Appearance
Lady Alice was once a beautiful woman, clad in rich velvets and satins, that much is obvious, but anything more of her life is harder to see. Her arms hang in crooked, ragged tendrils, and her legs seem to barely support her crushed, bloody body. Lady Alice seems to stumble slightly for every step she takes; a slight, odd limp caused by the lack of a right foot. Her once-grand ballgown hangs in taters around her broken frame and the few oddments of jewelry that still hang from her neck or adorn her fingers are tarnished and dirty, the gems cracked. As her vacant eyes turn toward you Lady Alice's mouth opens in a creak of unused bone,
"Where is my coachman? Where is Andrew? I have a meeting to attend! Everyone is waiting!"
Her voice is grating and there is a strange whistling sound as it runs through her mangled throat.
History
As a rich young woman, Lady Alice had an easy life. She lived in her father's estate until she married Lord Albert and moved into his spacious manor. For years she went about her daily life, not very interesting to tell about, but then she found the Honorable Society of the Witchburners. A little group of five or six hundred people across the kingdom made specifically for the purpose of destroying all evil (and not) spellcasters.
While she did not have much thought about the goals of the Society, Lady Alice did believe that "A woman's place is in the home, and a lady's place is at her meetings".
Tonight is the big night! She had been selected to speak about the ways that witches can lead young children astray from the paths of what is good. She was running fashionably late, but was still nervous, so she told her driver, Andrew, to speed up the horses.
It was a dark and stormy night, the road was wet and Andrew had not gotten much sleep the night before. As he wiped the rain off of his brow and shook himself back to alertness, Andrew let the reins slip. A sudden burst of lightning spooked the horses and they reared and dashed to the left. In a rush of adrenaline Andrew leapt from the careening carriage. Lady Alice was not so fortunate. Her horses and her carriage fell over the cliff's edge to the jagged rocks below.
The next full moon Lady Alice rose from her undiscovered resting place and went searching for Andrew.
Special Equipment
Lady Alice has no more than her ragged dress and her cracked jewels, but she can call to her aid the broken-boned horses with their ghastly carriage. They arrive in a shuffling trot and smell of sun-warmed carrion.
Roleplaying Notes
Lady Alice never ventures out during sunlight hours, only the night. She is continually searching for Andrew that she might be driven to her meeting. If she ever found him, she would grab onto him and hold him until her rotting carriage could arrive to transport them.
Quest - Expand-a-30 Description
We have a lot of 30's around here.
In this Quest, choose any random entry from a 30 and expand it into a full submission. Pick something from The 30, The Other 30s, or through the 30 freetext. Don't use your own, there are so many you won't have a problem finding something.
Please make sure to link to the 30 that inspired you. The first place winner will receive a 100xp award. The second place winner will receive 50xp. Make the small ideas great!
?
Hall of Honour (1
voters
/ 1
votes
)
Not Registered Yet? No problem.
Do you want Strolenati super powers? Registering. That's how you get super powers! These are just a couple powers you receive with more to come as you participate.
Upvote and give XP to encourage useful comments.
Work on submissions in private or flag them for assistance.
Earn XP and gain levels that give you more site abilities (super powers).
You should register. All your friends are doing it!
?

Responses (6)

A good expansion, well written

Well done, one of your better submissions.

Solid submission.

Nice work Drackler! Keep at it mate!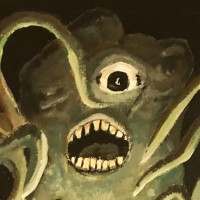 How could I not like this one :P

Plot hook: One of the PCs is a descendent of Andrew the coachman, and they don't understand why they are being hounded by this ghastly undead. Simply driving the Lady in her cursed carriage to her destination will let her soul rest in peace, but it will take a while for the PCs to figure this out.
" Nine times out of ten, it's the undead that do the running. Not strictly animal or vegetable, the Corpse bud is a peculiar individual that shares characteristics from multiple kingdoms and species. In appearance, all corpse buds bear a shape of a large rounded top bud divided into four lateral segments, and a much longer, narrower bottom bud, also divided into four segments. Between the two halves are a set of four radial limbs, rounded on top and flat on the bottom, covered with tiny serrated hooks facing towards the body. In overall size, it's limbs reach as wide as a spread hand, with the body being as thick as a fist. It is as long as a human hand from top to bottom. Internally, the top bud of the corpse bud contains a bacteria filled membrane that produces the hydrogen that the corpse bud uses to stay aloft, and a series of fungal gills for the dispersal of spores for reproduction. The lower half of the bud contains a number of fine filaments, as well as a sharp barbed stinger containing a powerful local anaesthesia. The Corpse Bud mobilizes by inflating its top bud, and steers by rotating its arms rapidly about its body. The corpse bud ordinarily drifts with the wind, orienting towards the scent of recent decay and death. It preys on the recently dead, burrowing the lower bud into the victim, using the anaesthesia in case the victim is dying, and not truly deceased. Once embedded, it releases its filaments into the body, replacing the current nervous system. This gives it full animation of the body, and allows the corpse bud to direct it. Corpse buds are not a malevolent species, being primarily concerned with breaking down the host body for food, and infecting the reproductive cycle with spores in order to mate with other corpse-bud bodies. To preserve the corpse for this purpose, Corpse buds will seek out dry locations to prevent bacteria from destroying the corpses. This often causes a large number of corpse buds to gather in a single location. In culture, Corpse buds are used to repair broken spines or degenerative diseases, as the sentient mind will easily overcome the mind of the non-sentient corpse bud. Once infected by a corpse bud, however, removal is usually fatal, and the infected individual cannot reproduce, or risk infecting another. Thus, it is a technique often reserved for the elderly, or a last resort. Necromancers and other dark sorcerers will often preserve the corpses of their victims magically, and infect them with corpse buds, creating traditional undead as well, so as to seed their lairs with undead both offensive and non, in order to throw their enemies off balance. They will also enslave the rudimentary minds of the corpse buds, and transform the docile things into a plague. There have also been accounts of magically transformed corpse buds with stronger minds and a taste for living flesh, but thus far all accounts are unproven rumors."
" The king's palace is destroyed by a falling star, which detonates like a nuclear bomb in the center of the city. When the inhabitants grow brave enough to investigate the ruins of the palace, they find a new ruler, one from beyond the stars, emerging from the meteor."
" A few musicians play their instruments and a beatiful maiden dances to the music. Wonderful to look upon, you surely will spend a few coppers, will you? In addition, two thieves move through the on-looking crowd. 'Spare the coppers - loose the silvers!' your father used to say."