It started with small things that caused annoyance to the fishermen that plied their trade, with Kraken permission, arund the islands on the border region between the De Madden Company's lands and those of the Kraken States. Somebody or something was sabotaging the nets of the fishermen. Careful examination revealed that they appeared to have been nibbled through by sharp teeth, rather then cut by human or merperson. Then the almost complete bones of a shark were washed up on the shore, picked clean.
Not long afterwards,some human bones were washed up on the shore. Whilst, given the dangers of even the calmer parts of the Acquan ocean, such a thing was not unknown, it was identified by the gold bangle with a name engraved in it, as a young woman who had gone missing just a day ago. Someone or something had stripped her down to the bare bones, yet had made no effort to remove the gold bracelet. Surely a human killer who went to so much trouble would not have left such a costly bracelet, which not only was worth a lot of money but could identify the dead body. In secret a few wondered if it was their Kraken Lord, Yawed, who had done it, but they dared not suggest such a thing to Yawed. Still, if it was Yawed, he would surely have done it openly, it was pointed out,rather then doing it in secret. It was not in his interest to totally terrify his vassals with secret murders.
What happened next sent ripples of terror through the entire region. Whilst Yawed did not show himself often to his human vassals, he did rise to the surface once a month to gain his cut of the amethyst that he saw as his right, yet on the appointed day he did not rise, and when they decided to look for him they found his white shell, picked clean. Nothing else was left of him. When the news spread the Krakens felt fear for the first time since the defeat of Sagron and wondered who or what had dared to kill and eat a Kraken.
Surely it could not have been the islanders, they would not have dared kill their lord, and besides, Yawed was one of the better Kraken lords to be ruled by, as he only ate human criminals rather then demanding a regular meal of human flesh. If it had been a whale, then the Kraken would not be stripped to the bones. Many were sure it was the De Madden Company, who protested innocence. A new Kraken ruler showed up and had the humans make a gate that could be raised and lowered with his tentacles, to keep out intruders whilst he slept, yet not long afterwards he too was found dead in the same way. The Krakens swept the area clean of sharks and any fish large enough to eat a Kraken,yet a third one turned up as a shell.
Unknown to humans and Krakens alike, the killer was a shoal of normally harmless fish. A Sea Wizard of the De Madden Company had been experimenting with new magic on board a ship on the border between the two states, and had illegally dumped a barrel full of magical slime into the sea, where it had been eaten by a passing shoal of blue tang, which then developed sentience and decided to take revenge on their predators, be they shark, human or even mighty Kraken. Although each tang by itself was too small to do much damage, as a shoal a thousand strong, they had nibbled open the nets of humans, and swum into the gills of sharks, eating their lungs,and then eating the rest of them, as well as eating a swimming human. Then they had turned on the luckless Yawed whilst he slept, targeting his eyes and gills. Blinded, in agony, choking as his his gills were munched by the tang, he had died without being able to cast a spell.
The gate that the next Kraken had set up was enough to keep out sharks or humans, but not shoals of fish, that the Kraken saw as food rather then as a threat, so it and the third Kraken were likewise suprised whilst sleeping.
Plot Hooks-The PCs have been sent in to investigate and to try and stop the Cold War between the De Madden Company and the Kraken States from becoming a hot one. Should they find these fish, the whole shoal fights as one. Although one blue tang is not much of a threat to a PC, a whole shoal a thousand strong will prove a formidable foe which may need to be dealt with by other means then the normal hack and slash approach.
Quest - Oceanic Description
The Citadel and the Sea
The Oceans are vast and mysterious, givers of life and cruel destroyers. Men have plied the oceans in vast ships, explored it's depths, fought it monsters and given us epics of the Salt Road.
Give us you submissions of the Oceans, your serenades of the Sea and all that which is nautical. 15XP for each submission with 100XP for 1st and 50XP for second.
?
Cheka Man's Awards and Badges
Not Registered Yet? No problem.
Do you want Strolenati super powers? Registering. That's how you get super powers! These are just a couple powers you receive with more to come as you participate.
Upvote and give XP to encourage useful comments.
Work on submissions in private or flag them for assistance.
Earn XP and gain levels that give you more site abilities (super powers).
You should register. All your friends are doing it!
?

Responses (8)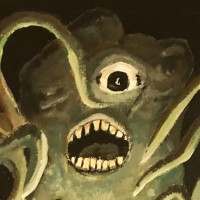 Might want to pick a different fish here Cheka. Tuna are not small fish - they are often as big as many sharks and are not a good fish to consider as a sea piranaha.

Update: Updated, the fish are now blue tang (like Dorie in 'Saving Nemo')

I made this into a Quest Sunmission, now it's not. What happened?

It was a bit hard to read in places but the idea gets across just fine. Little blue tang devouring massive krakens as they sleep is interesting. Not bad, Cheka.

As a half greenie, I quite like the idea of oceanic polluting changing the behaviour of otherwise harmless fishes into 'predators of predators'. Overall, a solid sub.

I presume the De Madden Company that's shown up in some of your subs is an East India Company analog?

A bit like one. I should do a submission on it one of these days or weeks.

A solid, somewhat twisted sub. I like the way you've turned a prized speces of aqutic pet into a ravening horror. I do feel though that you could expand on this sub even further. As now sentient beings, these tangs are going to have motivations that go beyond vengeance alone. You could even make them into a distinct Acquan race with some work.
" The heroes have destroyed the minions, plunged through the catacombs and defeated the guardians. They slowly enter the chamber to find the dark mastermind behind the scheme. The mastermind has a request for them, however: 'You must destroy me. To destroy me is to rid the world of a great evil, that is to say, me. But before you can destroy me, you must understand what evil is, what evil must be, why evil must exist.'"
" Beware of towns afflicted with Time Cancer. For every second you progress through time, an infected town goes back 48 hours. Old buildings slowly become new, then incomplete, and finally just a frame and foundation, giant old trees turn to saplings, birds hatch into eggs. one must not linger in a chrono-cancerous village for too long, before you know it you'll be a fetus. Tme cancer in unstoppable, no cure or treatment is knwn, it eats through the past until the inhabitants of a village turn into primordial protein ooze"
" PCs camp for the night in a dry pine forest. Fire skill of the person that made it is usually pretty good, but during the first watch the unexpected happens: a spark lights the surrounding woods and a brush fire quickly starts. Be quick or it could turn into a disaster that could affect the entire region."