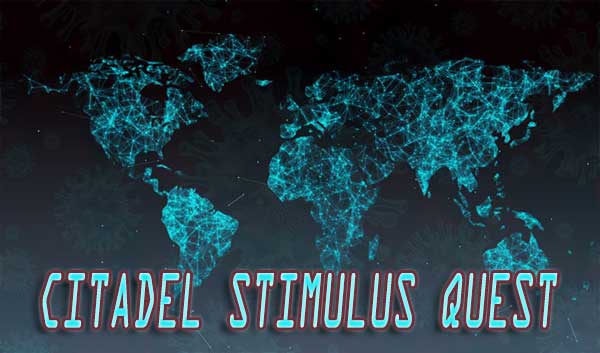 | | |
| --- | --- |
| Required Category | none |
| Required Tag | none |
| Status | Legacy |
| XP Bonus - Active | 75xp |
| XP Bonus - Legacy | 0xp |
| XP Bonus - First | 150xp |
| XP Bonus - Second | 100xp |
Citadel Stimulus Quest
When you are under siege, you have nothing but time. But the abundance of time is just as much of a weight as the enemy outside the gates. It is time for the Citadel to develop a creative Stimulus Package to support the Strolenati during this unique time. After no deliberation and no votes, the following will be the procedures followed through the the Citadel Stimulus Quest. (Subject to change, amendment, and adjustment as needed.)

Every Monday a minimum influx of $40 will be added to the Stimulus Package to keep the Creative Citadel Economy out of a Recession.
The Stimulus Package will accumulate $40 weekly until there are 5 unique author submissions.
Authors can write as many submissions as they like and each will be considered on their own merits.
On the Sunday after the 5 author requirement is met, the 5+ submissions by 5+ authors will be weighed and measured by the Strolenati.
Whomever is determined as the winner(s) will receive funds (as determined by the Strolenati) that have collected in the Stimulus Package.
On Monday, if winners were awarded, the Stimulus Package will be re-established at $40 and the quest will restart.
The quest will continue in this cycle until such a time that the Strolenati Council has deemed the siege over.
Current Stimulus Package: $40
Next Update: Jul 13
Contributors: Strolen, Murometz

Round 1 completed May 10: 7 Weeks - $280 in Stimulus reserves. Since it was the first round, and the amount was enough to pass around, we decided everyone who took the time deserved something. So sayeth the Strolenati.
Round 2 completed July 6: 8 Weeks - $340 in Stimulus reserves. Incresed funding and a stabilized creative force has allowed some increases in most awards. So sayeth the Strolenati.
Round 1
Round 2
1. Scrasamax - $115
2. Ted - $75
3. manfred - $50
4. Siren no Orakio - $20
5. valadaar - $10
6. Aramax - $10



Ted - $120
Scrasamax - $75
Moonhunter - $55
Chaosmark - $ 30
Moonlake - $20
valadaar - $20
WAR10CK - $20
---
Quest Winners
Name
Title
Type
XP
Scrasamax
The Stalker Mausoleum
by: Scrasamax


The Stalker Mausoleum is the hulk of a Stalker assault mech, converted into a mausoleum by a wasterlander warlord known as the Devastator 

Locations
Ruins
Desert
374xp
Ted
The Night Porters- Investigating The Throat Slashers (BitD Session 1 Setup)
by: Ted


The Night Porters are a small crew of Shadows operating out of Nightmarket in Duskwall. They've been asked to see if a tiny crew of assassins is responsible for the disappearance of a mutual friend...



Plots
Hired
Single-Storyline
238xp
Official Submissions 16
Name
Title
Type
XP
Siren no Orakio
Opalescent Diadem of the Mirrored Mind
by: Siren no Orakio


A finely wrought headpiece, a silver headband of thin wires, woven in a pattern reminiscent of the haze, with a peculiarly cut gem set to be worn in the center of the forehead. It shimmers in the light, somehow catching any glimmer on the wrong facets, and the magic it radiates feels so very far away - as does one's thoughts when it is worn, as if all the world was refracted through that odd gem. But are they all the wearer's thoughts that come to mind, from so very far away?

Items
Jewelry
Magical
208
Aramax
OD&D Monsters
by: Aramax


Monsters designed for O&D but could easily be used for other games. A bare bones Bestiary.

Lifeforms
Unique
Any
125
Strolen
Mystic Tracker
by: Strolen


There are certain skilled trackers that can taste the trail and follow their prey using the protected magic of the mystic tracker.

Systems
Mystical
Specific
129
Aramax
New Spells for D&D
by: Aramax


As both a player and a DM I am obsessed with creating new spells for Wizards. The spells you will see here are mostly very powerful for their Level. This is for the following reasons:

I run VERY low level games, these spells will be for 1-7th L characters. They are NOT balanced for higher level games. You will need to adjust them for higher level characters.

Since I run low level games , the wizards need more juice!

Also I'm not big on details so they will be very basically explained.

If your still with me, stay tuned , I've got a bunch of cool ones coming in the future!

Articles
Humor/ Editorial
Citadel Help
146
Aramax
The Remember Bird
by: Aramax


A bit of fluff for your game

Lifeforms
Unique
City/ Ruin
123
Aramax
Angler Fishoid
by: Aramax


Inspired by Carrion Crawlers, Gelatinous Cube , Owl  Bear and the Stirge

"You see, there was this contest ......"

Lifeforms
Constructed
Other
115
manfred
Why haven't AIs taken over?
by: manfred


Seriously - why hasn't one or another Artificial Intelligence simply taken over? In any setting that is in a close or more distant future, the possibility of a machine that is able to learn and grow without biological restraints brings up the question.

Lifeforms
Constructed
Any
176
Murometz
Shrewbears
by: Murometz


Or Bearshrews if you prefer. The debate rages on among naturalists. Both names are used interchangeably for these creatures.

Lifeforms
Fauna
Any
186
valadaar
Helm of Ophidia
by: valadaar


A gift from the Scaly ones.

Items
Armor
Magical
160
Chaosmark
The Sand Ducks of Tarkis
by: Chaosmark


A delicacy unique to the Tarkis Desert.

Lifeforms
Fauna
Desert
243
Moonlake
30 craftsmen
by: Moonlake


24/30 craftsmen for your reading pleasures

NPCs
Extras
Domestic/ Craft
200
valadaar
Altered Carbon as a campaign world
by: valadaar


Discussion on the potential of the netflix series Altered Carbon as a campaign world. Spoiler alert as there are details that only unfold over time.


Articles
Campaign
Gaming - Genre
212
WAR10CK
The Geek Federation's Ministry of Fandom Part 2
by: WAR10CK


Additional information regarding the Ministry of Fandom.

Organizations
Criminal/Espionage
World Wide
160
Scrasamax
The Karkos People
by: Scrasamax


The Karkos represent an attempt to create a bad guy race with almost no redeeming features, a true villainous species without resorting to established tropes or handwaving.

Lifeforms
Intelligent Species
Plains
207
Ted
Winvolcanus
by: Ted


They do not know what led to the disappearance of the Dragons, only that ash and endless winter followed. They huddle around the Sunstones, surviving off the meager farming possible under the stone's warm radiance. Few dare to travel in the dark spaces between the stones, an endless sea of snow, ash, monsters, and desolation. Despite it all, that candle flame of hope has never been extinguished; for some still believe that someday the Dragons will return to lead us to Spring.



And they're right.

Locations
World
Tundra/ Arctic
246
MoonHunter
Artimegens' Glove
by: MoonHunter


Created to repay a friend who lost a limb, Artimegens created a way for them to use a glove to replace it.  In a very short time, this has changed from a single piece to a boon to everyone who has lost a limb.  It has become a common enchantment in all grimoires. Atimegens has become a mage for The Annuals, with a named enchantment.

Items
Clothes
Magical
292