Icevein Ring
At first appearing to be glass, this ring of enchanted ice is a boon to those in wintery climes...
Full Item Description
Icevein rings appear to be made of glass, with small imperfections marring their clarity in the form of tiny fissures and bubbles. In truth, the rings are made of ice that has been enchanted to remain frozen even at common room temperature. A small percentage are decorated with ice chips that have been dyed, giving them a jeweled appearance.
History
Commissioned by an organization of explorers, the Icevein rings were intended to be of use in exploring the bitterly cold lands and regions locked in the grip of winter. With the success of this endeavor, the rings became a relatively popular minor magic among explorers, merchants seeking shorter routes, and any who found it necessary to deal with inhospitable winters. Thus, Icevein rings are a moderately common find across the world, both civilized (where they may be for sale) and not (where they might be found on a corpse, or woven in some barbarian's beard).
Magic/Cursed Properties
-The ring adapts the body temperature of the wearer, making cold climates seem relatively balmy. The 'comfort zone' of the wearer is roughly at the freezing point of water, with a range around this point as is common for the wearer's species.
-The ring's magic allows the wearer to move freely across snow, ice, and other frozen surfaces, regardless of whether or not they'd normally fall straight through it.
-Similarly, whiteout conditions do not exist for the wearer, as the ring's magic augments their vision to deal with it.
-The ring does not provide nourishment or hydration for the wearer, which can cause problems in relatively barren environments or when the temperature is enough below freezing that any carried water freezes solid.
-The temperature adaption works the other way, as well. Temperatures which are normally comfortable to the wearer will seem hideously hot and can lead to death by heat stroke during a pleasant day.
-A period of adaptation is required when the ring is put on or removed, taking roughly six to eight hours. During this time, the wearer gradually transitions across comfort zones as their bodily temperature shifts up or down.
Quest - Winter Description
Winter. The final frontier. For who truly knows, if spring will ever come.
This months quest revolves around the concept of winter, in all its hoary splendor. Cold, death, decay, and torpid hibernation. Snow, ice, and frost. These are the ubiquitous images of the long, bleak season.
We are looking for the finest examples of winter-themed submissions. The winners of this major quest, will become worthy recipients of frosty mugs and glasses, engraved with odes to victory, courtesy of Scrasamax! Good luck to all. Don your mittens!
?
Hall of Honour (1
voters
/ 1
votes
)
?
Kassil's Awards and Badges
Not Registered Yet? No problem.
Do you want Strolenati super powers? Registering. That's how you get super powers! These are just a couple powers you receive with more to come as you participate.
Upvote and give XP to encourage useful comments.
Work on submissions in private or flag them for assistance.
Earn XP and gain levels that give you more site abilities (super powers).
You should register. All your friends are doing it!
?

Responses (8)

A useful item for polar explorers.
---

Or in areas where the terms 'hard freeze', 'lake effect snow', and the like have meaning and can last for extensive periods.

I like the imagry of a barbarian wearing an Icevein ring woven into his beard, I also like the effect, plus the fact that a pleasant spring day could be lethally hot to a cold aspected character. Nice work.
---

Thank you.
Yeah, it's kind of a take on the old 'ring of cold resistance' that doesn't just go 'Voom! You no longer feel the cold. You win!'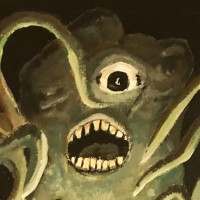 Nice item with some reasonable consequences to use.
---

It also works reasonably well with the Iceman's Lantern for those who have to make stops at wayhouses; the lantern's effect could keep an area cool enough for the ring-wearer to survive, although likely feeling overheated, or a series of them could serve as something akin to decompression for diver, with the transition being moderated across the heat zones.

Short sweet and useful.

Nice description, even without the variant effect, makes the old ring of cold resistance come to live.
" Orcish currency is derived from glass beads. The art of glassworking is well beyond them, but perhaps the orcs have something of value to the civilized races, such as animal pelts, and well made axes, and bows. The humans trade beads for the goods, and the orcs will trade the beads amongst themselves as a form of their own currency. Perhaps they value blood red beads above all others, or animistic orcs favor beads in the colors of their gods. Inspired by Indian trade beads, some of which could be quite ornate and beautiful. Most North American Indian beads were made in Italy. Surprise!"
" Oazduke's Vengeful Head. The head haunts all headsman and executioners. A floating, bloody head, long separated from its body, is a particular legend among a very particular group of people, executioners, specifically those that chop heads from a block for a living. It was that infamous highway robber, Oazduke the Vengeful, who when finally captured and put to the axe, screamed his foul hex, seconds before his head flew off. 'You will know it is me when I'm through A curse on your ilk and on you! May my severed head haunt you eternal Frightening you headsmen infernal!' Years later, not one but two(!) weary, puffy-eyed, spooked, headsmen, haunted day and night by Oazduke's insufferable severed head, approach the party cleric in order to hire him to exorcise the ghost head once and for all."
" A large river that is continuously covered in a thick layer of fog. There will be either a rope ferry to get across or possibly a boat that is rowed across by worshippers of the water elementals. It is very thick fog to the point where it even muffles voices even at close range and visibility even beyond a foot is almost impossible."