Blood Doll
Look at that, pale as death and she's got her neck covered, betcha fifty she's a fang-banger
Bar patron
Appearance
Blood Dolls tend to be pale and thin, their bodies struggling with anemia. Being the feeding thing of a vampire isn't easy. Blood Dolls will also affect long sleeve shirts, scarves, or turtlenecks to hide the places where their particular vampire prefers to feed. Like heroin junkies, Blood Dolls live for the next time their master will feed from them. Accordingly they care less for their appearance and health than most people are are more interested in appearing available for vampires to feed on.
History/Background
As long as there have been vampires, there have been Blood Dolls. While most commonly this sobriquet is applied to young women who have been enthralled by an older male vampire, there is no real gender preference, or racial preference. A gothic princess is no more likely to be a blood doll than a young black athlete.
The earliest blood dolls were little more than cattle kept for the vampire in question to feed on at their liesure. As society advanced and vampires learned to fear the anger, violence, and increasingly powerful weapons of mortals, their usage of blood dolls also changed. Gone are the nights of humans living like animals, kept in cells and pens. Blood dolls now range from pathetic vampire groupies to treasured companions and everthing inbetween.
The main purpose of the Blood Doll is a readily available source of willing blood for a vampire. Most vampires who keep blood dolls will have several so as to spread out their impact. Most will fit their preferred prey. These civil 'herds' can expect some small favors from their vampire, but like a pimp, the majority of vampires are more interested in keeping the goods coming in with a minimum of effort. Most vampires will also keep their herds of blood dolls a secret, since the less is known of a vampire and their habits the generally the safer they are.
Negative Stance
Some vampires will refuse to keep blood dolls. The sentiment is a mix of willing prey being less appealing than honestly hunted/seduced victims. The other is that such easy feeding dulls a vampire's senses and hunting skills. It also provides leverage against them. A vampire who has his blood dolls kidnapped or outright killed is going to be in for a hard time feeding and fending off whoever is harassing him.
Types of Blood Dolls
Fang-Banger
A Fang-banger is a common term applied to a man or woman who in addition to supplying a vampire with their blood also engages in sexual intercourse. While most such blood dolls will claim that vampires are much more attentive and sensual lovers, the common perception is that having sex with a vampire is the same as having sex with a corpse. Accordingly, Fang-bangers suffer from social persecution, often even among other blood dolls. Given the vampire penchant for feeding from multiple hosts, it is not uncommon for fang-bangers to become the recipients of a variety of blood-borne illnesses.
Blood Whore
The bite of a vampire induces an ecstatic reaction in the human or animal being bitten. It is not uncommon for the human in question to enjoy the sensation of being bitten to become addicted to being fed on. Like the aforementioned heroin junkies, these dolls will let any vampire feed on them, almost any time. They quickly spiral into poor health, and not unexpectly eventually die from either anemia or under the fangs of an over-zealous vampire. Blood whores, like Fang-bangers, frequently have blood borne diseases.
Blood Trick
Blood tricks are basically prostitutes, selling their blood to known vampires. A trick has to maintain a good appearance and health, or risk becoming a fang-banger or a corpse. Unlike most blood dolls, tricks are more sophisticated, knowning the visual cues and social moves that draw vampire's attention. They also are careful of their diet, physical health, and overall appearance. A blood trick is somewhere between a call girl, a health nut, and a vampire junkie.
Turk
Most often male, a turk is a blood doll that has been regularly fed vampire blood. This exchange has long since bonded the doll in question to the vampire as well as bestowing unnatural strength and vitality. Turks are akin to fighting dogs, often trained to protect the vampire, fight in it's stead, and generally perform tasks and jobs beneath a vampire. Most turks are destroyed if they gain a track record of failure, or outlast their usefulness.
Uncertain Futures
Many blood dolls nurture the hope that the vampire that feeds from them will one day grant them the dark gift of vampirism. This is actually quite rare, the majority of blood dolls die within a few years of the beginning of their dalliances with the dead. Some are simply unlucky and aer mauled by a vampire who looses control. Others suffer from depression, commit suicide, suffer from failing health, and on some occassions, normal mortals will gang up and kill a known blood doll.
Roleplaying Notes
Be thin, be hungry, be painfully co-dependant. The next kiss might be your last, or it might be the first of the rest of your eternity among the undead.
?
Hall of Honour (1
voters
/ 1
votes
)
?
Scrasamax's Awards and Badges
Not Registered Yet? No problem.
Do you want Strolenati super powers? Registering. That's how you get super powers! These are just a couple powers you receive with more to come as you participate.
Upvote and give XP to encourage useful comments.
Work on submissions in private or flag them for assistance.
Earn XP and gain levels that give you more site abilities (super powers).
You should register. All your friends are doing it!
?

Responses (18)

Not a nice way to end up, a puppet/food source of the undead.The blood tricks don't seem to suffer that much though.

Nicely done. They could be inserted into almost any fantasy genre, ranging from high to modern. This sub, with its details about blood-borne diseases and evantual death, also has nice sinister undertones.

Has this perchance been inspired by the card from Vampire: the Eternal Struggle?
---

Nope, not VtES, but my 9 years of running VtM, Vampire, the Masquerade. Expanded the basic neo-goth blood doll into something with a bit more depth.
---

Reminds me of bloodpets and the sort from various vampire genres, but with considerably more character. Kudos.

Oh yeah, Blood Dolls. You could see them being around. Best way to track one of them vamps.

Vampires aren't really my thing, but, this is solid stuff to have if you have vamps in your game - The Uncertain futures is probably the most useful bit, too.

I'm a big fan of vampire culture. Nice job.

Yep, I´m stealing this... Very nice, Scras!
/David

First of all, I love that this is under 'agricultural'.
The punk, modern aesthetic of White Wolf's Vampire really comes through here, only, in my opinion, better. Vampire slang not only breathes real life into this sub, it creates a sense of established setting and a serious (no other word for it) Attitude. Love it.

Hmm.. my imagination must be broken. This sounds like it should have come to me as a idea. (Seriously. In a society with 'Vampires'. this sounds.. oddly appros.)
Decent idea, 3.5/5.

pretty cool 3.5/5

Very nice. I hope I get a chance to use it some day.

Oops. Double Post.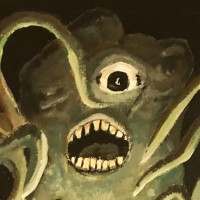 This is quite dark, but then again they are vampires.
Well done, with lots of potentail use anywhere vampires can be found.
" What if you send the players in a dungeon that was already raided? Maybe you could have traps that are already set off, or the corpses of monsters etc."
" Feral teenagers: Teenagers who run away from home to live in the wilderness may become feral. As they become more and more feral, they gain some supernatural powers (a la Peter Pan - ability to fly, things they imagine come true - possibly quite powerful), but at the expense of their humanity and ability to speak, comprehend complex subjects, etc. Maybe they have a leader: the most feral of them all. A regression into a fantasy childlike state."
" Mazetown stands right around the entrance to the Maze, and its whole economy depends on the people coming to visit the ever-changing and apparently sentient dungeon. They don't get all that many visitors, but the ones that do come tend to be rather generous in their spending; after all, if anything you take inside vanishes as soon as you go in, and everyone who manages to come out usually does so with fabulous treasures in tow, why not spend your coin on R&R before getting started?"