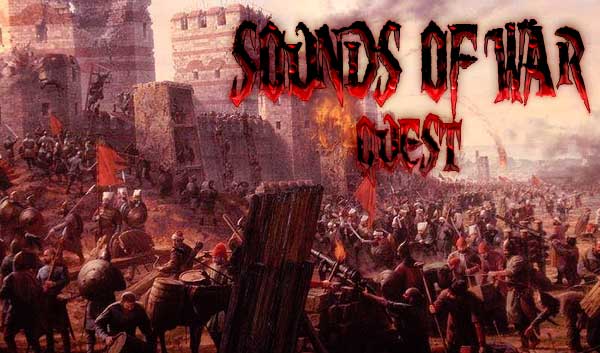 | | |
| --- | --- |
| Required Category | Tundra/ Arctic |
| Required Tag | none |
| Status | Legacy |
| XP Bonus - Active | 12xp |
| XP Bonus - Legacy | 20xp |
| XP Bonus - First | 0xp |
| XP Bonus - Second | 0xp |
Quest - Sounds of War
The hosts have gathered, legions eye barbarians across a barren field, the generals stab daggers into their maps, the WAR QUEST has arrived.
Welcome to the Sounds of War Quest. We will be rewarding a 12XP Bonus per submission with the first place submission earning 150 and second place earning 75.
The only important word in this Quest is War. Any category is OK.
---
Quest Winners
Name
Title
Type
XP
Wulfhere
The Field of 10,000 Skulls
by: Wulfhere


"Summon the Legions! We shall offer battle within Bleak Vale! This time, OUR cause shall triumph!"

Locations
Area
Mountains
632xp
Scrasamax
Terat, the Goddess of War
by: Scrasamax


Cowardly maggots! Bow your thrice cursed heads and thank the goddess that you still draw unworthy breath!

Doyenne Unson

NPCs
Mythic/ Historical
Religious
452xp
Official Submissions 28
Name
Title
Type
XP
valadaar
RR80 Corpsman
by: valadaar


RR80 Corpsman(TM) - Battlefield Casualty Recovery Robot

Lifeforms
Constructed
Any
157
Scrasamax
Cult of Terat
by: Scrasamax


If you wake up in a field of green grass, looking at a woman of flesh and steel. Be glad, you are dead. If you wake up covered in blood and shit, be gladder still. For you are alive and your time is not yet come!

Doyen Velit

Organizations
Combative
Regional
282
valadaar
MUL-FS550 Fire Support Robot
by: valadaar


MUL-FS550 Fire Support Robot

Variant of Mobile U Logistic Robot

Lifeforms
Constructed
Any
127
Cheka Man
Star of Rage
by: Cheka Man


The soldiers charged screaming into battle, their faces twisted into masks of hatred as they struck out with blows stronger then humans would normally be capable of. Each wore on his shield arm a Star of Rage, a starfish-like creature, ruddy red with the blood that it was draining from his body.

Lifeforms
Fauna
Swamp
267
Siren no Orakio
ISL 9000
by: Siren no Orakio


Capable of delivering up to 20 iron spikes per minute at nearly the velocity of an arrow, the Iron Spike Launcher-9000 is the front line weapon of his most elite clock-work soldiers.

Items
Ranged Weapons
Combat
177
Siren no Orakio
The Dawn Of Avarice
by: Siren no Orakio


Taronia - Land of mystics and sages. Taronia - Land of the Gods. Taronia - Land of Conquerers.

Plots
Crisis
Campaign
227
Cheka Man
Pocket Ironbones
by: Cheka Man


The Pocket Ironbones, whilst not quite the war machines that they were intended to be, have been useful in the service of Banhosea all the same.

Lifeforms
Constructed
Any
92
Scrasamax
The Centaurim
by: Scrasamax


I would be willing, yes glad, to see a battle every day during my life.
George Armstrong Custer

Lifeforms
Constructed
Any
347
Dragon Lord
The Carnyx - the War Horn of the Mountain Tribes
by: Dragon Lord


'Their trumpets are also of a peculiar and barbaric kind which produce a harsh, reverberating sound suitable to the confusion of battle.'
from the memoirs of Diodorus Siculus,
Commander of the Legion XIX (retired)

Items
Other
Combat
142
Siren no Orakio
The Assault on Kerrengen Keep
by: Siren no Orakio


War has begun, and the troops have begun to move. Lying on the border between Esteov and the God's Spine Mountains, Kerrengen Keep secures the main source of fresh water for the capital of Esteov, Lake Kerrengen.

Plots
Hired
Encounter
182
EchoMirage
Of divine Life and Death
by: EchoMirage


Is it liberation or conquest? Humane thought or wanton deicide?
A malicious ploy to make the divine starve?

Plots
Crisis
Campaign
57
Scrasamax
The Virednith
by: Scrasamax


Behold, for I am the form of Destruction

Inscription on the Virednith

Items
Other
Combat
212
necromancer
The Truth War
by: necromancer


Long has the question of truth been pondered. Long has this been a folly few recognise in time. A killer, a soldier even with a sword is one thing. But a killer who thinks he has found a definite truth, which he decides to fight for, is the most dangerous man in the world.

Plots
Crisis
Single-Storyline
162
Demagogue
The Death Throes Bullet
by: Demagogue


The nurse put a hand on his shoulder, speaking softly, 'Calm down, sir, you're inside a hospital. You're safe.'
The man's eyes darted back and forth, his whole body shaking in terror, 'Nooo,' He whispered, 'I'll never be safe, I saw him, I saw him jerking and writhing around, then he looked straight at me and fell over.'

Items
Ranged Weapons
Combat
187
Siren no Orakio
Scorpio-01, Marcos Mecina
by: Siren no Orakio


Every soldier knows he may be called upon to make the ultimate sacrifice. What he doesn't always know is the depth of the other sacrifices he may be called upon to make.

NPCs
Minor
Combative
117
EchoMirage
Morgobondor, the Scourge of Silvermoon
by: EchoMirage


The greatest of chieftains, uniter of the hordes, harbringer of chaos, many names he held, yet what is the truth behind one of the greatet Orc leaders of all time?

NPCs
Major
Combative
167
Scrasamax
Terramax Cruiser
by: Scrasamax


The largest warship of the Terran Hegemony capable of landing on Earth and launching again into orbit.

Items
SpaceShips
Combat
142
Wulfhere
The 'Elite' Goblin Cavalry of Terkuss Tahkhan
by: Wulfhere


Even the boldest quake with fear of the Kobelyn Cavalry of Terkuss Tahkhan! Especially if they're on the same side!

NPCs
Extras-Horde
Combative
502
Scrasamax
Warship Classes
by: Scrasamax


A brief list of warship types and their identification

Articles
Resource
Gaming - Genre
212
necromancer
The Spirit Breakers
by: necromancer


Exiled from their home this elite military force is adrift in a foriegn land. All these people have ever known is war so they put themselves for sale as mere mercenaries at the same price as any other sword slingers. But these men have brought a new type of type of warfare to the northern lands and the fields of battle will run red with their enemy's blood.

Organizations
Combative
Country/ State
177
Scrasamax
30 Mercenaries
by: Scrasamax


Mercenaries and bounty hunters? We don't need the help of scum like that.

Vice-Admiral Koszcu

NPCs
Minor
Combative
297
Scrasamax
The Warcraft of Worlds
by: Scrasamax


War is the biggest business of the future.

Systems
Combat/ Warfare
General
147
valadaar
Mastwood Island
by: valadaar


In an age of sail, one of the most important of resources is a source of tall, straight and strong trees for use as masts. Mastwood island is one such location.

Locations
Area
Other
252
Dozus
The Sectarian Wars - A History
by: Dozus


'Woe, brethren! What hath these gods wrought? For a thousand suns we have had peace, and now in an instant the light is being extinguished. How can any survive in these Wars of the Sects?'
- Arbiter Ariston Nikomachus

The Continent and its faiths have thrived with little fuss for a millenium. And now, with a few holy words, all of heaven, earth, and hell seem to be at war...

Plots
Event
Campaign
242
Maggot
Hounds Of War
by: Maggot


Standing atop the parched hill and triumphantly displaying their gory trophies , the berserker s begin to shriek aloud their terrible, keening war-cries, confident that the coming battle will belong to them as the enemy flees before their frenzied onslaught, all its discipline and training forgotten in the face of a foe that harbors no fear at all for any enemy born of humanity.

Just as the red mist clouding their eyes begins to fill their minds with fantasies of mass slaughter, a mass of shadowy figures suddenly materialises out of the darkness, charging towards the berserkers with long, loping strides that lend them speed that is at once awesome and terrifying to witness, even to the crazed minds of these onlookers.

As a heavy,furry shape hurtles into the the commander, he falls to the ground, his throat ripped out by the savage fangs of his assailant. As his life ebbs away from him in the rapidly expanding jet of blood gushing from his ripped arteries, savage growls become the lullaby lulling him into the never-ending slumber of death.

Lifeforms
Fauna
Any
77
EchoMirage
The Bloodflower Shroud
by: EchoMirage


In seeking to escape serving the Lord of Ravens many a hope flickered and died, for those who oppose him end up serving him after all.

Items
Armor
Villanous
207
Scrasamax
Dwarven War Chariot
by: Scrasamax


A rare sight, but one dreaded by the foes of dwarvendom.

Items
Transports
Combat
137
valadaar
Warbeasts of the Rephatians
by: valadaar


Now was to be the Third such invasion, and who knows who would be writing the records....

Lifeforms
Intelligent Species
Other
97
Quest Submissions 5
Name
Title
Type
XP
caesar193
Magic: How it destroys conventional (medieval) seige
by: caesar193


'Your wall is impenetrable, eh? Its so thick it can withstand 100s of direct hits from any siege engine? I have but one word for you: magic.'

Articles
Campaign
Gaming - In General
129xp
Scrasamax
7/30 Parapsychic Martial Artists
by: Scrasamax


When parapsychic abilities began manifesting, martial artists found that their discipline from years of training provided them with the acumen and ability to channel and control the unexpected powers that now flowed from their fingertips.

NPCs
Scenario Based
Combative
69xp
Scrasamax
Self Propelled Turret
by: Scrasamax


Also known as the Mobile Turret, Mobile Fortress, Battleship Tank and Mobile Bunker

Items
Armor
Combat
104xp
Scrasamax
The Cattle Raid
by: Scrasamax


The holovids are full of stories about mecha garrisons bravely battling dastardly pirate raiders. It's a pretty picture for the propaganda films, but its a long way from the truth of the pirate raids.

Plots
Hired
Mini-Campaign
109xp
geothebard
The dungeon of infernal worship/ Field battle
by: geothebard


Krelldrens Journal entry of a battle hard fought

Plots
Event
Campaign
51xp