The Creatures of Hewdamia
This is a compilation of all the creatures I have in the world of Hewdamia.
Full Description
Not in the same sense of, A NEW LOOK subs which take an old monster, creature, or race of the role-playing genre and turn a fresh eye to it. The creatures of Hewdamia are similar in thought.
The full range of creatures in the world of Hewdamia are limited. I do not have the strange and powerful basilisks, Beholders, Medusea and other such common beings found in most fantasy based games. In fact, my typical creatures you do find here, the trolls, goblins, ogres, orcs are not typical at all. Each one is an attempt at being different.
Why should goblins be such an inferior race? They have superior numbers after all. So I changed them completely. Trolls, not your typical troll at all. In fact other than the name, it is possible they have little to do with their D&D cousins.
I always try to make things original although I know there are few original thoughts to the RPG community anymore, just fresh looks. Most of my creatures are just that, a fresh look. Skilled trolls whose craftmanship is sought after by all. giants who are unique, not in their looks (no one eyed giants here, but in their culture and lifestyle.
Please read through these and take them as they are, fresh ideas. Something different than the norm, at least I tried to make them different. So here it is and I hope you find it entertaining.
?
Hall of Honour (1
voters
/ 1
votes
)
Not Registered Yet? No problem.
Do you want Strolenati super powers? Registering. That's how you get super powers! These are just a couple powers you receive with more to come as you participate.
Upvote and give XP to encourage useful comments.
Work on submissions in private or flag them for assistance.
Earn XP and gain levels that give you more site abilities (super powers).
You should register. All your friends are doing it!
?

Responses (5)-5

I find them interesting. As a whole these critters do justice upon Hewdamia.
Brilliant work.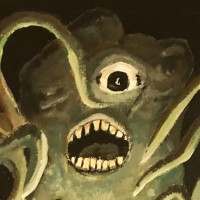 Great Codex - I'll need to work through the massive number of connect subs, though in my random, haphazard way.
---

Thanks Val. Although a lot of these were done back in the forum days so are not nearly up to my today standards. A lot are simply fluff.
" Enraged by the violation of the Peace Pool and the Whalebone Forest, a dead leviathan has risen from the bottom of the ocean and now hounds ships around the port where the stolen jewels went to land. It capsizes ships and devours sailors whole, spears protuding from its dead and crab-eaten hide."
" The Jiangsi was the name of an undead being in Chinese folklore and mythology. Usually translated as zombie or vampire for Western palates, the Jiangsi was really neither. They appeared as simply risen, fresh corpses. They moved (peculiarly!) by hopping rather than walking, and sought out the living to suck the Qilife force from their victims. Perhaps significantly more interesting than the Jiangsi itself, was the lore surrounding them. 'Zombie wranglers', or 'Corpse Herders', usually Daoist priests, were men tasked with delivering these undead beings back to their respective home towns. Tradition in China placed great importance and emphasis on the return of the dead to their homes and families, and thus the corpse herders came to be. By using magick words and talismans they would animate the dead, and by placing specially inscribed parchments of paper over the Jiangsi heads and faces, the corpse herders would be able to control the hopping corpses. Then like pied pipers, they would lead processions of subdued undead, across many miles, rhythmically chanting and ringing tiny bells. Special inns were built across China to house these undead caravans, as the zombies could only travel by evening and night, the sun anathema to them. Rows of doors opening to barely a closet-space, lined the walls of these special establishments. Behind these doors, the corpses would be stored upright while the corpse herders rested in rooms. The Jiangsi under the control of a corpse herder were quite harmless, merely hopping after him, silently and without complaint, for weeks and months. If however, the magicked parchment would somehow be removed from their faces, the creatures would immediately seek living humans to kill. Their thirst for Qi was unquenchable. The job of a corpse herder was an interesting one to say the least."
" A group of humans living in a mountainous area have spent generations mining, drinking home made liquor, and generally not spreading the gene pool around enough. The end result is a sub-race of humans who no longer have necks, rather their heads protrude from the upper portion of the torso between the shoulders. They have beards, and lacking the ability to turn their heads, can only see what they are directly facing. They are simple and to the point, and direct to the point of bluntness."