Pear Wood 100 Longevity Sword
To wield such a weapon is to ensure long life and enough luck to have it.
Full Item Description
The basic design is that of an Imperial Sword, a sword a bit thinner and shorter than an European broadsword. The handle is dark stained pear wood. The guard is both functional and decorative (in a dragon motif). The blade has a blackened temper and is sharp on both sides. Along the blade is 100 ancient characters for longevity. These are normally hand carved and inlayed with a tiny amount of brass.
The weapon is normally kept with one, to enhance ones chi and life. It is scabarded in a decorative pear wood scabbard.
(Weight 3 lbs (1.5 kgs) and is 35' long (30' blade, 75 cms)
History
The origins of this weapon has been lost to history.
Magic/Cursed Properties
The use of the sword is supposed to bring a long life, health, and to some degree 'good luck' to reach such things. It is not enchanted in any way.
?
Hall of Honour (1
voters
/ 1
votes
)
Not Registered Yet? No problem.
Do you want Strolenati super powers? Registering. That's how you get super powers! These are just a couple powers you receive with more to come as you participate.
Upvote and give XP to encourage useful comments.
Work on submissions in private or flag them for assistance.
Earn XP and gain levels that give you more site abilities (super powers).
You should register. All your friends are doing it!
?

Responses (13)-13

The description is what makes me give this a 3.0. I would like to have more background or history on the item. How many are there? Why would the originals have the 100 characters inlaid in them in the first place? Just some basic history would be nice.
---

I would like to have more background or history on the item. How many are there?
This is a class of weapon: There are thousands, if not tens and hundreds of thousands, of them.
Why would the originals have the 100 characters inlaid in them in the first place?
Mystical reasons, a 100 is a powerful number. They also use every possible glyph and phrases for longevity and life, that way they can't miss any.
Why Pearwood?
Pears are considered the fruit of longevity in Chinese Mythology, much the way Apples are considered the Fruit of Sin. The Pear Tree is very long lived for a fruiting tree. (It also is common and stains nicely).
Just some basic history would be nice.
Someone in China was trying to make a sword that would bring long life in battle and life, to make sure a loved one came home. The idea caught on.

I humbly sit before the awesomeness of Moonhunter.
I found images of what these look like and words do not describe them at all.
http://www.hingdaiwui.com/img/products/weapons/longevity_sword_closeupb.jpg

Ah, the picture has described it best, along with the additions in that comment above. An okay submission.

A 3.0 if I ever saw one. Nice addition to your otherwise average adventurer/brigand sword.

It's moonhunter's comment, rather than the sub itself which made me appreciate this sword more. I would never have known that pear wood was symbolic of longevity, and I never would ha e considered that the 100 symbols were that number because it's a number that carries a lot of weight. Its these little details that make such a short du mission still a decent one. and it shows the level of detail and though moo hunter puts in even simple things.
Should this information have been added to the sub itself? I don't know. It would have been nice to be equipped with this extra info, but on the other hand, why bog down a short and sweet sub trying to justify why everything is the way it is.
Its also a lesson in posting, I think. Moonhunter would have known this wouldn't get a massive vote, but he posted it because it is a useful tool to enrichen any game; one shouldn't obsess over a 5/5 if they have a good simple idea. Just post it!

HoH'd because it's usefulness, if not it's greatness.

A little over brief for a full sub, but I really like the idea. Is that true about Pear wood in chinese mythology, have you seen the Mr. Vampire movies and TV show in which the master uses a peach wood (I believe) sword to fight the undead.

I'm sorry, but this gets quite a low score from me. Why? Because it is not a 100 Word sub(if it were, I wouldn't have voted), yet it is short as a stub without being a stub.
While what is there, isn't flawed. It is way too short. And simply saying that the history of the object has been lost? Come on, man... History would be one component to fill in, then how bout addressing how one would use a sword made of wood, I would assume for sparring only or strictly ceremonial use, but might as well fill that in to get a bit more content. Maybe list some previous owners, who created it. Things like that. All you need is more content, otherwise it looks good.
---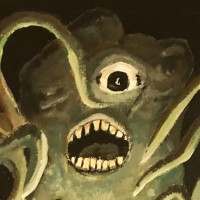 Take a look how old the submission is - many of the ones I have been digging up precede the 100 word challenge and even the more verbose general submission by many years.
---

General submission? Well I've only been here a couple of months, not counting the lurking, so obviously there is a lot I don't know about the history of the Citadel, and how things used to look. Still, that doesn't mean that this sub needs to be frozen in time. Moonhunter is still active after all.
---

This is a short submission because this isn't a magic item or even a unique item. This is an every day item.
(An aside: Can even a Classics Scholar tell you invented the Gladius as known to the Legionaires?. Nope, that has been lost to time. )
It is something from an equipment list. It's purpose is to show that generic 1d8 weapons that are normally one line on an equipment list can have some depth and culture associated with this. It can show you that you can embellish everyday things with the same care you do your 'special items'. This kind of sword was made in China for over 2000 years. The reason? The belief in the mystic qualities of the handles, and the traditions behind them.
Every culture has items like this. It, and things like this, should be part of every setting and thus every game.
The value of this post is not the post. The value is the example and the idea behind it.
" Arakis's zombie problem went largely ignored, because it was believed that the Shai-Hulud (sand worms) would effectively dispose of the undead walkers. Unfortunately the problem grew until the roving herds of sunburnt ghouls threatened the flow of spice. While observing one of the great reanimated masses over take a Harvester from the safety of an ornithopter, an Imperial Zoologists noted that the sand caked flesh eating revenants walked entirely without rhythm. Shortly after receiving this report the Bene Gesserits claimed to have a solution to Arakis's hellish resurrections. They asserted to the agents of the great houses that the worms could be drawn to the walkers using an ancient sonic weapon. According to the sisters, exposing the zombies to an antediluvian ballad composed by the great master M. Jackson would force them to step in time."
" When a miracle is worked, when a God turns His attention to the mortal realm, the mortal realm is irrevocably changed by the Divine Presence. When this takes place through a living being, they become the Godmarked. Ever with one foot in life, and one foot in the realm beyond, they are emotionally and physically altered - always in a fashion that reflects the nature of the God that they have channeled - One who channels a God of the Winds may forever have a breeze lifting their hair, while a Goddess of Anger may blacken the skin and strengthen the body."
" King Addas loves charades, and has a troupe of mimes in his harem. To ensure that they can never cheat he has had their tongues cut out, which is why they always look so miserable and never open their mouths (the stump of a tongue is not a pleasant sight)."