Cowpoke is an old black powder revolver, with a long barrel, and a heavy packing rod attached underneath it. The weapon fires a substancial .50 calibre bullet capable of knocking a cow off of its feet at close range. The black powder and paper charge is placed in the bottom-most chamber and the packing rob is pumped down, packing the powder in tightly. The bullet is them dropped down inside the chamber, and lightly packed.
This is the main sidearm of Dan the Dastardly Dog, and has an interesting history. The gun has served with distinction and valor in many conflicts, but since it came into Dans paws, the weapon has only fired once. Any other time he pulls the heavy trigger, nothing happens as the gun fouls, or jams, much to the wielders consternation.
The one time it has fired, Dan was escaping from pursuers, and his only hope was that the gun would fire and set off a wagon packed down with powder. The gun fired, and the wagon exploded. Since that day, the weapon has never fired.


Magical Properties:

Game terms: Cowpoke will only fire if pointed at a suitable dramatic target, and only if there is no other way out. The character also has to use the weapon in desperation, knowing it wont fire. Suitable circumstances include shooting a hangmans rope while a friend dangles from it, shooting out the wheel of a speeding wagon, and such. The weapon will NEVER fire if the intended target is another living being.
I know this isnt the general fare, but I couldnt resist. Ride high, LawDawg!
?
Hall of Honour (1
voters
/ 1
votes
)
?
Scrasamax's Awards and Badges
Not Registered Yet? No problem.
Do you want Strolenati super powers? Registering. That's how you get super powers! These are just a couple powers you receive with more to come as you participate.
Upvote and give XP to encourage useful comments.
Work on submissions in private or flag them for assistance.
Earn XP and gain levels that give you more site abilities (super powers).
You should register. All your friends are doing it!
?

Responses (10)

Excellent!
Nice power- I love that idea! I suppose you could do it with a crossbow or something...
4/5.

5/5 I *love* it.

Great, absolutely great. The 'dramatic' stipulation is really good. I'll have to think of a way to fit something like that into a fantasy setting.

Two thumbs up (makes me sorta wish I had more thumbs!)
I guess it could work with any weapon capable of wreaking havoc...

Purty good if I do say so mu'self.
5/5

I love it as an item, I really do, but I don't think it is playable.
Think about it: If it never works, who would try to use in extremis? (OK, maybe it is only my players that forget everything in their packs when under duress...) Conversely, if anybody did try it in the appropriate circumstances and thus figured out how it worked and described its unique power, then it would never work for anyone who heard the description - and it's certainly the kind of story that would get around!
oy vey, I feel like I'm kicking a cute puppy...
Never mind, forget what I said - I love it!

I like it a lot, almost enough to bump it up a grade. I'm not into guns in my games, but thats just preference. If I were to use it I reckon it would be an NPC, because as pointed out, most players wouldnt use a nonworking gun in dire conditions.
great write-up.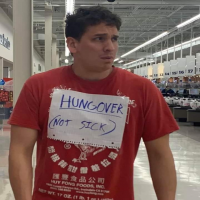 very amusing, heroic, and nicely nuanced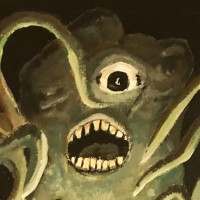 A nifty item for the right game setting. This idea could be used elsewhere.

short and sweet, nice item
" Eat your sister breed kill a goblin breed plunder a human farm, kill the farmers, eat the dog breed Get killed by first level fighter breed with ghosts"
" A weapon of war created by an extinct race, this rat appears normal but is a simulacrum - beneath it's mangy fur is a body of bronze. Commanded by words in a lost language, wherever it goes a virulent and lethal plague follows. The cure is similarly obscure."
" While setting up camp for the night, the PC's are aproached by another group of adventurers who seem nice enough. The road is somewhat dangerous and the other group suggests camping together. The two bands split watches, one adventurer from each group watching at once. The night goes by without incident, the next day the PC's travel with the other group as they are going the same way. The group consists of Hordel the ranger, who is skilled with the bow. Hordel is a quiet man who speaks little but appears quite skilled. Dremar is a barbarian who is a little excentric, he seems to be an excasive drinker and thiunk that battle is the solution to everything. He appears to be a stout and powerful fighter with his greataxe. Ferrin is the leader of the group, a rouge by trade. He is daft and witty, speaking with the PCs often and asking many questions. He fights with finesse with his rapier. Preminitat as a cleric but he will not say which god he worships. He uses his spells to empower and heal his party and fights with a club. He sticks close to Ferrin. Ferrin is a great talker and tells much of himself and his party, but asks even more about the history and capabilities of the PCs. He tells of some adventures his party has had, and they seem like an interesting group of mercenaries. Hordel is quite and has little interest in speaking with the PCs, he ignores most questions. He spends a lot of time with Dremar and sometimes Ferrin. Dremar seems to not care about any questions ansked to him, nor does he seem to know the answers. He seems battle hardened and is a simple man. Preminitat rarely starts conversations but will speak with the PCs. However, some of his accounts of the party's history seem to condradict those of Ferrin. The Party spends another night and day with Ferrin's group. One of four things can happen on the third night. 1: While eating dinner around the fire, Ferrin gets into an argument with one of the PCs when he/she mentions the discepincies between Ferrin's stories and Preminitat's. 2: Hordel gets mad after repeated questioning about his life from the PCs. 3. Preminitat gets mad after repeated questioning from the PCs about what god he worships. 4: One of the PCs rejects the offer of a drink from Dremar and he takes it as an insult. All of these scenarios result in a battle between the parties. If Ferrin's party is defeated and still lives he swears vengance. His party may then cross paths with the adventurers again."