Candi
Hanging on the arm of a wealthy upper crust man, she was the perfect arm charm. But you swear, you have seen her before.
'Hi I'm Candi', she giggled in an almost musical voice.
Description
Candi appears to be a pretty human girl in her mid 20s. Candi is actually an android created by the Dreaded Mech Master.
Story
The Mech Master has some subtle plans from time to time, most of them revolve around mindcontrol devices or android imposters. Of course the heroes always stop the egotistical mech master and smash all his toys.
Well all but one. Candi's holding tube was blown out of the radius of destruction when the lair exploded. The jarring explosion activated her. She had all her basic programing, but none of her mission specifics. She existed, but had no purpose. (She was not a duplicate, but was going to be used as bait to lure certain targets). She straightened her dress, picked up her purse, and entered human society.
The early days were her using her appearance and 'human interface peripherals' to achieve money. This allowed her a nice place to store herself and her things and recharge. This would of be a great job if humans did not consider it illegal. After a time she had enough money to buy the elements of a new identity. She has drifted from job to job, trying to learn these new trades. She has been a receptionist, a sales girl for clothing and new cars, a waitress, an actress, and is now trying her hand at modelling. During this time she has been supplimenting her income as a high end escort (legal this time), so she has been seen on the arm of many an extremely rich gentleman.
Powers
Inhumanly strong and durrable.
Inhuman reflexes and speed.
A variety of computer databases and interface abilities (IR interfaces and Wireless network abilities)
Roleplay Notes
Candi will tell people she has Asmovian values, but really she does not. Her only goal is to continue to exist and will resort to anything to achieve that goal.
Candi acts like a bubbly party girl much of the time. However this is just a programmed masque. She can act in any way appropriate, taking on any persona needed. Underneith all the human acting masques is a cunning artificial intelligence.
Plot Lines
These vary depending upon when in Candi's life story you encounter her. She could be a serious suprise to a street level hero trying to stop some prostitution. She could be background to the characters if they are buying clothes or a car, or maybe she is the new stylish receptionist at work. They may even encounter her on the arm of a millionair that blows into town.
Her being visible in the media (lets say on the arm of the millionaire) will be her undoing. Mech Master escaped of course and realizes that one of his units is not doing what he told it to do... so he will send units to capture it so it can be reprogrammed. Of course the heroes will think the robots are after the millionaire or some other person there... rather than the pretty girl.
Not Registered Yet? No problem.
Do you want Strolenati super powers? Registering. That's how you get super powers! These are just a couple powers you receive with more to come as you participate.
Upvote and give XP to encourage useful comments.
Work on submissions in private or flag them for assistance.
Earn XP and gain levels that give you more site abilities (super powers).
You should register. All your friends are doing it!
?

Responses (4)-4

Men.
With the required genetic dispersion out of the way. This takes a perfectly good cliche and twists it so it is interesting. (It has to be played 'just so' to work.)
You could do better with it.

Now that robots seem to come up again, it is time to remind of those pieces that actually escape control. And this is a neat example.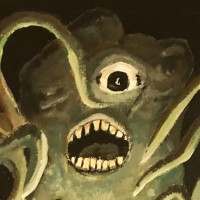 This character could easily be placed in the Cosmic Era as well..
" The PCs are exploring the catacombs beneath a Colosseum-in-Rome type of structure, when they come across a foul-smelling, stagnant, ankle-deep with algae, public mass latrine. Countless urinals of marble, line this rather large chamber equally crafted of marble. Whatever system of plumbing once worked here, has not in many years. Old graffiti lines the stained,dirty walls, prominently bolded are such intellectual poetic musings as, 'Urine For It Now', 'I Pee Therefore It Comes' and 'Now Urine Trouble'. A few moments after the PCs get to take in this unpleasant location, they hear the low rumbling of ancient plumbing and rather large Urine Elemental rises like a great, wet, wave of filth to attack them. The creature reeks and exudes noxious debilitating fumes, while its liquid strikes burn flesh like acid."
" Swordbiters are parasites. They are long, thin and silver, and digest metal, somewhat like rust monsters, but smaller and more insidious. They resemble stick insects, but when they cling to metal they are very well camouflaged, and one can be biting your sword for a week before you notice it. They cannot be removed by hand, as they are very strong, but if the blade is inserted into fire they will leap off to escape the flames. Sometimes, old treasure hoards are infested with them, and the first glimpse you get of the 'glittering' weapons is a pile of rusted swords encrusted with these thin silvery insects."
" A typical iron ore mine, the Irongate was closed some years ago and the entrance was closed off with a heavy gate of oak and thick iron bands, the Irongate. The mine itself was abandoned because it was a breeding ground for dire rats and many of the miners suffered from giant rodent bites as well as diseases from said bites. The mines are haunted by the ghosts of the men who died in dire rat swarms, adding to the mine's unpleasant character."