The Tower of NON
I know a guy who says he found a tower in the woods and saw a man fall out the window - straight up!
Deep within the Old Woods, farther in than most hunting parties dare to tread, a short, stone tower juts forth from the landscape. To an observer, there is a certain strangeness about it, as if the pattern the windows are in is somehow wrong. There are no doors, and all of the windows are barred shut but for a single small window near the base of the tower, just large enough for a man to crawl through.
About a yard from this window a wooden signpost has been driven deep into the ground. It has a single word painted on it: NON. Careful observers will find that the paint used to write the word appears to have dripped up the sign in minute portions. If the sign is significantly disturbed, it will come loose from the ground and hurtle inexplicably upwards into the heavens.
Inside the Tower
If the tower is entered through the small open window, one will find that the inside of the tower is much like one would expect the inside of a tower to be - it's divided up into furnished rooms, with doors and stairs. There is one bit of strangeness - anyone who enters the tower will find that the entire inside is arranged as if upside-down. Doors extend downwards from the ceiling, stairs are carved into the ceiling. Furniture sits easily upon the ceiling, not bolted or fastened down but merely resting there 'normally.' Naturally, this makes movement through the tower a more difficult than normal endeavor, if not a terribly dangerous one.
Anything found in the tower seems totally normal except for a single inexplicable property - it all falls upwards, as if propelled away from the earth. Even if removed from the tower it retains this property.
There are only a few things in the tower which behave normally - a few rocks, sticks, and a single deer carcass, slain with an arrow.
Inhabitants of the Tower
Eventually, intruders will meet the inhabitants of the Tower of NON. There are only a small handful of people living in the tower, and they, like everything else found in the tower, move around on the ceiling and fall upward. The windows have obviously been barred shut for their safety, to keep them from falling up into the bottomless heavens. In appearance, they look normal.
Fortunately, the people here are friendly. They will happily reveal that they are a team of explorers and scientists, come from the other side of the world to see what life is like on this side. Obviously, this is why they, and their possessions, fall upwards - gravity works opposite on them. Otherwise, they would of course fall off the world, living on the bottom of it as they do!
Because this trait makes outside exploration so dangerous for them, the people here have unfortunately accomplished depressingly little in their stay thus far. They are thrilled to have visitors to speak with, ask questions of, and potentially buy things from. While they have relatively little in the way of conventional valuables, obviously anything which falls upwards has a degree of value in and of itself!
Exit
At the bottom of the tower is a cellar, and from it tunnels delve deep into the earth. It's from these tunnels that the stone was cut to make the tower (if it used upwards-falling stone, it would be too unstable to live in!). In addition, traveling through these tunnels will eventually take one to the other side of the world, though any erstwhile explorers will find there similar troubles to the ones had here by the people of the tower.
Plot Hooks
This is another one to see 'because it's there,' but there are lots of things that could come of it, too. Exchange of extremely different cultures. Quests to find objects for the people of NON. Adventure to the other side of the world!
Alternatively, you could have less peaceful people in the tower - while an invasion is very unlikely to be successful (imagine the logistical struggles alone!), you could run a nifty fight scene involving people on the floor fighting people on the ceiling, with the possibility of hurling people out the window to plunge screaming into the upper atmosphere.
A final note: Why NON? Because NON reads the same way both right side-up and upside-down.
?
Dragonlordmax's Awards and Badges
?
Community Contributions (1)-1
There is a market for items and materials from the other side of the world. Since a pound of mass from the other side cancels a pound from our side, a skilled craftsman can build remarkable items combining wood, or stone, ingots of iron or steel, or other raw materials from both sides. Just imagine the possibilities, such as:
A sword or other weapon weighing nothing but still possessing the mass a proper weapon needs.
A sturdy pack which cancels the weight of items placed within.
A perfectly balanced arrow which fires further because gravity doesn't pull at it as strongly,
Heavy iron boots which make the wearer lighter on his feet.
Not Registered Yet? No problem.
Do you want Strolenati super powers? Registering. That's how you get super powers! These are just a couple powers you receive with more to come as you participate.
Upvote and give XP to encourage useful comments.
Work on submissions in private or flag them for assistance.
Earn XP and gain levels that give you more site abilities (super powers).
You should register. All your friends are doing it!
?

Responses (9)

Really interesting submission, reminds me of a idea I saw somewhere for a tesseract based dungeon where there were only 6 rooms but many, many ways to get to each one and depending on how you got there the gravity would be different... (if I find the link I will post it.)
Interesting things could be done with 'reverse weight' equipment (armor anyone? Or combine materials from both (say, in forging metal or just mix components and get a zero weight item) and certainly I foresee lots of interesting cultural interactions (PC's start up a embassy?) Pick a culture that is interesting enough in its own right that does not have a analogue in your setting, and work your way up from there. The 'gravity issue' is a interesting cultural barrier where communication is possible but there are still issues...

...
..
...what happens if people from this world and the other one have children? Zero-gravity babies? Or does the baby pick up the 'gravity' of the mother (which makes sense in a matter-based system of tracking)...
...though if its a matter based system of tracking, visitors spending enough time on the other side and eating the food will eventually switch orientation. Which could be cool. Especially during said zero-gravity transition period. This works well on a world that has been canonically declared 'flat'.
P.S. I think I found the original article, for those interested. I say 'think' because I remember a more clearly laid out map of what the rooms would look like connected together. It was Dragon Magazine, issues 17 and 38, or both in the Compendium. Gravity was subjectively consistent (no reversal of gravity doors) but objects (or creatures) in the room could have a different gravity then your own, based on how they got to that room.

I really like the 'of course it works that way' attitude of the writing. It'd be a great encounter in a slightly tongue-in-cheek game, too. And... how did they get there? About half way into their journey, wouldn't they be 'scaling the cliff' of the part of the world that's perpendicular to their normal environment? So many possibilities for strange fun.

Another interesting feature, short but sweet. One of those things you kick yourself for not thinking of. I would love to play in a campaign world littered with these doctor Seuss like locations and anti-logical, fairy-tale like physics rules.

I like the fact of how straight the scenario is played because of how easy it would be to make this straight camp.

Awesome idea
With the sign post you have the great potential of using different Ambigrams

Not sure that I can add anything extra to the comments already made.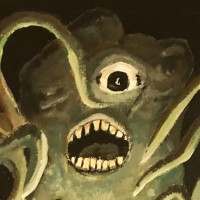 An interesting take on antigravity, though it requires a very specific worldview.

My first thought was not a path to other side of world but to alternate plane...not humans but demons/devils trying to get more victims.
" A slight rustle of the wind... and it stands before you. A Unicorn, whiter and more beautiful than you ever imagined it. It has deep wonderful eyes, and you can't help but admire this creature. It came to have a look at you, and now it freely goes. You have not the heart to stop it, and it silently vanishes between the trees. Note: unless specially needed, this encounter should never happen again."
" After killing certain animals, if you drink their blood while performing a sort of ritual you will have visions and/or gain specific powers for an amount of time."
" Cold Comfort is a long-sword of star-steel, its blade giving off a wan, blueish light. Its grip is wrapped tightly in snow-serpent hide, and its pommel bears a single opalescent gemstone. This blade is enchanted in such a way, that whoever wields it, begins to fall completely and irrevocably 'in love' with the weapon. This love does not manifest itself as the expected reverence and bond formed between any warrior and his weapon, but as a deeper, truer love, one has for a soul-mate of the same species! The longer the wielder carries Cold Comfort the stronger and more disturbing this love becomes, and only the most powerful of magicks can potentially break the sword's insidious spell. The blade's owner will even speak to and coo to the weapon, convinced that the sword understands and returns this epic love. If the blade's wielder somehow loses the weapon or has it taken away, they will become inconsolable, and will predictably go to 'ends of the earth and back' to retrieve it at any cost. Such is the weapon's curse that even separation from it does not damper the feelings the owner has for the sword. Legends tell of several distraught and mind-addled knights who even years after losing the blade, still wander the country-side searching for their lost love. And woe be to the 'new lover' if and when they find him or her."