The Eye of the Pig
Yes my child, the pig can see the winds, and will tell you of the storms.
Full Item Description
It is a small glass orb, small as an eye. Inside it, glinting in the candle-light as I sit here, is a small piece of metal. Now that I think of it it's quite like a sword tip. Every once in a while, usually when someone nearby is feeling particularly impassioned, it clouds over and looks as if a small storm is raging inside of it. -Journal entry of Sinou the Elder.
History
It's a relic of an ancient world, crafted by one of the first artificers. It was made mere decades after the clash between the Two. (The Two is in reference to the Storm Queen and the Mad God) And even though the true origins of this item have very likely been forgotten by all the mortal races, and it will probably be known only by the eldest of the dragons, who themselves will have heard it only from others. And, though quite a few of the tales concerning this item have been lost, there are many more tales than even its years should allow.
Some say, and whether this is true or not I cannot vouch, that this relic was crafted for a great archer; who, after losing his eye in battle, appealed to his brother to make him a new one. His brother obliged him, and after getting the best materials for the eye, set about crafting it. However, no matter how hard he tried he wasn't able to complete it to his satisfaction. Until, near despair, he remembered the day when blood rained from the sky, and the metal shard that was nearly his death.
And in his final attempt, both fatefully wrong and wonderfully right, he succeeded where all his other tries had failed. And when his brother put it in for the first time it helped him much more than was hoped. Instead of restoring him his vision, it was increased 3-fold, and what's more, he could see the winds themselves. And at first they knew nothing of it's ills.
You see, it calls out to her. It's a call carried to her by the winds themselves, and it gets more desperate the closer she gets. In those first years, when both of them were still nursing their wounds, it was silent. But when she finally awakened again, and ran off to her home it screamed for the first time in decades. And the scream was enough to pick the archer and a score of others and toss them 80 feet into the air, and that after that they flew another 20 yards before they finally landed.
Magic/Cursed Properties
The Eye allows the owner to see the patterns of the winds, how they are flowing now and how they will flow. It also gives the person preternatural vision beyond that, 2 or 3 times what a member of their race would normally be capable of seeing. And while this will be a great boon to anyone who uses it they must watch out for the seemingly random gusts. Some of them are light, only 10 or 15 miles an hour, while others are 10 times that. Though the very high end of this is extremely rare, only to be expected when She is walking close by.
Possible Hooks
The Whistling Caves - A tunnel system miles long, there seems to always be air coming out of the caves. And the winds rushing through the tunnels create a distinctive, and not unpleasant, whistling or moaning noise. Though there are many local tales to explain this, from spirits to a portal to Hell it is in fact the Eye that is causing all the winds.
I Want It - A noble or priest has heard of this fabulous trinket and wants it. OR The Storm Queen has finally remembered her broken swords and wishes to piece them together again, and so gives the PCs a nice holy quest to complete.
Quest - The Shards of the Storm Description
First Official Quest 12 week long quest with 10XP award per post. To get things really started here on new Strolen's I dug into the archives and recovered Siren no Orakio's old request for fresh ideas on the Shards of the Storm. The quest is as follows: What non-weapon can you make of the Shards of the Storm? Who among us can craft the most ingenious idea spawned from Siren's old masterpiece? Originally posted by Siren no Orakio:
Some time ago, I posted up the Shards of the Storm. In essence, they are fragments of a goddess's essense, containing a piece of the driven fury of the concept of the Storm. Much of their purpose, from a GMing point of view, is to provide a common thread for items of power. So? So, so far I have only been able to come up with two not-weapon items to make out of these, and I'd like to see what better minds than mine can do with them.
?
Pariah's Awards and Badges
Not Registered Yet? No problem.
Do you want Strolenati super powers? Registering. That's how you get super powers! These are just a couple powers you receive with more to come as you participate.
Upvote and give XP to encourage useful comments.
Work on submissions in private or flag them for assistance.
Earn XP and gain levels that give you more site abilities (super powers).
You should register. All your friends are doing it!
?

Responses (8)

I like it. :)

It feels a little under-developed, but it's basically solid. A false eye with the essence of a god implanted in it becomes a pale reflection of the eye of that god, especially since it must be a small, and thus 'weak' shard - But what inspires a person to put a sword-tip in an eye?

Bleh. Underdeveloped is right. I think I might've thought of this about 1130 to 12 at night, and typed it up then. No notes on this sucker anywhere, which means it got developed for a total of 10, maybe 15 seconds. Okay, I'm guessing that it would be because he could feel the power emenating off of it, figured out the it was a piece of one of Her swords, and figured that this would help his brother, maybe even allow him to 'see' out of the glass eye.

Updated: A little bit here, a little bit there and it stops feeling underdeveloped

Wow, I like it, It's a little creepy now, too. Still feels like it's missing a bit of something, but I like it.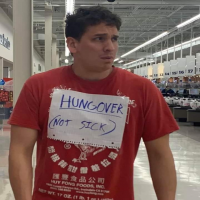 I love the name! Eye of the Pig invokes horror/terror, before you even begin reading it. I wish the details were a bit expanded on as others have mentioned. Also, I realize and understand that this is part of the Shards of the Storm Quest, but I feel that if it was a stand alone item, and its powers were radically different, leaning towards something more sinister, this would have been AWESOME!
---

Muro I'm thinking about doing another, slightly more sinister eye replacement. You might reconize the next one too.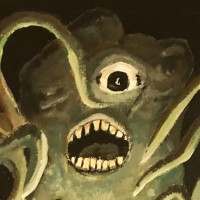 I like this one - even its odd, unexplained nature somehow works.
" A desolate region is almost entirely without normal vegetation. Local plants are able to unroot themselves and crawl along the ground in search of water and fertile soil. The inhabitants fence their crops in to keep them from wandering off and put heavy stone thresholds in the doorways of their huts to keep wayward plants out. The plants sense by chemical cues, lacking sight or hearing, and tend to avoid herbivores or anything that smells of 'dead plants'. Characters with horses are likely to be unwelcome among the locals."
" This magic greatsword has a minimal effect verses the unarmored but becomes more powerful vrs chain, then plate.Monsters are mostly considered hide but some like dragons would be plate"
" A man is arrested for mass murder and found to be insane. Piles of corpses were found on his property, neatly stacked torsos with the skin peeled off and the limbs removed. The man readily admits the work is his, though he claims he was only chopping down trees, removing their branches, debarking them, and then stacking them to season. The man may have swung the axe but it was a Druid who caused the delusion. This Druid is still on the loose and likely to repeat the crime. In time he may get more creative in his 'punishments.'"