Greendeath
"Though they walk as men and grow as weeds, they are neither; the angry dead, feeding the green with the rage until they walk again, yellowing bones bound by the twining green."
Full Description
The Greendeath appear as skeletons twined with creeping vines and colorful blossoms, a contrast of colors and strange creaking marking their every movement; all of them have their skulls broken. Strange 'muscles' of greenery flex as they move, and taught vines serve to bind their bones together. The result is a creature with something far beyond the shambling of other rotting undead; the vitality of the woods flows in their unnatural forms, and they move with the graceful deadliness of a forest predator.
They have little need of weapons, having sharpened the bones of their hands and feet shortly after arising, as well as having thorny plants twined about their bones. Even a glancing blow from one of these undead will leave poisonous lacerations, and a direct strike often leaves the victim strangling on the blood from his own torn-out throat.
Additional Information
The Greendeath only arise in those woods which are being swiftly felled by woodsmen, far faster than the wood can replenish itself. Inevitably, fights break out, and a woodsman by himself, too angry to be near his fellows, will often have his life ended by a deadwood branch dropping on his head, the forest's spirit sensing his wrath.
All too rapidly, the plants of the shrinking wood invade the corpse, consuming the soft tissues to fuel their growth and nurturing the anger resonating within the corpse, building it to a fever pitch as they bind the bones together with creeping tendrils, replacing ligaments and muscles with the dense strength of the woods.
Soon, all that remains are the bones, the plants that twine about them, and the anger; anger enough, between the woodsman and the forest, to drag the strange assembly to unnatural life. Driven by hate, they set off to slay those who kindled that anger, becoming a loathsome and unnatural protector of the natural world as it does so.
Plot Hooks
-Woodsmen have begun disappearing in the nearby forest; unknown to the locals, who fear rabid animals or perhaps an angry tribe of forest-dwellers, a Greendeath stalks the wood, slaughtering any who would bring iron to threaten the woods.
-A druid has begun deliberately creating greendeaths, using magic and herbal taints to drive tempers to the boiling point before staving the skulls of those who head off by themselves. Soon, the druid intends to release the hatred of the undead on the nearby town that has been logging in the forest far beyond their needs.
-What to do when a friend goes missing in the forest after a fight with his father? Go looking, of course! Unfortunately, by the time the party finds their friend, the poor soul is only recognizable by the pendant around his skeletal neck...
?
Hall of Honour (3
voters
/ 3
votes
)
Not Registered Yet? No problem.
Do you want Strolenati super powers? Registering. That's how you get super powers! These are just a couple powers you receive with more to come as you participate.
Upvote and give XP to encourage useful comments.
Work on submissions in private or flag them for assistance.
Earn XP and gain levels that give you more site abilities (super powers).
You should register. All your friends are doing it!
?

Responses (17)-17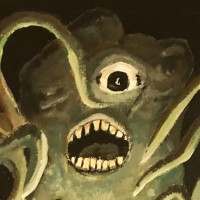 As I mentioned before, I have a thing for these type of critters. Another nifty creature for the compendium!
---

I enjoy toying with ideas for the undead, really. From the pathetic to the horrific to the flat-out strange...

A *new* form of Undead. Very good.
---

Thank you. It was an idea-on-the-fly.

I do like these ones. It is a logical "naturally" arising undead. The Unspeakable Army of the Green, so to speak.
---

Pretty much, yes. I get just as tired of the Shambling Trees of Death as I do of the Moaning Zombie/Dusty Skeleton.

The visual I get in my head of these guys is phenomenal: white bone wrapped in green and brown, colorful flowers bursting from eye sockets and in between ribs. Big thumbs up.
---

That's pretty much the way they look in my mental image. They're the sort of thing that you're not sure if you want a bottle of holy water or a bottle of weed killer to deal with.

Terribly fun. I could really blow some minds with something like this.
---

Considering some of what you come up with, I consider that high praise.

This very well might get used in an upcoming session. I find this to be a very original form of undead, which will certainly blow minds and freak people out (because that's how it works). People tend to get scared of something they find to be unnatural, but that loses its edge after you see so many zombies, vampires, and general undead. Something like this is fresh, original, and definitely NOT the kind of 'natural' that the players are expecting! Good job, and keep up the posting! These are gems!
---

Yes - the fear of the undead tends to be blunted when you have roughly ten thousand zombie movies, at least as many vampire movies, and several thousand more depicting other kinds of unliving horrors, to say nothing of books, games, and so on. You might get edgy if they threaten your character's life, but they're not that terrifying because you've seen all their variations, and in most systems the players have their stats memorized.
This thing, you're not sure if you need a druid to command it or a priest to exorcise it, once you realize what it is that's springing out of the darkness, slicing things open, and then fading back amid the greenery as quickly as a hunting cat.
---

Purge the beast with Holy Promethium. It is the only way.
---

"Rule #505 of the CDAG: Regardless of popular belief, fire does not solve everything. Just most things."
Maybe I should give you a Burning Undead Thing.

Pretty nifty green zombie. I approve.
---

Thank you. Like a lot of my subs that end up liked, this was one of my late-night flashes of inspiration.

Not a fan of zombies normally but this creature is refreshing and I can see the logic behind why they arise. Good work overall.
" freedom of speech is allowed in what is normally a dictatorship."
" Nine times out of ten, it's the undead that do the running. Not strictly animal or vegetable, the Corpse bud is a peculiar individual that shares characteristics from multiple kingdoms and species. In appearance, all corpse buds bear a shape of a large rounded top bud divided into four lateral segments, and a much longer, narrower bottom bud, also divided into four segments. Between the two halves are a set of four radial limbs, rounded on top and flat on the bottom, covered with tiny serrated hooks facing towards the body. In overall size, it's limbs reach as wide as a spread hand, with the body being as thick as a fist. It is as long as a human hand from top to bottom. Internally, the top bud of the corpse bud contains a bacteria filled membrane that produces the hydrogen that the corpse bud uses to stay aloft, and a series of fungal gills for the dispersal of spores for reproduction. The lower half of the bud contains a number of fine filaments, as well as a sharp barbed stinger containing a powerful local anaesthesia. The Corpse Bud mobilizes by inflating its top bud, and steers by rotating its arms rapidly about its body. The corpse bud ordinarily drifts with the wind, orienting towards the scent of recent decay and death. It preys on the recently dead, burrowing the lower bud into the victim, using the anaesthesia in case the victim is dying, and not truly deceased. Once embedded, it releases its filaments into the body, replacing the current nervous system. This gives it full animation of the body, and allows the corpse bud to direct it. Corpse buds are not a malevolent species, being primarily concerned with breaking down the host body for food, and infecting the reproductive cycle with spores in order to mate with other corpse-bud bodies. To preserve the corpse for this purpose, Corpse buds will seek out dry locations to prevent bacteria from destroying the corpses. This often causes a large number of corpse buds to gather in a single location. In culture, Corpse buds are used to repair broken spines or degenerative diseases, as the sentient mind will easily overcome the mind of the non-sentient corpse bud. Once infected by a corpse bud, however, removal is usually fatal, and the infected individual cannot reproduce, or risk infecting another. Thus, it is a technique often reserved for the elderly, or a last resort. Necromancers and other dark sorcerers will often preserve the corpses of their victims magically, and infect them with corpse buds, creating traditional undead as well, so as to seed their lairs with undead both offensive and non, in order to throw their enemies off balance. They will also enslave the rudimentary minds of the corpse buds, and transform the docile things into a plague. There have also been accounts of magically transformed corpse buds with stronger minds and a taste for living flesh, but thus far all accounts are unproven rumors."
" Arakis's zombie problem went largely ignored, because it was believed that the Shai-Hulud (sand worms) would effectively dispose of the undead walkers. Unfortunately the problem grew until the roving herds of sunburnt ghouls threatened the flow of spice. While observing one of the great reanimated masses over take a Harvester from the safety of an ornithopter, an Imperial Zoologists noted that the sand caked flesh eating revenants walked entirely without rhythm. Shortly after receiving this report the Bene Gesserits claimed to have a solution to Arakis's hellish resurrections. They asserted to the agents of the great houses that the worms could be drawn to the walkers using an ancient sonic weapon. According to the sisters, exposing the zombies to an antediluvian ballad composed by the great master M. Jackson would force them to step in time."