Where is Yusa?
Don't worry about him dear, he's out in the field.
You know i dont like it, there are wyverns about.
Dont be such a fussy pants, there are dozens of dandélions that Yusa and the other children are playing with.
Some protection there.
Dear, you know that the little fluff-heads run at the first hint of trouble, and Yusa knows to come home straight away if his plant friends run away.
Full Description
A Dandélion is a child-like Plantkin* with a three foot tall body composed of soft green material that is easily cut or broken. It regenerates from this damage rather quickly, but a determined effort can easily crush one of these plantfolk to death. The head of a Dandélion is a basketball sized puffball of white fibers, it has primitive visual capability and limited speech. Most of the time the creature laughs and runs about like a child playing.
Eventually the seed pod hidden deep inside the head ripens and the Dandélion stops moving and roots it's feet into the ground. After this the seeds start blowing away, often trailing back along places where the plantkin had been. Once all of the seeds are gone, the stump of the Dandélion sprouts leaves and begins storing energy to grow another seed head.
'The crops are getting thin this year, the outer fields are half eaten up with Dandélions and ragweed.' The old groundskeeper scowled, he didnt dislike the little plant things, most of them reminded him of his rambunctious grandson. What he hated was that if he left them alone, they would keep the corn from growing. He would have to see about finding either a druid to lead them to some other field, or a few sellswords callous enough to chop up creatures that only ran and cried when they were attacked. He hated the way they cried, so like a real child. It would be a druid this time, he learned his lesson the last time...
Additional Information
Dandélions (Dan-DEEL-e-on, not DAN-DE-Lie-on) are not intended to be dangerous, but rather a slightly comical plantform. Like normal dandelions they really dont have a use, are a bit of a pest, but not really a danger. In large numbers, this plantfolk will compete with crops and other plants, but they are easy to keep down in number. Children like to play with Dandélions, and vice versa, while most treefolk consider them nuisances at best, or like pets in good conditions. Their intelligence is on par with a 5 year old child, so their idea of tactics is limited to sneaking, and running away.
*What is a Plantkin?
Plantkin are to normal plants what treefolk are to trees, sentient and ambulatory versions of the basic parent plant.
?
Hall of Honour (1
voters
/ 1
votes
)
?
Scrasamax's Awards and Badges
Not Registered Yet? No problem.
Do you want Strolenati super powers? Registering. That's how you get super powers! These are just a couple powers you receive with more to come as you participate.
Upvote and give XP to encourage useful comments.
Work on submissions in private or flag them for assistance.
Earn XP and gain levels that give you more site abilities (super powers).
You should register. All your friends are doing it!
?

Responses (9)

Little creatures to add carecter to a world.

Now that has touched me... a bit silly, a bit pointless, but written with heart and soul. I would like to imagine, that those who would kill them will be marked, repaid by nature some other time. A nice fantasy biology as well.
They indeed add character to a place.

I would actually be rather disturbed to run into a field full of these, especially given my penchant for blowing the heads off of their non-sentient kin. I would almost say it's *too* fantastic for my tastes, but that sounds ridiculous, so I won't say it. A lovely little color creature.
Also, the word "Plantkin" sounds adorable. It is the new nickname of my houseplant.

And here's the actual vote.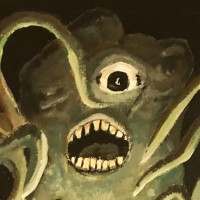 My goodness, I love these critters!
I could see pairing one of these with an old Dwarven Treeherd who would complain about the spunky little Plantkin, but being quite fond of it.
Now this opens the door to other varieties. Poison Ivy plantkin comes to mind. The plantkin would be curious and try to get close to people, but they would not be receptive.. :)
---

I have several other plantkin in mind, might have to start a freetext! I like the poison ivy plantkin idea too.

I quite like this! I could see it completely putting off a group who's used to fighting anything remotely monstrous without so much as a thought to alternatives.
Plantkin are a very neat idea, I can't help but think that the Deadly Nightshade variety would be somewhat sinister.

Creative and innovative. I think these could be a useful addition to any generic fantasy world.

Anyone else think of Smurfs when they read this? I like these as a nice tidbit to add to the world, although as a 'tag-along' NPC it might be a good source of comedy relief.
" Tarot Cards are used by Magic folks to predict the future (cartomancy). Since the present becomes the future through the interplay of elementally alligned forces, the tumble of cards can give clues to the way the pattern of elements will be in the future. This means a wizard will have a deck of cards with them. Since cards were used to train wizards in legerdemain, Since they have cards with them, they frequently know how to use them. Guild magic users often have a knack for fancy shuffles, palming cards, and a variety of card tricks and games."
" For you to have a near-death experience, Death must have a near-YOU experience. Take care to treat him well, and you may be rewarded... eventually."
" A massive trebuchet constructed by the reigning tyrant, it can hurl the heaviest loads of any trebuchet to date and is the most destructive, non-magical weapon currently in existance. The Thought of Warwolf setting up on their lawn has quelled many a rebellion."