Perimeter Pod
Airborne assault, drop pods, and vertical insertion are common tactics for power armor combat. The inherent flaw is that the forces can only bring the weaponry they carry with them, and are reliant on air or space craft for fire support. The Perimeter Pod is a mobile insertion static weapon (MISW).
Deployment: Perimeter Pods can typically be carried as external weapons, and can be deployed by dropships (the most common method) aerospace fighters, cargo craft, helocraft, and suitably large mecha. Perimeter Pods come in three sizes, small, medium, and large. Small pods can be carried by most all vehicles and are approximately 500 lbs in weight. Medium pods are a ton, and can only be carried by larger military and most cargo craft. The large perimeter pod is five tons, and can only be deployed by dropships, assault mecha, bombers, and large cargo craft.
Perimeter Pods have a system to slow their drop, parachutes and retrorockets for targets with atmospheres, and more robust landing engines for space drops. In transit, pods are defenseless, and must rely on their relatively light armor shell to protect them from anti-aircraft fire. As automated systems, they lack vulnerable crew, and are relatively tough. On the ground, the pod opens, and leveling legs bring the perimeter pod online. Perimeter Pods rely on a primitive friend or foe synthetic intelligence system, which makes leaving them alone the best plan for even the side that dropped them. The pods can be tied into defense networks, but this makes them vulnerable to being hacked and being used against friendly troops.
Usage
The perimeter pod is a common tool in first world Cosmic Era military arsenals and provides for creating impromptu static defenses and support for airborne and other rapid mobility troops. Fitting with a fast paced highly mobile mode of warfare, pods are inexpensive, and are relatively light in terms of ammo, and power endurance. This reduces cost, but also limits the value of the pod if it is captured, or when it expends it's payload and fuel supply.

The Automatic Rifle Pod
The Automatic Rifle Perimeter Pod is a small pod that is armed with a pair of heavy machine guns, typically conventional operation in atmosphere, but magnetic in space operations. The pod is designed for anti-personnel operations and are relatively common. In instances of Dimensional Fatigue Events, gun pods will be peppered down to form a defensive quarantine around the afflicted area, set to shoot anything that moves.
Missile Pod
The Missile Pod is a medium Perimeter Pod designed for anti-armor or anti-air operations, and has a number of guided missiles that it can fire. These pods are not multi-role, anti-air missiles are not the same as anti-armor, but the only thing that changes is the targeting profile of the pod, and the missiles it is armed with. Anti-air pods are dropped to support ground forces, while anti-armor pods are more commonly used to set ambushes and create military perimeters.
The Cannon Pod
A large unit, the cannon pod is a small bore (less than 100mm) cannon with a robotic loader and internal ammo supply. The gun can used for light artillery support, or anti-armor and anti-power armor operations in contested areas. The entire weapon is automated, and almost always tied into a defensive network, where it fires on targets as requested.
The CIWS Pod
A medium pod, the CIWS is dropped in areas where rocket and missile attacks are expected, and used to provide an umbrella for ground troops. In urban areas, these pods are dropped on top of buildings to afford them a greater field of fire.
?
Scrasamax's Awards and Badges
?
Community Contributions (1)-1
ECM Pod, available in all sizes these electronic countermeasures are launched to counter the electronics of a static defense. Some carry EMP devices and simply blow up, others launch chaff. The vast majority scramble the electrons of ground based misssle and ak ak.
Not Registered Yet? No problem.
Do you want Strolenati super powers? Registering. That's how you get super powers! These are just a couple powers you receive with more to come as you participate.
Upvote and give XP to encourage useful comments.
Work on submissions in private or flag them for assistance.
Earn XP and gain levels that give you more site abilities (super powers).
You should register. All your friends are doing it!
?

Responses (7)

Nice piece of equipment. What does CIWS mean? 3.5
---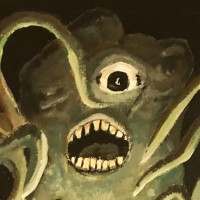 Agree with Ag, though there are dual AA/Anti- tank systems available. We (Canada) use them:
http://en.wikipedia.org/wiki/Air_Defense_Anti-Tank_System
---

CIWS is relative to scale, in the Gundam SEED universe, CIWS are rotary barrel 75mm vulcans designed to shoot down missiles and space mecha that get to close to the warships.
A CIWS has a high rate of fire to fill a certain area of space to intercept and destroy fast moving inbound targets. Traditionally this involves missiles and other guided projectiles. Given the high velocities of these targets most CIWS are constantly active, as only a computer is going to respond fast enough to do anything about it. In the Falklands War, the British generally had less than 20 seconds to spot, identify, and respond to a harpoon missile launched at one of their ships.

This seems about right, another niche filled.

Nice addition 4/5

Very useful.
" A culture must hide its hands in the arm of their clothing as a sign of respect and peace. When approaching somebody you show them respect by crossing your arms and hiding the hands in the shirt sleeves. Nobody worries about hidden knives and such, it is the threat of magic that this custom was created to prevent."
" A small band of squirrels seems to be fighting high up in a tree over a shiny nut-sized object. Can you retrieve the prize without scaring the squirrels into running off with it? If they do, can you manage to chase them down?"
" Just off the road a man lies dead, pierced through the heart from behind by an expertly thrown and ornate dagger which remains in the body. A long strip of cloth torn from the man's shirt has been tied around his neck; on the tag end an unknown hand has written a cryptic inscription: 'For Djaygo.' When you get to the next town, everyone is talking about a mercenary woman found slain in exactly the same fashion in her room at the inn where she was staying. Who will die next, and why?"