The first mobile mine was an etiquette and protocol droid. Most of its internal systems had been removed and replace. The machine was sent tottering after its target and once it got within arms reach, it exploded. Half a dozen Free India VIPs were killed, for the price of a throw away droid and 25 kilograms of torpex.

Mobile Mine

The Mobile Mine was pioneered as the cybernetic version of a suicide bomber. The militaries of the second and third world capitalized on this concept, having surpluses of second hand droids and access to industrial and commercial explosives. This gave them the ability to rapidly turn their droid population into weapons.

The thing about the second and third world is that they think small, and yes, they are pragmatic, and good at using what they have. The problem there is that everything they start with is what we've discarded. The first world has mobile mines, and they are much more sophisticated.

Meet Sophia.

She is superficially a prepubescent teenage girl, slightly athletic, with a bright and inquisitive personality. This droid is remarkable easy to insert into any diplomatic corps, or attach to a group of operatives. One particularly clever deployment had us mask a Sophia as the daughter of a diplomatic envoy. She was predictably abducted, while the actual VIP daughter was perfectly safe on another continent. The mobile mine was taken to the local head of a Shadowlaw cell, where once it identified it's leader, detonated. The explosion killed hundreds of people, including a huge number of Shadowlaw elites.

Beyond Terrorism

The mobile mine system found its way into the arsenals of the first world. Turning a droid into a powerful explosive had many uses to the agencies of the first world. The most obvious users were military in nature. The mobile mine system allowed military forces to create covert weapons. A droid could be anywhere, and be activated for counter-insurgency, be made part of a reflex or rapid response team, or be utilized in anti-armor and bunker busting operations without the need for being launched from a fighter or carried by a mecha. Infantry units could have a few in tow, and send them running into fortifications or enemy units to scatter or destroy them.

The Atlantic Federation developed a methodology of air-dropped forces. There were three components in the system: mobile mines, skeletrons, and perimeter pods. A Carry-all could sortie through an area and deploy all three systems with relative ease. The perimeter pods would land and deploy their stabilizers and power up their weapons. The cheap and expendable skeletrons could spread out and occupy, or fortify, and the mobile mines would sequester themselves out of sight. When battle was joined, the skeletrons and the pods would form salient defense points and lines, and as needed, mobile mines could deploy and go running into combat. As most were designed to pass for human, many automated forces would treat them as non-combatants. Smart forces would detect the power cores ramping up to explode and often destroy the mines at close range. Less capable foes would realize it too late.

Intelligence agencies found a multitude of uses for the mobile mine concept. The Intelligence Mobile Mine is half surveillance droid and half saboteur. With the high end droids that such agencies use, these can also be Disposable Assets. Few things can match the versatility of an agent that can upload data via an internal antenna and then remove proof it was there by self-destructing in such a manner as to resemble an industrial accident or terror attack.

Such things are denied, no one would use a mobile mine as a tool of assassination, such things are too base and vulgar, the ploy of third world dictators. It is very rare for a mobile mine to be used like this by an intelligence agency. They are sometimes, more often than not, a third world mobile mine has some first and second world gear in it. Most are used in counter-insurgencies, or are placed to be deliberately captured and detonate during interrogation. Messy business.

The Heavy Mobile Mine

The Heavy Mobile Mine doesn't rely on conventional explosives, but rather has a micro-explosive device attached to it's power core. The device mimics the explosion of a tactical nuclear device. This has been called something of an overkill, the number of deployed mobile mines it unknown, and even the number made is highly classified. The system is powerful enough to reduce a slum to rubble, sink a large ship, shatter a raft city, compromise a sub, or destroy even a large mobile fortress.

The Dimensional Mobile Mine

The Dimensional Mobile mine is an arachnotron that houses a deliberately unstable arcanotech core. The mine deliberately triggers a Dimensional fatigue event. These are conceptual, as there is little control over what sort of thing is going to occur inside the DFE zone. It might implode, time might flow backwards, a kaiju might manifest, or nothing might happen, and then a children's book title is spelled differently from the way everyone remembers it.

?
Scrasamax's Awards and Badges
Not Registered Yet? No problem.
Do you want Strolenati super powers? Registering. That's how you get super powers! These are just a couple powers you receive with more to come as you participate.
Upvote and give XP to encourage useful comments.
Work on submissions in private or flag them for assistance.
Earn XP and gain levels that give you more site abilities (super powers).
You should register. All your friends are doing it!
?

Responses (5)

A useful if nasty weapon. If the RL US had a few mine androids it could allow them to be captured by jihadis and then blow them up and jihadis might take less hostages in the future.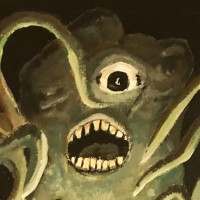 This is good, and a good example of these can be found in the excellent Ghost in the Shell anime series, specifically ARISE. They fit quite well here in Cosmic Era as well.

'If that's Olham, then I must be'
At some point we are just have to take for granted that any given sci-fi trope is present in the cosmic era.
Some things to do with this that I have seen in the past and thought where fun
The bomb droid has a 'trigger phrase' that when that phrase is heard the droid explodes. See the line from the P.k. Dick story above.
The Main character/s have to try and talk the bomb into not exploding.
I think this would be fun to play s character that is the bomb. The droid was given a eleborate personality and adaptive intelligence but then for some reason the target was removed. Is there a point to life besides blowing up?
---

Finishes third mai-tai
I do what I want
---

I can see that conversation happening,
General to Engineer: 'Why did you make Re.alistic D.eterrent D.elivery S.ystem (called ReDDS for short) responsive to alcohol?'
Engineer to General: 'I just feel more comfortable working with them after they have had a few drinks.'
" THE GNOMES OF UDNALOR: Part II Having left the hush of the upper halls, and crossed the depths of the Braeth (an underground river, which is not all that deep because bear in mind we're talking about gnomes here), you would find yourself in Wattling Street, the main road through Udnalor. It's actually a long, well-worn passageway which opens out eventually into the City Centre. The gnome-buildings branch off Wattling Street as small burrows or caverns with boulder-blocked doorways for privacy. You can find armourers and smiths (though their armour tends to be on the small side for humans to buy) and many other types of trader. There are many streets, ginnels and cooies which run off Wattling Street, the most famous probably being Smell Street, the domain of the infamous gnomish alchemists, the eponymous smell being very distinctive: the stench of cooking fungus, the aroma of subterranean spices, the pungent reek of rotting carcasses (used in some of the more notorious experiments). An encounter with an alchemist can really be spiced up (excuse the pun) if you have a well-stocked herb cupboard, and actually make up the potions, elixirs and draughts as they are ordered by characters."
" A rare branch of the arcane masters, encountered only among the deepest hill folk or ramshackle cabins, the Saucerer takes his power directly from the consumption of cheap liquor. Only the strongest, rankest, most nauseating of homebrewed alcohol will do, where it is instantly converted into mana available to the caster. Without a minimum level of inebriation, the Saucerer will be unable to cast any spells, as focus inhibits his spellcasting abilities."
" Perhaps the product of another universe or time, this vessel appears as an early Tall ship, but is made of iron from keel to spar. The sails are a battered canvas but are nearly indestructible, but in truth do little to move the ship - the ship is able to move even with no winds. The ship is powered by life force, requiring regular sacrifices to 'charge'. The victims are cast in front of the vessel as it moves, it's razor sharp bow bisecting them. The ship may initially be missing key components and the ritual to power it would also require research by would-be users. The ship has no built in weapons aside from the bow, which can easily cut even large wooden ships in twain."