Wandfish
With it's ability to electrocute you with a magical bolt from it's nose, mess with a Wandfish and you may well end up sleeping with the fishes.
Full Description
The Wandfish is one of the more formidable fish in Acquas oceans, not just because of its size and weight, up to twelve feet long and over a thousand pounds in weight, nor because of its toothy mouth and strong jaw, strong enough to mangle a hand, but because of the long ivory wand-shaped spike that projects from its upper jaw. Although nobody yet knows how a fish can have magic, it uses this wand when feeding to cast an electrical spell that electrocutes the water a few feet in front of it, killing or stunning any fish there, which it then swims up to and eats.
There are unconfirmed rumours of the Wandfish using its magic to heal itself as well, but most authorities on the Wandfish believe that such stories are merely tales of the sea and gross exaggerations. The fish is a deep blue in colour to blend in with the sea around it. Its favoured habitat is the coral reef, which it patrols looking for prey. When arguing with a rival of its own kind over territory or mating rights, it measures its wand against his and the smaller one normally backs down. Should both wands be the same size, they duel with them, thrusting and slashing with them like swords without using the magic within them. The first to take a wound of any kind swims away, so deaths in such combats are rare.
Mating Wandfish are known to stroke each other with their wands as part of their courting behaviour. They generally mate for life and their babies come not from eggs but directly from the female, and stay with the parents for up to two years before they are large enough to defend themselves, when they swim away on their own. Despite their magic ability, krakens and other large predators will take them as prey, and many have been caught by humans to eat and for their wand-like noses.
Additional Information
A wizard will pay well for a Wandfishs wand, as when elegantly and properly carved and prepared it can store a lot of magic in it. When the Wandfish dies for whatever region, its wand still stores one charge of magic. Should anyone press such a wand against someone else, even if the person doing it knows no magic whatsoever, the charge will ignite, casting a lightning bolt whose effects range (depending on the size and age of the wand) from unpleasant to downright deadly.
Not Registered Yet? No problem.
Do you want Strolenati super powers? Registering. That's how you get super powers! These are just a couple powers you receive with more to come as you participate.
Upvote and give XP to encourage useful comments.
Work on submissions in private or flag them for assistance.
Earn XP and gain levels that give you more site abilities (super powers).
You should register. All your friends are doing it!
?

Responses (7)-7

It's nice to see a magical creature that;s useful and not overly predatory/threatening. One of these could also make an interesting familiar for a water warlock or other npc mage of the sea.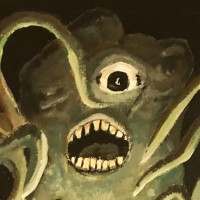 Not bad - if a little odd. Since it is magic, does it have an origin of note?

I like it, I like it! I imagine these fish would probably have some sort of electrical resistance/immunity, and possily thr ability to resist more minor magics. Hmm.. maybe a very daring wizard could rub a few wandfish on his body so that he is covered in their oils and scales to get a minor magic reistance. I might do a sub about Wandfish Oils if you don't mind.

That is fine with me.

Good critter.

I like the appearance of the creature, except im having a hard time picturing a fish creature with a magic wand hanging out of its jaw. Think maybe it should be explained why its able to use magic or why its inteligent enough to know how to.

I really like this. I don't have a problem with nonintelligent creatures using magic, if that's how magic is in a universe. It seems an eminently practical evolutionary development.
" The PCs encounter a strange set of artistic drawings done on the ground as they pass through a city. It has been done in chalks and no one saw who did it. Wizards might recognize the writing within the colored square as an obscure and dead language with a message stating that a prominent wizard and a retired bard have discovered how to populate Arcadia with the spirits of the dead! Is it a local hoax, or are the PCs crossing the path of a very deranged and possibly dangerous mage?"
" Among the assortment of organized criminals who live in the great city, few command greater fear the Moonbeard Order. They of course do not call themselves that, but have earned the moniker from their fashion of dying their large beards with lye to produce a distinctive crescent shape running from earlobe to earlobe. This is meant as a taunt for their enemies, for it clearly outlines their throats. They also wear garb similar to the northern tribesman, carefully tooled leather and showing multiple, colourful glyphs. They are feared due to the intense discipline that their group maintains, due to their origins as a warrior-sect. They serve as paid thugs, enforcers and assassins within the city, with the client simply ordering a service from the organization, not hiring an individual. Apart from making the request and providing payment in full in advance, the order completes the assignment themselves. Their order has many moles through the organizations of the city, and more than a couple of nobles. As such, no organized move has been made against them since their chief activity is directed against other members of the crime world. It is said that their services have been useful for those in power as well, further protecting them from persecution. Their religion holds that their time in this world is vanishingly brief, and largely unimportant except as training for the Great Battle. The order is very utilitarian with weapons choice - they simply use the tool needed for the occasion, though not without having trained extensively with it beforehand. Daggers, garrottes, swords, bows, battle axes, polearms, wagons, even siege engines have been used to carry out their contracts."
" Molk Peruda is encountered by the PCs on the second day of their journey west from the salt-choked port of Quyn, as they prepare to explore the jungle. He appears a gaunt, wolfish man, with matted, dark hair that sprouts from his head in dreadlocks, contrasting with his well-oiled, blue-black, conical beard. His eyes are hidden ebon shards beneath thick arching brows, his nose, crooked, long, and reminiscent of a snout. His mouth is a thin, dark line, his teeth unseen even when he parts his lips to speak. His skin is the color of tallow, surprising perhaps for a renowned jungle guide, yet his natural helm of dreads and the jungle's canopy keeps the sun from bronzing his originally pale flesh. On his back are tattooed three women from the waist up, side-by-side, each resembling the other but of different ages. This is a tattoo of Molk's mother, sister, and daughter. His wife (don't bring her up to him!) was killed by marauding Qullan years ago, and appears as her own tattoo on his broad but sunken chest. His feet shockingly are turned around 180 degrees at the ankle, facing towards his back! A curse from a pernicious shaman. Molk walks feet backwards (he's used to it) and walks backwards, forwards. This can be very disconcerting and outright creepy to the PCs as he guides them through the rainforest. Slung from his back is an archer's quarrel of treated wood carved to resemble a stalking leopard, in his hand a re-curved composite bow of horn and sinew, with a pair of vivid, red eyes, each one painted on the opposite side of the hand-grip. In a leather sheath at his belt, hangs a falchion, its pommel adorned with a curved bird's head and beak."