The Storm
I know. I know. It sounds crazy. But look at it! Look at what it is doing. The lightning strikes! Three times right on top of us. The hail. It just struck our car. The Wind hitting the house so hard. It is after us. It wants something. And, if we can figure out what it wants, I say we give it to ... it.
A Description
It starts on the horizon, creeping over the land. The storm clouds are huge. They fill the sky. They are moving this way; relentless like the tide, faster than they have a right to. They are dark, so dark to be nearly purple. The rain begins to fall near you. You hear it hit the ground. It hits like bullets. The wind gusts; getting in between a person and their warmth. There is thunder that deafens you. It rolls forth like a stampede. The lightning brings the suns brightness for a moment, before plunging you back into the dark.
The_Storm.jpg|middle|The Storm... in one of its nastier moods]
Full Description
It is a storm. It is nearly a storm front. It has no anthropomorphic eyes or mouth. It is composed the elements of storm - wind for a body, lightning for thoughts, thunder for roars, and ice and water for its teeth and claws. It is a storm that moves and shapes itself of its own accord, even against prevailing wind (though slowly). For all its oddness, it is still recognizably a storm, it mostly acts like a storm, yet it is not just a combination of heat, cold, water, and air.
One must look at it mystically (or with a Clarkian Tech) to truly "see" it. The storm has more energy than just physical energy. It has, in its center, a bundle of organized energy - a matrix - more concentrated than the energy distributed in its "field". There are flows and astrone whirls.
If you need a more material analogy; the matrix acts like a nucleous, the mystic energy as the cell liquid/ cytoplasm, the whirls as ribsomes, plasmids, mitochondria, and other parts of a "cell", the outer shell of the storm, where it meets the free air, is its cell wall.
Keep in mind that The Storm has mystical senses. It sort of "scans" an area for an energy type. This allows it to sense weather fronts, pressure zones, temperatures, and other weather phenomena. It also allows it to sense general magic. It is hard pressed to find specific details, but it knows a general area. Like you would be able to pick out a small pebble somewhere near your feet easily... think about it's scale. People are really tiny to it, kind of like trying to get at Ants.
Origin/History
This energy being is from "somewhere else"; it is not native to the realm. How it came here, it is hard to say with certainty. It could of fallen through a rift in space time. It might of pushed through a soft spot in realities. It might of been summoned, either dragged against its will or early awaiting release to the world. There is a chance that it evolved naturally, spun up from some combination of mystic energy, will, and emotion - manifested into the sky. While its true origin may be open to debate. Its existence is not. It exists.
You will need to choose one that fits your campaign from the options I have given or make one of your own.
Upon being in our world, it extended itself - harmonically - to the material it is comfortable with. We call it air and all that makes it up. Any organized mass of air and energy becomes recognizable as a storm.
And quite a storm it is.
Roleplaying
Like all creatures it has motivation and drives.
Hunger is one. It needs to absorb ambient mystic energies to properly empower itself. If it can find a magical region, it would stay there "grazing" for a time.
It can convert "weather energies" into sustaining energy. It gains power as the heat/ pressure/ moisture moves through it. So if it reaches a warm front, this would increase its "storm potential" and its overall energy, without it having to resort to expending its mystic energy.
It is a simple intelligence, an elemental one. It is more than an animal, but less than an adult. It can plan and predict actions to a limited degree, but seems to have attention span and follow through issues. So think of it as the world's most powerful cranky 4 year old. Adjust intelligence to taste of course.
The Storm might be seeking something. It could be a Geas from someone who consciously summoned it. It could be what summoned it in the first place (or could banish it). The players might have moved through a rift recently, thus stink of it. They might seem like food, or seem like a way home, or just be seen as the people who brought it here? Has someone read one of those Lovecraftian books recently? They might be this worlds counterpart to the Mighty Being that that threw the Storm into the void. It could be following and trying to get an item of magical power so it can feed enough to reproduce. It might be tracking the most powerful magic in the area just to feed or might be worried that it would hurt The Storm. It could be looking to avenge itself against someone for some reason. It will have a reason to be acting out, though the players might not ever figure out why it is hunting someone/ something. This is the crux of getting it into your campaign.
In Play
Effects will start mild and grow in intensity. The attacks will seem directed after a while. Sometimes it will take its fury on others, nabbing up innocents who strayed too close in the meantime. The key to making this work is to play it in the middle. Some of it seems directed at the PCs (or target of The Storm's Wrath) and the rest seems to be the result of a random bad weather chart.
How to deal with The Storm
We all know players, they are going to want to try and fight this thing, instead of thinking their way around it.
If you have access to big weather magics, you can combat it directly. Big If. It can also throw more lightning than most mages can. If you can dump enough cloud seeding material into it or cause it to ground itself (cloud, mountain, big lightning rod...), it can be harmed.
Ideally, you are going to find a way to satisfy The Storm's motivation/ need. You will need to deduce what it wants or need. Hopefully you will either be able to give it what it wants (or a substitution) in a way that your characters can accept.
The other ways is to weaken it. You must force it to over extended itself in some way. It will often "follow its need". It can be led into areas that will give it issues. You can lead it into another high pressure zone. You can head it into an area of cool temperatures. You can head for a very dry zone. You can lead it into a low mana zone. These changes will cause The Storm to extend itself and its resources to pursue its goal. It might have a moment of smarts and break off pursuit. You might have to shake the bait, to keep drawing it towards a danger area. It might just wear itself down to get what it wants, not realizing what it is doing to itself until it is too late.
Roleplaying continued and Storm Biology
If it encounters another storm, it will have moments of issues. The initial conflict will be like two animals fighting each other. It will be chaos and damaging. The Storm will win, as it is "smarter" and more aggressive than your average storm. It will then spend a few hours "eating it". Taking in its moisture, its heat energy, and electrical charges, The Storm will grow.
The Storm is a creature of rage and drive, disoriented by its manifestation. Like a child, it is not thinking about why it is doing what it is doing, it just is doing it. Given some time, it might be "introspective". The Storm will calm, some. It will remain an organized mass of air. However it changes from an active storm to an area of instability - an area of high moisture, high energy, and electrical change. It will create an overcast or high cloud cover, and be able to shift wind patterns. Note: this will take some time and gradual steps to occur. Given a little time it will also be able to do large shifts in air pressure and manipulate weather activity in a large scale. If it gets agitated, it can change itself back to a full storm in just a few hours.
The Storm wants to be like any normal violent weather front. It does not like to act in unnatural ways. That fatigues it. If it acts along a more natural way it is "easier" and "more natural" for it, much the way walking and talking is against ballet dancing and singing opera. If it extends itself for too long or with too much "exertion" it will become tired and possible calm itself. Or it might just "fade into sleep", like a toddler that just drops asleep. A nap will last for anywhere from a few hours to a few weeks. Of course, it will be cranky when it wakes up.
Note: It communicates via a complex system of charged airflows. However, there is nothing else for it to "talk to". Someone will want to try telepathic contact. This will be hard as its mind is quite alien in to a human, and the reverse is true. It might be quite painful to the human. Some limited and careful contact might be possible. Empathic content might work better, as it has a more common denominator across reality.
?
Hall of Honour (1
voters
/ 1
votes
)
?
MoonHunter's Awards and Badges
Not Registered Yet? No problem.
Do you want Strolenati super powers? Registering. That's how you get super powers! These are just a couple powers you receive with more to come as you participate.
Upvote and give XP to encourage useful comments.
Work on submissions in private or flag them for assistance.
Earn XP and gain levels that give you more site abilities (super powers).
You should register. All your friends are doing it!
?

Responses (9)

Of The Storm is the piece that inspired this one.

A mighty Air Elemential-type thing. 5/5

Excellent piece. It has primordial menace to it that just makes it so appealing. I particularly like the pic you used, it captures the storms fury perfectly. 5/5

Oh yes, the picture scored strongly on the imaginative part. Great animal... storm... thing. This smells of Shadowrun.
---

In Shadowrun, any Shaman of note, or any skilled Shamanistic circle could take the critter down... if they were aware of it. Given the number of Shamans in the Weather Bureau, that would take all of about 15 to 30 minutes. It would be dangerous, of course, but the Shamanistic circle could take it down... stuff it in a jar... tame it.. and then use it as a trained animal to make the world's weather under their control.
Of course, then there is a scenario somewhere down the line when this thing gets "mad" and "free".
Nope, this works best in a world without elemental or shamanistic mages in every group's porfolio.
---

Or at least no very powerful shamanistic characters... a creature of this size shouldn't be an easy match for anyone.
So part of the dealing with this beast could be to find a powerful shaman, to at least find out what it wants.

Finally a sub that has a picture in it, and it looks good! The whole sub is pretty dead on and evokes some nice imagery.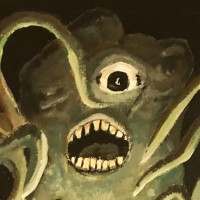 Very cool - the whole works together quite well and of course I like the picture!

I'm imagining that it finally DOES breed, before anyone realizes what it is. It's not really searching for anything. It just wants food, territory, and to reproduce. Given a few months, these things could become a true threat to the stability of a world. Imagine the scenario after these storms have been reproducing for a few years. The earth is one massive storm front, people are living underground, because it's too dangerous up top. Creative post-apocalypse ftw.
" Swords form a bond to their wielder. A symbol on the grip that is absorbed through the user's hand and appears on the back of the hand. Maybe only visible to them or others that have the abilities. Could give unique powers depending on when it happened and what they did to get it. It takes a specially made sword that only few can receive and made by a certain race. Then they must do something really heroic to unleash the swords power. Once unleashed it is theirs till they die then the sword goes dormant again till another accomplishes another feat."
" Nine times out of ten, it's the undead that do the running. Not strictly animal or vegetable, the Corpse bud is a peculiar individual that shares characteristics from multiple kingdoms and species. In appearance, all corpse buds bear a shape of a large rounded top bud divided into four lateral segments, and a much longer, narrower bottom bud, also divided into four segments. Between the two halves are a set of four radial limbs, rounded on top and flat on the bottom, covered with tiny serrated hooks facing towards the body. In overall size, it's limbs reach as wide as a spread hand, with the body being as thick as a fist. It is as long as a human hand from top to bottom. Internally, the top bud of the corpse bud contains a bacteria filled membrane that produces the hydrogen that the corpse bud uses to stay aloft, and a series of fungal gills for the dispersal of spores for reproduction. The lower half of the bud contains a number of fine filaments, as well as a sharp barbed stinger containing a powerful local anaesthesia. The Corpse Bud mobilizes by inflating its top bud, and steers by rotating its arms rapidly about its body. The corpse bud ordinarily drifts with the wind, orienting towards the scent of recent decay and death. It preys on the recently dead, burrowing the lower bud into the victim, using the anaesthesia in case the victim is dying, and not truly deceased. Once embedded, it releases its filaments into the body, replacing the current nervous system. This gives it full animation of the body, and allows the corpse bud to direct it. Corpse buds are not a malevolent species, being primarily concerned with breaking down the host body for food, and infecting the reproductive cycle with spores in order to mate with other corpse-bud bodies. To preserve the corpse for this purpose, Corpse buds will seek out dry locations to prevent bacteria from destroying the corpses. This often causes a large number of corpse buds to gather in a single location. In culture, Corpse buds are used to repair broken spines or degenerative diseases, as the sentient mind will easily overcome the mind of the non-sentient corpse bud. Once infected by a corpse bud, however, removal is usually fatal, and the infected individual cannot reproduce, or risk infecting another. Thus, it is a technique often reserved for the elderly, or a last resort. Necromancers and other dark sorcerers will often preserve the corpses of their victims magically, and infect them with corpse buds, creating traditional undead as well, so as to seed their lairs with undead both offensive and non, in order to throw their enemies off balance. They will also enslave the rudimentary minds of the corpse buds, and transform the docile things into a plague. There have also been accounts of magically transformed corpse buds with stronger minds and a taste for living flesh, but thus far all accounts are unproven rumors."
" After a long night of reveling and merriment celebrating their latest victory, one of the PCs awakens with his/her head shaved and a large ornate tattoo on top of their head. Tacky, yes but also a painstaking work of art that has left them with a headache to beat their hangover. The kicker? It is a huge symbol of the god of Evil, Assassins, the Drow, Munchkins, something really really offensive"