The Sands of Fury
One of many small artifacts created eons ago, The Sands of Fury is capable of creating massive turmoil and destruction from above.
A small glass artifact in the shape of an hourglass, about two inches overall. The glass is unadorned except for a thin golden ribbon that runs from top to bottom and twists around the glass in a gradual spiral. This ribbon has thin, elegant runes carved in an ancient script.
Inside the hourglass is a black mercurial liquid that fills half of one of the halves. It is fragile and easily broken at the thin midpoint.

Magical Properties:

Though simple looking, The Sands of Fury is very potent. To use, the glass is snapped at the middle, where the hourglass is the thinnest. Once snapped, the two halves are held together by the golden ribbon.
Once the glass has been broken, the liquid begins to float skyward, and as it goes up, there appears to be much more of the black fluid pouring from the glass than was originally contained.
As the black liquid reaches the clouds, they become stained the same sable hue. As the mercurial fluid continues to pour out, the clouds get thicker and blacker. After nearly half a minute, the liquid stops, and the clouds break. Sheets upon sheets of rain and hail come down within miles and miles of the glass. As the rain and hail continues, tornadoes, severe lightning, and very strong winds commence. Trees are scorched, houses lifted from their foundations, and entire fields uprooted.
In regions of either sand, snow, or other such factors, the winds could result in blizzards or sandstorms. In large cities, tornadoes will rip down streets between buildings.
Finally, after over ten minutes, a massive lightning bolt will strike the point where the glass was broken, and the storm will dissapate as quickly as it gathered.
This item could be used for many reasons. Escape attempts, setting up for an invasion, sabotage, or anything the generally requires chaos on a large scale.
Not Registered Yet? No problem.
Do you want Strolenati super powers? Registering. That's how you get super powers! These are just a couple powers you receive with more to come as you participate.
Upvote and give XP to encourage useful comments.
Work on submissions in private or flag them for assistance.
Earn XP and gain levels that give you more site abilities (super powers).
You should register. All your friends are doing it!
?

Responses (9)

Hmmm...
An interesting idea. It smacks of Old-Skool Magic, if you know what I mean. Instead of the sorceror conjuring a storm from his fingers, he breaks an item or something. That's cool, I dig that.
No real background, except for a mention of being created in ancient times.
Seems a little powerful. It's a Diversion Item, one the villain would use to destroy the Army of Light or the city of his enemy, while he went to find the Crucial Artifact.
I'm going to take off points for not having a background, as well as being a little overpowered, but, overall, not so bad, so I'll say...
3/5.

One shot item? Not that I have any problem with that, but is it a very cool special effect for a 'one shot potion' of weather manipulation?
Also everything does not have to be a 'one of a kind' unique item. Classes or categories of items are still very useful.

You wrote a beautiful description. Core idea is pretty good, too.
I have to agree that 'minor artifact' and 'one shot' don't really seem to jibe. Scale down the power (a good lightning or rain storm is plenty, without massive destruction - and might even have many more interesting uses), and make it a creatable object, and I think it's a winner (and still very powerful).
I'm also confused by the title, 'Sands of Fury' -- there's no sand! I have to admit, my first thought was hourglass -> sand -> timed sandstorm (feel free to take the credit if you can use it).

I have no problem with it being essentially a one-use item - that's fine
I DO have a problem with it being way too over-powered - an entire hurricane, with all the attendant destructive power, just by breaking a glass vial - a little rain and small lighting bolt is MORE than enough
I also don't like "ancient artefact" type items - it's a cop-out
Basic idea - pretty good (4)
Way too powerful (-1)
Ancient artefact (-1)
But really cool special effects (+1/2)
So - 2.5 / 5

Honestly, I like this sub. It's one of those McGuffin items that make things much more interesting when used.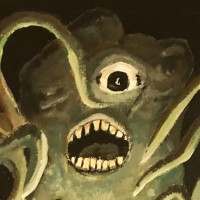 Personally, I like powerful items (to a degree) and a one shot hurricane item does not bother me, so long as it was dang expensive and difficult to create.
It could easily cause an 'Oh Crap!' moment :)
I would have it take effect over a slightly longer period then 30 seconds. To affect miles and miles of clouds, the magic effect would need to take a while.
What if there were no clouds? I could see them appearing, but 30 seconds?
Now, this really is the equivalent to a magic Atomic Bomb and would need to be treated as such with attendant magical protections, security forces, etc.
An enemy mage could easily teleport (if available) into a city, plant and activate it, and then leave.

Good but a bit over-powerful in it's orginal form.

I love the description, and the overall idea. It would be nice to have some background to fill it out.
" The journey had been a long one and now they had entered the mountains. After an entire day spent on paths cut into the mountainside and through moss covered coniferous woods, they encounter a desperate young mountain tribal. He is searching for his beloved wife and his elder brother, both of whom he got separated from after an unsuccessful attempt to kill a cave bear. The last thing he saw was the cave bear in full pursuit of his wife. He could not help her as he had been knocked to the ground by the raging beast, and was struggling to regain full consciousness. The tribal will be clearly nervous and urges them to look for his wife during their travels. He will stay in his village a couple of miles to the north and pleads for assistance should they recover his wife, whether she be dead or alive. On the next day of travel, they will journey upon a dim track in the forest and while they are preparing to ascend another path cut into the mountainside, they hear moans of lust from somewhere nearby. Upon closer inspection they will spy a young tribal woman in the heat of the act with an elder tribal male. They are consummating their forbidden love on the cold mountain moss, and beside them lay the skinned and slaughtered carcass of a huge bear."
" A certain type of demon cannot not be hit by ranged weapons or attacks. Attacks have to be made up close and personal for the damage to mean something. Ranged attacks are to impersonal. Possibally a way to make the ranged attacks more meaningful would be to coat the arrow head or what not with the shooters blood. Of course, they'd better be a good shot, otherwise they're wasting arrows and already bleeding to boot. Spells: wizards might have half or no effect, preist might work due to divine intention."
" Swords form a bond to their wielder. A symbol on the grip that is absorbed through the user's hand and appears on the back of the hand. Maybe only visible to them or others that have the abilities. Could give unique powers depending on when it happened and what they did to get it. It takes a specially made sword that only few can receive and made by a certain race. Then they must do something really heroic to unleash the swords power. Once unleashed it is theirs till they die then the sword goes dormant again till another accomplishes another feat."