The Leonamuth
Perhaps they were once natural beasts, but natural beasts cannot survive the wastes of Corpsefall. No, this beast is far from natural, and for that, I believe nature is grateful.
One of the most fearsome beasts that dwell in the fell land of Corpsefall, these creatures bare a resemblance to the noble lion. Though when once considers the scale of these creatures, one can overlook these similarities.
The Leonomuth appears an immense lion, though with a stockier build. They are fully 20' at the shoulder and near as broad. Where a lion would have a mane of hair, the beast has long, porcupine-like quills that can reach lengths of 4-6 feet and an inch in diameter. Their fur has been replaced by mottled scales similar to a Gila monster, though thick and strong. Their teeth no longer form the distinctive paired fangs used by terrestrial lions to sever preys spines, but instead their teeth have fused into a serrated beak for carving out huge gibbets of flesh. The claws of the Leonomoth are not as formidable as their jaws, being thick, non-retractable and relatively dull. They still have the power of a many-ton creature behind them, so they are still lethal to smaller creatures.
A Leonomuth readily joins the feeding frenzy that follows a recent corpsefall, but does so first to devour incoming scavengers. It is fierce enough and quick enough - despite its size - to snatch up Griz, Devourers and even smaller Boneslugs. They seem to prefer this prey to the corpsefalls, but once all available scavengers have been eaten or driven off, will settle down to work off the carcass.
Leonomuth's are no more intelligent than terrestrial lions, and no longer form prides. Female Leonomuths are as large as males, differing only in their absence of the spiny mane. Mating is rare and dangerous, and the battles between males for females are epic, the clashes occasionally bringing unfortunate scavengers that thought them a corpsefall.
Leonomuths are occasionally summoned from Corpsefall, virtually always as agents of destruction. Since little prey on normal worlds can provide the food that Leonomuths require for their immense bulk, they will eventually starve, but not before depopulating a sizable region of any creature they become aware of.
?
valadaar's Awards and Badges
?
Community Contributions (3)-3
The spines are poisonous, and banded in the same permutations of brown that mottle it's body. The spines are deadly poisonous, and if some ever finds its way to your bloodstream it will blacken your eyeballs and shatter your bones. However, the Leonamuth has no way to apply this poison intentionally: the poisonous mane mainly serves to discourage other leonamuth from jumping on its neck. (They are mostly resistant to their own poison.)
The poison also loses its efficacy after 1-3 days, and so it is impractical to store it. The only people who will bother poisoning their weapons are people who own a leonamuth. And when you own a leonamuth, you have a better ways to kill people than with a poisoned lance.
Leonamuths build elaborate dens. Their spines constantly grow and fall out. Discarded spines are carried back to its den and stuck into the ground, pointy end up. Larger, more practiced lions might even weave them together, to make something like palisade walls. Given enough time, this can resemble a (very small) labyrinth. There are rumors of a family of leonamuths that live together, and that have spent the last few centuries building a tremendous structure of woven spines. It is a honeycombed maze, and a familial den for the beasts. If anyone has ever found it, they have probably not survived to tell the story, so most disbelieve this 'myth'.
Leonamuth also use their spines to store leftovers, on the rare occasions when they are unable to finish a meal. Meat is gathered by rolling around in it. It is retrieved by shaking, like a wet dog.
Leonamuth spines are rarely made into permanent weapons, simply because they become brittle once they dry out. However, they have a famous and permanent usage in the Bone City, where they are used as dueling instruments. They have exactly the proper strength and flexibility to be used as dueling foils. The duels are always fatal and usually brief--one good poke with a fresh spine and you have only a few seconds left to poke your opponent before your brain turns to vinegar and your bones to sand.
Male leonamuth are very territorial. Although they will 'adopt' a previous male's den if they take over the territory, they will also sabotage and destroy another male's den when given the chance. For smaller males, this is the only weapon they have against larger males.
Leonamuth will sometimes howl together, as regular as clockwork. They do not howl in response to any visible stimuli, but most sages will tell you that they howl in the direction of the next big corpsefall.
Not only do leonamuth's use their spine-dens to impress females, but they also use them acoustically. In the wastelands of Corpsefall, hearing a far-off corpse hit the ground is often a matter of life and death.
Built according to instinctual blueprints, spine-dens always work to funnel and amplify sounds towards the center. A listener in the center of the den can hear noises coming from ten times farther away than they would otherwise. Bigger dens are more powerful amplifiers, and the most successful dens are built on hills (although in flat areas without any tree cover, elevation doesn't matter).
For this reason, it is nearly impossible to sneak up on a leonamuth in its den. If you stumble upon a leonamuth's den, you can be assured that it is not home, or else it would have heard you coming and killed you by now.
Someone vote on this thing again? Test and all.
Not Registered Yet? No problem.
Do you want Strolenati super powers? Registering. That's how you get super powers! These are just a couple powers you receive with more to come as you participate.
Upvote and give XP to encourage useful comments.
Work on submissions in private or flag them for assistance.
Earn XP and gain levels that give you more site abilities (super powers).
You should register. All your friends are doing it!
?

Responses (20)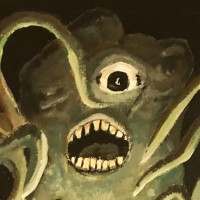 Update: Okay, this one is as done as I'm planning on making it, though will add answers to questions if they are asked.

I like it. I've got a good image in my head, and its sticking. A bone-lion the size of an elephant is an appropriately epic mount for a evil giant antipaladin, or whatever.
However, I want to quote my Grandma in saying, 'If all you've got is a big scary monster without any any weird powers, you've got to put a dress on it before you bring it to the ball,' i.e. I feel like the Leonamuth would benefit from some weird lore or tactics.
Maybe you can make a fantastically deadly poison from its eyeballs. Maybe it wakes up sleeping animals by tapping them awake. Or it carries you off into the desert, gives you five minutes to run and hide before tracking you down (as long as it isn't too hungry) like a big, horrible cat playing with its food. Or they howl at the moon at night, except instead of howling it's like whalesong played backwards through Anton LaVey's skull without a pause for breath, and instead of a moon they howl towards the direction of the next corpsefall. Or else they use their mane-spines to build beautiful, deadly dens (I assume the spines are poisonous) for themselves and their mates, like bowerbirds. (Rival leonamuth are always trying to smash each other's dens.) Or how they'll stalk you with their bellies in the dust, so you can't see them sneak up on you, but their tails bob around 15' in the air like a golf flag is stalking you (My cat does that because he's an idiot.) Or how they roll around in their kills, spiking the remains on the their manes for a later snack.
---

You need to take the ideas and throw them up as an idea comment instead of down here!
---

I swear that giant Ideas box wasn't there yesterday.

Not creatures to mess with. Can the spines of a dead one be made into weapons/things?
---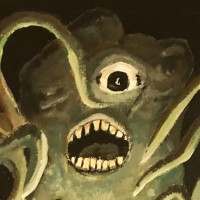 I would expect so. In the Corpsefall world there is so little resources to work with that anything inedible is probably used.

Good Golly. If its teeth are made to tear flesh and it is 20 feet tall, I am loathe to meet what it eats vs. gulps down.
---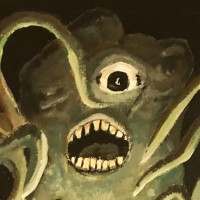 ---

Most sane individuals would prefer not.

I suppose if you don't like the idea of a Manticore, this could be a nice middle ground. Though it feels like it's missing a gimmick of some sort.

Normally apex predators need a crap-ton of gazelle-equivalents to survive.
http://en.wikipedia.org/wiki/Ecological_pyramid
But Corpsefall is a weird ecosystem, where calories come from corpses more than sunlight, and everyone is a scavenger.
Just the same, Leonamuth's are probably sluggish. Or they hibernate, or something.
Actually, I have another idea.

A nasty, nasty beast. The best thing this sub did was make me read corpsefall, which is awesome :D
I can imagine that in corpsefall, people would risk raids on one of these critters' dens (perhaps while they are out at a corpsefall) to scavenge the massive spines as building materials.

A fairly solid usable addition to the Corpsefall as well as any general setting.

I always loved the idea of Corpsefall. It always had that, 'Ooo, this place is different!' vibe, one it shares with the Hell of Dry Bones.
This particular sub is an excellent extension of the Corpsefall ecosystem. In a world with Boneslugs, another giant predator makes sense, and helps round out the system a bit more.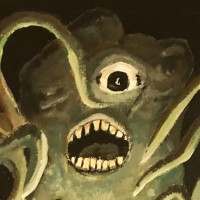 test

test vote

Well that's just frightening
" Expansion from the Horse Brass item: Specific Armor charms. Cooling Touch Charm: protects horse against extreme heat, and fire, magical and mundane Jove's Favor: tin charm shaped by a lightning bolt that protects a horse primarily from natural lightning, but also potentially from lightning based attacks. In real life, lightning kills quite a few horses and cattle a year. Hermes' Blessing: gold charm that grants the horse magic resistance, and perhaps immunity to cantrip level magics. Vulcan's Steed: This large iron charm in epic fashion renders the steed invulnerable to iron weapons. Such things clatter off of the animal's hide like twigs."
" SeaClans: The six seaclans are Dolphin, Gull, Ray, Kraken, Shark, and SeaDragon. These totem animals serve as mascots rather than any deep symbol of the clan. These seafaring organizations are filled with land based saliors and fishermen. They ply the seas and deeper waterways. They function like guilds for ocean sailors The clans have their own homeland. These people live on large floating rafts- human made islands, as well as vessels of all varieties docked to it. These wetfoots never set foot on land (or only do it for a few hours at most). Rat Clan: This guild is nominally related to the seaclans. The Rats ply the rivers and marshes of the world, as well as do longshoreman work. The seaclans hold the self proclaimed 'rat clan' in contempt and the officials see them as just a Guild of River saliors and longshoremen with a funny name. The Rats hold their title with pride and will take it out on anyone who gives them grief about it."
" As the PCs travel the road, right after a bend they hear a sharp whistle and call: 'Heeey, not so lazy, move your asses!' It is a large man that calls, and there are unwilling workers that listen. A small company, 10-15 men work on the road, push boulders aside, dig up roots from under the road, etc. The large man that shouted turns to you, smiles fast and mutters something under his breath, sounds like cursing some lazy worker. 'Where does the road bring you from, travellers?' And does a little small-talk. And what is really happening? A group of bandits is 'adapting' the road for shady purposes. The road will not be wider, but tighter, with enough cover around (and a few traps perhaps), and will become an ideal spot for ambushing travellers or entire caravans. The bandit leader wants them all to appear harmless. The 'lazy worker' he cursed was actually a guard that should give warning before any travellers come around (fallen asleep). Not surprisingly, the boss may decide for an ambush even now."