Spectacles of All Seeing
The eyes of the all seeing are never ending. The truth can only be revealed to those willing to bear the burden.
His eyes opened in disbelief, the battered spectacles rising slightly on his brow. To everyone around him, everything was normal. As it should be. To his eyes, the light was nearly unbearable. An aura of energy filled his vision completely. He knew what it was he saw, what the others could not. He knew he saw the impossible, and he wanted it all for himself.
Description
These silver rimmed glasses appear scratched and old, their precious metal flaking off showing tarnished and brass metal underneath the false exterior. The lenses have been scratched in multiple places making it impossible to read any text from their damaged surface. The purpose of the spectacles is not for reading text however, but for reading energies.
History
The King of Cerab, having a fear of magically hidden assassins, originally commissioned these glasses for his personal protection. An apothecary was found who had the desired skill to create the very thing to penetrate the Kings worst fear. Eventually however, the King had his entire guard looking for assassins only he could see.
The apothecary commissioned to create these items was of quite renown in his time, having been sought by many of the rich and noble for special items for personal use.
Thinking of his latest commission for the King he set out to create what he could. He chose to create spectacles as they could be worn and be inconspicuous. He set out and achieved the creation of his best item to date. He made ten for the King and his guards, and one pair for himself.
They were exquisite in their design, looking regal yet functional at the same time. When the first was complete he put them on to se his work. His vision was taken from him from the bright glow he saw from his lab. Having items of the arcane nearby was common for him, yet they shown up as brightly as if daylight was horded in the core of the items. He saw his lab and knew pleasure, because it was his and no one else's. He removed the glasses and worked on the others.
Two months he toiled on the spectacles, each one perfect in its design. He tried everyone to be sure of their use and was pleased. He knew that he could determine items of magic and the arcane with ease. It was in his nature to covet these but he knew the King would punish him if he failed in his commission. He finished the spectacles and placed them in velvet lined boxes of cedar, to add a touch of personality and class and sent for a soldier to tell the King of his completion.
He put forth all of his effort, all of his energy into creating the perfect pair, for himself of course. And perfect they were. Not only did they pick up the energies of creation magic as well as divine magic, they also could tell when another pair of the spectacles were near.
He was taken to the King with his gifts, reluctant to give them to the King but knowing his were superior to any others he made. The King was pleased and granted the apothecary anything he desired which he asked for one item from the King's personal horde, which he was granted. He was led to the chamber but stopped in the King's study. Through the glasses that he wore himself, which looked as his old glasses had, he noticed a piece of crystal on the King's desk. It was palm sized and being used to hold down one edge of a parchment scroll. The lightning-like glow he saw from the corner of his spectacles told him all he needed to know. That was his choice, which the King just shrugged and sent him on his way.
The King was never seen without his new spectacles looking at everyone, scrutinizing the smallest of details. He would jump in startlement every time he saw something arch with the telltale lightning-like glow. His guards would confiscate items from people when they entered the castle, "For the protection of the King." Soon however, these items he saw as tools of his assassination, he began to covet. The items that the guards confiscated were failing to be returned to their owners, must to the complaint of the visitors. Within months however, in fear of his life and fear of his coveted items being taken from him, he secluded himself in his study with his most prized possessions admitting only a single guard he trusted and his wife on occasion. His most trusted guard however had a pair of these spectacles as well and when he viewed the King's possessions he began to covet them for himself.
It is said that the guard killed his King over a crystal doll, but those are just rumors. It is said however that when he was hung publicly he claimed the King took his most prized possessions for himself and he was trying to reclaim them.
The apothecary however was no so fortunate. The crystal that he had taken glowed brightly in his spectacles as he gazed at it nightly. Lightning seemed to arch from it's very core to his surroundings. He wanted to know its powers, needed to know them. He would stop at nothing to have it unlocked. Removing his spectacles one evening of study he noticed something happen within the crystal. A reflection of a man, a selfish man, a greedy man. He peered deeper into the crystal, farther than he had before. He looked close and saw his spectacles on the far side and that was his mistake. For in the glass lens of the spectacles he saw himself looking through the crystal.
They found his body a week later slumped over the desk, the crystal and his spectacles in hand, his body rotting. No one took notice of the smoky grey crystal or the spectacles. Instead they boxed them up and sold them to a merchant. His death was a mystery as were the other events of the recent past. All because of greed and fear.
Magical Properties
When worn, the spectacles impart knowledge unto the wearer of any magical objects within a 10' radius. A distinct bluish colored aura will surround any item or object that has any form of mystical properties. No one but the wearer will notice this. This does not work on living creatures that are magical, only inanimate objects. So if a person has an item to make them invisible, that item will be revealed but not the person.
If the item is held while looking through the spectacles, then it is possible to discern the type of enchantment the object holds. Closer inspection may reveal specific forms of activation that the item may have as well. Each attempt to analyze the item will give a possibility to find out any information.
There is a side effect to the spectacles that few ever realize. Those who wear the spectacles to often will begin to see the magical items as personal property and desire to possess everything that is magical in their field of vision. This can be an embarrassing incident when a soldier of the King's guard refuses to give up an item that they confiscated from a guest, stating it was now property of the King, as it had to be taken for examination for his protection.
?
Hall of Honour (3
voters
/ 3
votes
)
?
Mourngrymn's Awards and Badges
Not Registered Yet? No problem.
Do you want Strolenati super powers? Registering. That's how you get super powers! These are just a couple powers you receive with more to come as you participate.
Upvote and give XP to encourage useful comments.
Work on submissions in private or flag them for assistance.
Earn XP and gain levels that give you more site abilities (super powers).
You should register. All your friends are doing it!
?

Responses (18)

I want to give props to Moonhunter for his submission of the Crystal of Soul Possession which I hinted at near the end of the history.
This item was one I was working on for a little while and decided to put it up with a little alteration to make it suitable for the current quest, the Shards of the Storm by Siren no Orakio.

I will start by being honest. Something about this just makes me want to say that it is not that great. However, my first and lasting impression is wrong, because this is a great item. The item has a lot of practical use without being too powerful. The drawback is characteristic of the item and satisfies that sense of irony. The history, while being a little too straight forward perhaps, is in general well done.
One problem with the item is that it doesn't really fit a Shards of the Storm item. The only possible link to the Shards of the Storm involves the special effects that the wearer can see. Thats it. The power itself is not particularly storm-like, and the drawback, while being very fine indeed, has nothing to do with the nature of the Shards of the Storm.
I think that over-all I would normally give this a 4.5/5.0.
However, because this is a Quest item, that doesn't really fit the qualifications of a Quest item (in my opinion) I feel that I should Doc you.
3.5/5.0
---

Thanks for the comments Nobody. Well appreciated.
Point taken.. I wil lremove it from the quest items and either work on it to tune it more to the quest or do it as it should originally have been done.

Updated: Updated per Nobody's comments.

This item is both original and effective in it's design. I really like this. With this no longer a quest item, I have no reason not to give it the 4.5/5.0 that it properly deserves.
Good Item+Great story+Awesome side effect=4.5/5.0

Thanks for the HoH Mike...
---

This really deserved to be brought forth with the help of an HoH Mourngrymn.
Original item with a really neat twist on the side effect.
---


:Mike's dry humour:Uhm yeah, well, uhm.Ok. Just remember to send me cash as agreed.:Mike's dry humour:
Just kidding. I would say that Nobody's vote is very accurate and makes sense and after some thought that's what I will go for.
I produce a 4.5 for an interesting and well executed story, a subtle item which the players could easily ignore and a good side-effect. Sometimes magic items have side-effects which are too harsh. This one is subtle and makes sense as does the post as a whole.
Nice piece of work.
---

The cash thing is our secret Mike... let it out and everyone will want it.
Thanks though. I am of the type that feels all items of power should have side effects. And as you say sometimes they can get a little harsh, but my world is a harsh world. Thanks for the critique however, I love it.

Really not bad! I think there's a few typos, not to speak of the special chars that mar its beauty. However: Good work.

A shame such a fine work has been overlooked...
i like the item, their power, and their backstory.

Special characters gone. Will go through on the grammer a little later. Thank you both for the votes and the HOH Scras.

Nobody was right.. still is. I'm questioning what this has to do withthe Shards.

A neat magic item, and with a back story that can make for a good piece of history to plug into a kingdom the characters frequent.
How it ends, with the glasses sold to mere merchant makes for a nice plot hook, and can allow for these glasses to fall into a characters hands rather cheaply, only to cause unknown troubles opver time. Very nice and original.

What happened to the other ten specs?
---

They were overlooked when writing this. I may have to go back and add a few plot points to explain where said set of spectacles went.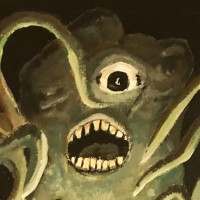 Interesting - this is almost a Garage Sale from Hell item.
I do wonder, however, how many Royals can list 'Magic Item' as their cause of death, especially gifts and commissions.
" Now, this ol' ramblin fellow tends to walk his talk a bit too far down the train sometimes.. So I'll be brief in my recantin' of how it was my Tavern 'came to bein'' on the multiverse as a weave of it's own spell.. And how I'm even alive to tell the story! You see it's simple really, trust me.. that's my specialty, keepin it elementary. And you can trust this old Bard. Anyway, this one night these wizards get a ramblin' on about the temporal exististance of space and time and how it could be manifested in a weave of super dimensional space. whereupon the folded space would give rise to an infinite number of entrances and exits to one or many spaces. Now, seein' how my talkin' sometimes get's locked into the way us folks used to talk back in the ol' west. These wizards didn't know I was a master of the word. and I had heard everything they said. They were also a bit over the wagon, while I was steerin' the show. So that's how it came to pass, I struck a bargain with the wizards. They come to me in the morning and conjure up their idea into reality and I'd pledge them my life, my existance.. in essence my soul. but in a much nicer sense of the word. So they came by in the morning a half remembering our talks the prior evenin'. And I recanted their words verbatum, and that's how it came to be. The spell was complete that afternoon. My tavern would be the super dimensional cube that would exist in this weave of space and time, folks could come and go as they please, knowin in mind some of the rules and limitations set forth. A few of 'em as follows. No feller can be causin a ruckus inside any of my fine establishments, as always rule number one god damnit. n' second the portal works kinda tricky. When ya outside ya cast the spell and lend your will to luck a bit and regardless the doors to the bar will appear, the windows a luminescent amber.. you can hear the chattee but ya can't see in. And the catch is the door might be locked, in which case you chalk it up to lady luck and go walk off and try again in an hour. Now most times the door pops right open and from the outside you always come in the front door, immediately greeted by myself or one of our many fine patrons of Hooper McFin's Ale & Steakhouse. Now when ya cast the spell from inside the Tavern, another catch comes up. The back door is mainly a secret for the non-initiated staff and the regulars but for sake of the prose let's assume we all know there's a secret door in the back with a portal there. Now when you go on through this one, you got two scenario's you oughta be aware of. One is ya pop outside relative to the same spot you came out. The other is, you walk back on into this one or another of our many Hooper McFin's Ale & Steakhouse. so it's a clever quantum railroad I got my tavern and my people's caught on. But, Hey the show's sure as always goin. ohhh' rutin tootin skidoodle - ** And that's it.. that's the only notes I found on the spell, apparently out there somewhere is a Tavern caught on the mighty ebb and flow of the multiverse. Well. at least I can put to rest my torment as to the condition now referred to as 'Hooper McFin's Teleportation Paranoia'. Dr. Clarke T. Mulligan - Professional researcher of Time & Space. Hooper McFin's Ale & Steakhouse"
" 'AIEEEEE! YAI-YAI-YAIEEEEEE!' Loud war-screams shatter the silence of the forest. The party, scrambling quickly over the thick forest floor, are ambushed by savage elves, dropping down from the trees and rock outcroppings. Their hair is cropped into mohawks and their arms are striped with tattoos. They attack, and scalp unfortunate victims."
" Rich Romans raised fish in private pools at their villas. A favorite fish was lamprey, a parasitic fish which sucks off blood and flesh but made an excellent meal. A particuarly gruesome punishment for slaves was to be thrown into the lamprey pool, where their flesh was ripped from the bone by swarms of the jawless fish."