Sonic - the God of Sound
"Did you hear that? He speaks to those who would listen. Simply adjust your hearing frequency and you will hear his voice." - Audicus, Disciple of the Sound Mind and Body.
Appearance
The God of Sound has no physical appearance but is often depicted as a blue orb in when a visual referance is needed.
History
First there was Air, or was it Earth? or Water? Certainly not Fire. Anyway... Water beat on Earth and made sound. Soon Air whipped Earth and Earth fell into Water, then Fire burned up the Air. This all made sounds. This is what the god of sound was. Sound. The sounds of the elements battling for domination. Then there was Void. Void is nothing. There was nothing. The God of Sound was lost. He (or She) traveled through Void trying to make sound, but could not. Eventually sound found its way out of Void and the God of Sound now resides wherever he is needed.
Followers
The God of Sound is followed by all sounds, a few mortals and even some spirits that can make Him who he is. The mortals who follow Sound talk frequently and often take up an instrument. They learn the powers of Sound. Some, it is told, can even shatter things with their voice. The sounds who follow him are simple sounds like a bird's chirp, or a pin dropped. Lastly, we have the Spirits who follow Sound. These are the spirits of things that make sound. Such as a fire, a falling rock, crashing waves, the blowing wind. Any of these can be considered Spirits of Sound, they serve him as do all sounds and few mortals.
His church is the Church of the Sound Mind and Body, His followers teach others to make use of sound frequently. Some can attune their listening frequencies to hear His voice, and others with his Blessing can shatter simple materials with Him.
Roleplaying Notes
When Sound is present... make the appropriate sound. Sound is everywhere and has no real form. If one has the power to see Him, he is depicted as a blue hedgehog whose feet move blindingly fast.
Not Registered Yet? No problem.
Do you want Strolenati super powers? Registering. That's how you get super powers! These are just a couple powers you receive with more to come as you participate.
Upvote and give XP to encourage useful comments.
Work on submissions in private or flag them for assistance.
Earn XP and gain levels that give you more site abilities (super powers).
You should register. All your friends are doing it!
?

Responses (3)

Well...interesting. I suppose someone had to do it, but I think you could perhaps have done a bit more with him...

Perhaps the emphasis was more on the silly part, where a god who requires his followers to make noise is just right. (Btw, check the if the freetext is right. 'Silly' is already okay; or will there be more subs with 'Sorta silly'?)
But rightly noted, there is more potential. For a start, you could associate the god with bards, or at least make them close to the clergy. More generally, anything related to voice will of interest to them. And voice is a powerful thing.
A fun (and useful) power for his priests would be to force everyone around to produce sounds. No change for most people, all those sneaky thieves will find it quite annoying. The more powerful priests could actually make creatures like ghosts produce sounds when moving; the eldest of them could be able to cure muteness.
And the list could go on.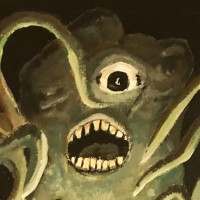 The concept of a God of sound is an okay one - the myth of Echo, cursed by Hera to always have the last word, but never the first comes to mind.
I think this could have been a lot better.
" The soul of a mage has been trapped in his own bust for centuries. The bust is a foot in height and made of a dark silvery metal. It is well crafted, perfect in every detail of the mage's features. The frozen expression is one of shock. It was sold off in auction after the mage's unexplained disappearance and has been passed around as a curio ever since. The cause of his entrapment? He practiced in secret; none knew of his hobby. Being self taught, he was unable to tell that the spell he thought was for protection was actually for entrapment..."
" A friendly human hunter has a talk with you about what you are doing here, and how is the weather. He advises you to not disturb the animals, tend to any fire you set, etc. This is actually a werewolf checking his territory, and if you are not to his liking, he may ambush you with his pack later."
" In nature, for instance, a rhino has flies and ticks etc, that live on the hide and live off the blood. Rhino will visit and lie in ponds where turtles will clean the underwater portion of the ticks and a species of bird will clean the the top of ticks and other parasites. What if where the characters camp there were a species of animals that lived off wounds of the creatures. PCs camp. Anybody with wounds on there body are soon covered with small rodent - insect - shadows - whatever. Would immediately see it as a threat I would imagine. But perhaps one of the wounded didn't wake up when it happened, and when they did finally wake they were completely healed. Perhaps somebody was warned of something attacking them but they were able to notice that the wound was actually getting smaller instead of larger. Or maybe they successfully beat the creatures off them and don't notice an improvement, marking this place never to rest at ever again....later learn that villagers send their wounded there but they keep it a guarded secret because they don't want all the attention or traffic and what comes with such a special gift. Could turn into something more too if characters decide to start blabbing about it."