Master WWMWBI ... or what would my world be if
What would my world be if.... This is a question that many GMs should ask. It will help them flesh out their world. This is a series of articles to expand upon the idea.
WWMWBI is the abbreviation for What would my world be if ...
What would my world be if.... What if questions.
..if Dragons were common?
.. if a World War occured?
.. if magic as your people know it stopped working?
.. if another peoples came to the shore of my known world?
.. if a diety died?
.. if someone invented movable type and the printing revolution began?
This is a type of thread I would like to see here. By putting the distintive WWMWBI in the title of the thread, people will be able to find these intersting discussions. These discussions become resources for other GMs.
WWMWBI discussions have two parts.
The first is the general discussion of the ramifications of said event. These are the general things to think about or consider if XXX occured. General Comments is what these are called.
The second is what would happen (or did or will happen) in your campaign world if XXX occured. In my world is your chance to show us your ideas in action.
To start a WWMWBI article, simply put
WWMWBI - The subject in the subject line
WWMWBI - Someone invented the printing press for example
Spiel a little about the subject in the first post, to explain what you want to see in the thread.
Then in the next post, give the general comments and what happened in your world if XXX happened.
Make sure to make the submission an article, with resource and GM clicked. Also remember to make it a scroll.
Traditionally, everyone's post has two parts...
Comments General and In My World. These are often very short segments. Though down the line, there are just comments and questions.
This format is easy to do and helps make your posts a useful resource for future visitors to the site who will be intrigued by what you did (or thought might happen) if.....
See, simple.
Not Registered Yet? No problem.
Do you want Strolenati super powers? Registering. That's how you get super powers! These are just a couple powers you receive with more to come as you participate.
Upvote and give XP to encourage useful comments.
Work on submissions in private or flag them for assistance.
Earn XP and gain levels that give you more site abilities (super powers).
You should register. All your friends are doing it!
?

Responses (3)-3

These are really hard to rate. As a series they are pretty darn thought provoking.

I can't put it down better than Kendra did. Great collection of thoughts and ideas of the "WHAT IF" kind.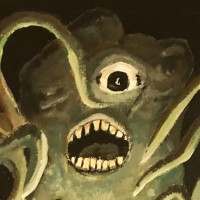 This is a good series of articals!
" On some of the islands off the coast, the rites of the local fertility god revolve around ceremonial death and rebirth. The religion's priests have overcome this cycle, however: Each of them is actually undead, ceremonially slain and 'reborn'! Their religion is otherwise unremarkable, being an odd offshoot of the mainland's religions. The priests vow to resist their undead cravings, seeing these as the 'cycle of life' attempting to reclaim their spirits."
" With a huge number of sacrificial victims, another realm long ago secretly bound a Prince of the land spirits, Iorstonn by name, thus ensuring the fertility, and improving the magical defences, of their realm. But binding that Prince to one spot has disrupted the weather and magical patterns (ley lines?) over half the continent. Things have become bad enough that a coalition has been formed to rectify the situation, once divinations have established the cause. Your party is one of the teams assembled to do the rectification: find the binding object and steal it ('so that we can destroy it here in our realm, of course'...*) or destroy it over there. Presumably the Prince will be grateful to his rescuers and angry at the binders, but with a greater spirit like Iorstonn one can never be sure: such beings are 'tricksy'. * Of course, the rulers of our realm might want to control Iorstonn for their own ends..."
" If it was a castle, it was the strangest one he had ever seen. He of course saw the main tower - taller than anything he had seen outside of Stoneholt, the spire looked fragile and was topped by a glassed-in chamber. The outer wall was so gently sloped that it would have only stopped a horde of hobbling old men, an able-bodied soldier could stride up to its crest with little effort. Within one saw a huge, nearly perfect bowl-shaped area with the base of the tower in the centre, covered in hundreds of mirrors. ---- This structure is a massive solar collector designed by the Wizard-King Aardwal in centuries past. He used the concentrated light in his investigations into the magic of light, and in the fashioning of flash crystals."