Land Battleship
It is the will of the King that a commision be formed to create a vehicle capable of bringing the firepower of a warship inland, without need of towage, transportation, protection. It must be self-reliant, able to withstand the rigours of battle. And it must be big.
Full Item Description
The Land Battleship is the pinnacle of solid state steam warfare. The heart of the landship is a massive armored boiler, feed from a pair of tanks. One holds water as part of a limited loss condenser loop, the other hold fuel oil. with the power used by a naval warship, the Landship uses this power to push a trans-axle drive. Each drive pushes a pair of articulated continuous belts, also known as 'tank treads'. With it's weight spread across four, six, or even eight sets of treads, the massive weight of the vehicle is spread over a large area.
Command of the landship is from a central command tower, often three or more stories above the ground. Part rangefinder and part bridge, it is the nexus of activity on the landship. The captain of the landship gives his orders to the helmsman, engineers, and gunnery officers from his command seat. The engineers monitor engine pressure and output, while coordinating power flow to the various treads that support and move the landship.
The landship has two types of guns, fixed and turreted. The fixed guns tend to be of smaller caliber, such as machine guns studded around the vehicle to deter infantry. The larger guns, naval in size and power, are held in steam rotated turrets. The bulk of a landship's firepower can be brought to bear to either side, or directly ahead.
History
The Franks were the first to reveal Land Battleships. Following the Franko-Prussian war, they learned that their static defences were only good as long as they were in the way. Rather than build an even larger and more elaborate thicket of bunkers, walls, fortresses and pill-boxes between Prussia and France, they opted to reinvigorate the failed British Land Battleship commission. Within six years a prototype was in service. With three paired treads, 6 inch armor, and a single 8 inch naval cannon it was met with thunderous applause from the King and court. This new class, named the Versailles class would see six ships built. These were soon in service, patrolling areas of thin defence along the border.
a mix of innovation and espionage saw the British, and Prussians produce their own Land Battleships. The second generation of landships were a leap above the Versailles. These mounted multiple turrets, bigger guns, thicker armor, and bigger boilers. Within a decade, the Versailles were scrapped as newer and more powerful Land battleships were built.
Strengths and Weaknesses
A Land Battleship has a number of advantages. The foremost is as a psychological weapon. As massive mountains of iron bristling with guns, the average soldier is utterly helpless against one. Undisciplined units can break and run in the presence of such a behemoth, experienced units can be pushed and have their spirit broken by a seemingly invulnerable foe. The Land Battleship is also a mobile fortress, it's armor able to resist even direct hits from artillery and cannon rounds. A basic French tactic is to use the Land Battleship as the anchor of a defensive line, providing a safe place behind it, and within it's iron belly. Finally, the vehicle brings naval grade firepower into an arena previously dominated by artillery, armored cars, horseback cavalry, and the infantry charge.
The Land Battleship has a number of weaknesses. The biggest weakness might be the landship's size. Due to it's great mass, it is slow moving. It's top speed is no more than a few miles per hour, under it's own power. This makes it easy to flank if unsupported, and irrelevant in a fast moving highly mobile battle. Terrain is also a problem. The landship can ford streams and a few rivers, but it is stymied by marshy terrain, mountains, and open water. It requires a specialized ship to move it across a large river or ocean. They are also very expensive. A single land battleship can cost as mush as an entire regiment of armored cars with towed guns and their crews.
The land Battleship can only feasibly exist in a setting such as steampunk. Aircraft would be able to very easily destroy a land battleship with dive bombing attacks. Against zeppelins and balloons, the massive vehicle can hold it's own with defensive gunfire, camouflage netting, and other measures.
Distribution
The majority of Landships are held by the French and Germans, most patrolling the same stretches of border. It is expected that the first year of any Anglo-Prussian war will be contests between infantry and gun duels between these rolling fortresses. The British hold a great number of these behemoths, most being placed in defensive positions around the points of the isles most likely to be invaded. The colonies have a dearth of landships; Australia has two, South Africa three, another three in the Americas. The main difficulty is building a landship, and then transporting it across the ocean. Many a decoy ship has been sunk by an opportunistic submariner hoping to get a fat cargo ship and land battleship in one kill.
Support
Most Land Battleships, especially the larger ones, have room inside for accommodating soldiers. While seldom used as transports, a landship can roll across a trench network or no-man's land and then disgorge it's complement of land marines into the thick of the enemy, rather than his defences. Armored cars are also a popular support unit for Landships. With their greater speed and maneuverability, they make for good spotters for long range shooting, as well as flushing out infantry and other cars for the gun crews to take down.
Notable Land Battleships
Kampf-König - Literally the Battle-King, the Kampf-König is a German built Prussian Land Battleship with a formidable reputation. With eight 12 inch cannons, thick armor and a cruising speed of 6 miles per hour it is considered one of the most modern Land Battleships. This land battleship has yet to see actual combat, and is stationed along the German/Czech border.
Gloire d'Inpenetrable - A Frankish land battleship, the Gloire d'Inpenetrable is an example of the current Versailles II class. With eight ten inch guns in two armored turrets, the Gloire d'Inpenetrable can bring stunning firepower to bear with devastating accuracy and precision. The landship is known for it's gilded command deck, white leather bridge seats, and rearward gun turrets with multiple 5 inch cannons.
Prince of Wales - A slightly out of date British landship, the Prince of Wales is part of the British Defence Fleet. Armed with short range howitzers and bristling with machine guns, she was built to face close range combat in defence of the home isles.
Potempkin - Most Russian Land Battleships lag behind the landships of their Prussian allies. The Potempkin is about 20 years behind the current trend in landships, but is still a formidable girl with 8 inch cannons and retrofit British Two-pounder guns in twin mounts. The main claim of the Potempkin landship was in the vicious gun duel between it and the navy battleship of the same name. While the Landship was immobilized due to tread damage, the rebel navy ship suffered heavy damage and was captured by the Prussian navy.
?
Hall of Honour (2
voters
/ 2
votes
)
?
Scrasamax's Awards and Badges
Not Registered Yet? No problem.
Do you want Strolenati super powers? Registering. That's how you get super powers! These are just a couple powers you receive with more to come as you participate.
Upvote and give XP to encourage useful comments.
Work on submissions in private or flag them for assistance.
Earn XP and gain levels that give you more site abilities (super powers).
You should register. All your friends are doing it!
?

Responses (7)

You could use one of these to crush a disobedient town.

How is it provisioned? Does a convoy of trucks carrying food, water and other supplies follow these mammoths wherever they go, or are the crews expected to take whatever they can get from the surrounding countryside?
---

I imagine a bit of both, There is a good deal of room inside one of these behemoths. If isolated from supplies, it could hold out for a few weeks on what it has aboard. Water is easiest to come by, given the reserve tank for the boiler holding a few thousand gallons. I would imagine that it would take a regular convoy of trucks to keep these up in regular condition. It is extravagant and expensive, but not much different from early battleships of the late 19th and early 20th century.

It fits extremely well into a world war I or pre-world war I setting. A solid post, though I see more potential in it; it could be improved upon - like more differences between the various types of landships, a better name than land battleship, perhaps a tale of a fight including one?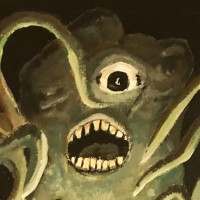 Coolness, I love the feel of it! It does seem on the outer edge of steampunk's era though.
There are a few odd typos - Mush is used instead of much, and first sentance of paragraph #5 needs capitalization.

Love the alternate history stuff here. Classic steampunk well fleshed.

You talk about the Shock and Awe effect of one of these, but I can imagine that the enemy would rarely see this peice of equipment. It would launch attacks for dozens of miles away. I can't imagine this being a forward unit. That said I think this is solid write up with a nice sprinkling of "history".
" Trapped in his tomb, but alive, the God of Pain awaits his uleashing, said to be at the end of the world, he uses his only powers he can and calls to him 2 people, a man and a women to reliquish him from his prison. The man and the women, decieved by them thinking it a person trapped, go after to help the God of Pain unwittily and let him destroy the world"
" Expansion from the Horse Brass item: Specific Armor charms. Cooling Touch Charm: protects horse against extreme heat, and fire, magical and mundane Jove's Favor: tin charm shaped by a lightning bolt that protects a horse primarily from natural lightning, but also potentially from lightning based attacks. In real life, lightning kills quite a few horses and cattle a year. Hermes' Blessing: gold charm that grants the horse magic resistance, and perhaps immunity to cantrip level magics. Vulcan's Steed: This large iron charm in epic fashion renders the steed invulnerable to iron weapons. Such things clatter off of the animal's hide like twigs."
" The greatest tree in the woods has a secret, there is a dungeon under it made from the intricate web of roots. What creatures could reside here? What secrets will the PCs uncover?"