Golden Trouble
What happens if you actually get what you have been looking for, all the time ?
"So, when did this all begin? Yeah, we plundered that dungeon. And found that armor, very fine piece. Leather, but better than anything metal I had before. So we visited the tavern afterwards, to talk and show how good we are.
Then comes that mysterious fellow, says it isn't ours. So I laugh and tell him what we find IS ours, and we will use it. Says he it doesn't belong to us, but he may be willing to compensate us for our trouble. I say it is not time for business, but we may part with the piece for, say, one hundred thousand gold. Sure it was a joke, 'cause I don't know how much that really is, but this fellow pulls out a great sack, and simply pours out the gold! I have never seen so much gold in my life before, did YOU ever ? The mage checked the coins and said its OK, no illusion or anything. And as that miserable innkeeper accepted them, I did too, somehow.
The fellow left and the inn was dead silent, until I paid all the beer for the evening. My friends and me just sat around and looked on that giant glittering heap of gold for hours or days, I cannot tell you. When we finally get to our feet, as the others leave, and as I open the door, guess what I see? You think when its midnight, theres little life on the street? Hah! I tell you there were hundreds, no - thousands of people! And they began all shouting and running to us, they love us, what great things we can buy, how poor do they live, and...
Be glad I locked the door before they got inside, you might never see me alive, I guess. 'I'm happy you stay for the night', says the barkeep grinning like an idiot, 'even if the prices somewhat rised lately... '.
I had to silence him so we could safely get out. Well, did I say safely? Just as we leave there come some amateurs to rob us. We put them down before they could squeak, but even that moment come others and soon the whole backyard was full with thugs, fifty at least! A hard fight we were beginning to lose, came not the guards to arrest us for our own protection. On the way to prison the city council accused us of evading the special tax on selling weapons and arms. I tell you the ink on that pergamen was still fresh, curse them!
So we lost over a half only to taxes. Then came the process and judge was content with a mighty fine and paying the courts costs, including his wifes new garments. We might still have a cent left, came not the innkeeper and charged us for robbery, attack, property damage, murder and other crimes. Luckily Dagger noticed the carelessness of the guards and suddenly we were outside that damned city, fleeing a whole battallion of Kings Army, a small portion of the treasure still holding in our hands! We met an old deaf farmer in whose wagon we hid. Later he unmasked as an illusionist, as he took that remaining money, but that little mattered to us, for we were content with our bare lives.
So here I am, far from my home town, stranded, without a penny left. And I tell you boy, fame and fortune doesn't make you happy.
Imagine if this happened to you..."
?
Hall of Honour (3
voters
/ 3
votes
)
Not Registered Yet? No problem.
Do you want Strolenati super powers? Registering. That's how you get super powers! These are just a couple powers you receive with more to come as you participate.
Upvote and give XP to encourage useful comments.
Work on submissions in private or flag them for assistance.
Earn XP and gain levels that give you more site abilities (super powers).
You should register. All your friends are doing it!
?

Responses (6)-8

Ah! A tale with a moral. Not enough dungeons have that: a sure move away from the traditionalist 'roleplaying' values of plundering and fame-seeking. Nice narrative delivery too, manfred.

Well, now...that last guy wasn't quite as civil about it as some would be, but I must admit, this is a very good scenario, if not just something to flesh out the world by having the PCs meet the poor guy. I certainly know that the poor players would go insane were this to happen to them...*pokes Ancient Gamer* Don't be getting any ideas from this one, worthy of the Hall it may be.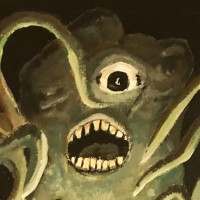 I completely concur with ephemeralstability

I cried at the end. I know some players that would burn their character sheets if this happened to them. :)

Too much gold can be a curse.

A fun fable, but not something I could ever run in my games unfortunately. The problem with my players is they're smart, often too smart for the sake of a simple adventure. The moment the man poured out 100k coins from a sack my players would have split with the artifact and run full tilt out the back of the inn, not stopping till they were deep inside the forest.
Why? Mostly likely because: one of my players would have pointed out in order to lift a sack with 100k gold coins the person in question was likely a demi god or in possession of something to grant them the strength of one. (This is the same group of players who once pointed out approximately 10-20 gold coins weighed 1 pound of weight, leading up to the question of how the dead halfling assassin was carrying almost 20,000 gold coins in his backpack and belt pouch, at least 1000 lbs of weight)
The other likely reason I foresee my groups characters fleeing is because dumping that many coins on the table means it;s going to flow/roll/ everywhere leading to an immediate riot within the inn as everyone tries to scramble about to get a few fists fulls of it. (They saw a similar riot when in the market when a chest full of silver they were guarding/transporting got blown open by the war hammer strike from an enraged barbarian leading to a major riot and the majority of the coinage lost in the ensuing melee.)
Still for a fun tale to over heard within the tavern it could lead to some fun interaction, and make a nice cautionary fable of what happens when one flaunts their riches to freely.
" A slow, stupid creature that crawls onto people and latches onto them, often on feet, hands, and other extremities, numbing down the area and slowly feeding on it. It's easy to avoid while awake, but nearly impossible to remove once attached. Many an adventurer has been forced to hack off an arm or leg after waking with a Stoneleech wrapped around it. Sleep with one eye open! (This idea came from 'Wizard's Rule')"
" A circus is in town and while parading down the main street the animals suddenly break free from the cages. After surviving and assisting during the breakout the PCs are hired to help with the investigation. Who did this and why?"
" When night falls, we find peace in the knowledge that daytime will return soon, and vice versa. But what if the world was split: daytime and night are two different, coexistent worlds, each with it's own laws and rules. At dawn and sunset, our soul switches to inhabit our other being, our 'twin'."