Elves of Tallarn
Elves are said to be girly, elves are said to be gay. What does this popular opinion stem from? Hardly their lack of facial hair. Note: Not quite a new take, but something to think about.
The Elves of Tallarn carry a strange heritage. The sex ratio is a bit off: five males are born for every girl that sees the light of day. To those unfamiliar, this may not be apparent though, as the effeminate elven side is more pronounced here, resulting in many of the men having a female appearance.
Men are referred to as either Kian or Kiannae. Kian have a classically more masculine look, Kianne with a more feminine or androgenous look. True ladies are called Aroi. In outsider term, it is just He and She as 'primitive other languages do not reflect the finer nuances of Elven Language.'
The society does strictly distiguish between male and female endeavours - males learn the crafts, farming, and the art of war; while the females are the carriers of culture, learning history and making up the vast majority of the priesthood, teaching and so on. Some Kiannae fill in minor positions of the female professions.
Art and magic are open to both, though a noticeable percentage of Kian lacks magical aptitude. Many Kiannae are magically or artistically apt.
The imbalance has led to peculiar courting customs: several Kian and Kiannae circling every lady showering her with praise and gifts. Many of the men who fail to find a female often end up in the arms of other men. These 'other men' are usually Kiannae.
Note: It is socially 'taboo' for two Kian (or two Kiannae) to get together.
Thus many of the males Kiannae have a very feminine look, attemping to attract companionship. Some of it is genetic. Some of it is appearance and grooming. Kiannae mostly dress androgenously. However they will, from time to time, dress in a distinctively female manner. As a point of fact, Kiannae are effectively 'non competitive' in the quest for real female mates, as they are not as 'manly' as Kian. That is okay. In point of fact, most Kiannae prefer men.
Additional Information
The Elves do not speak of the divisions. It is a taboo subject, impolite to talk about.
Since Kian and Kiannae is a personal decision, it is 'wrong' to say someone IS one of the other unless they have told you what they think they are.
Gender pronouns are assigned by how one is dressed. However, only in the most extreme cases will an Aroi be called He (usually requiring her to be in a non female role).
Kiannae and Kian might be interested in members of other races, but Kiannae avoid that... as it could lead to complications (unless that member is appropriately orriented).
Expanded from EchoMirage's Idea
Not Registered Yet? No problem.
Do you want Strolenati super powers? Registering. That's how you get super powers! These are just a couple powers you receive with more to come as you participate.
Upvote and give XP to encourage useful comments.
Work on submissions in private or flag them for assistance.
Earn XP and gain levels that give you more site abilities (super powers).
You should register. All your friends are doing it!
?

Responses (24)-26

Something to think about indeed. A nice twist which touches upon something taboo in general.
Every gamer has gone trough the 'Are the elves gay or what?' phase in their time, but nobody mentions it. Except perhaps, as a joke. About time the subject is taken seriously.

I feel this was well thought out and also has a lot of today's touches with it. Not only that but when you look at an elven man or woman you are always set to think which is which? In this format it is explained and also something that can be expanded upon. In all I like it.

Updated: Polished some writing and added a touch more content.

An interesting take on elves... There's really no reason why the sexual practices of fantastic species should reflect human customs. Some of the Kiannae could be quite female in appearance, to the point of having traditionally female bone structure and features, such as breasts. To another race, they would be almost completely indistinguishable from females.
It also helps address the question of how elves regulate their numbers with their tremendous lifespans: If many of the elvish couples are not actually a male with a female, that would reduce reproduction to a fraction of what it otherwise could be.
---

Well they don't see anything wrong with their slightly male appearance, so for them it works.
Thought they could possibly magic their way into a more feminine shape. Of course, to the Elves that would probably be as noticable as a breast augmentation and plastic surger to us in 21st century America.

It amuses me how fervent a response a post that is actually only about cosmetics gathered.
Also, thanks to Moon for saving some of my ancient writings and improving upon them. Thumbs up for Moon.

This whole topic is perversely fascinating. Dfferent races/cultures will have different customs of course, but it makes for a great "What?!" moment.
Like when that Elven beauty a PC group is adventuring with, and all the men secretly lust after, is revealed to be man, or something like that...

True - players usually react far less to a sentence like "she is part demon" than "she has a dick". Truth be said, the former would cause far more concern in me than the latter.
---

Meh. Why hold that sort of thing against someone? Especially if that someone's a hot chick? Eh?
---

The 'dick' or the 'demon' part? :D

To be honest, this is pretty damn funny to me. It's about damn time someone explained while male elves look just like the women! Man, just imagine the sheer frustration that could be caused to some poor human ranger walking through the city...
"Ah, I dunno Steve, this place is pretty hard to find your way aroun- hey, wait, a local! Excuse me, ma'am?"
"What? I'm a guy, asshole."
"Oh, really? Sorry, sorry. Okay, miss, what about you? Could you give us directions?"
"Uh, NO. I'm also a man. Jeepers, you're rude."
"Well, at least you're nicer than the first guy..."
"You called HIM a girl? My honey?"
"Oh- oh gods, I think I just puked a little. Christ, is ANYONE around here what they appear to be!? YOU!!!"
"Yes?"
"WHAT THE HELLS ARE YOU!?"
"Oh, me? I'm a girl."
"Ugh, about time I found someone who looked like a chick and WAS one.... Uh, what's up with the fan-club?"
"Oh, them? They're just trying to figure out which one gets to sleep with me."
"Uh-huh. Well, have fun with that. I'm sick of this damn place. Screw you guys, I'm going someplace NORMAL."
---

That was funny. Not going to happen that way, but funny.
The catch to this, is that they would roll their eyes or giggle slightly at your barbarian stupidity, but would continue on with the apparent gender. They don't talk about it, it would be like comparing the size of sexual organs... not something done in public.
So they would smooth it over quietly and laugh at you behind your back. After all, if you want to look feminine and attract men and the barbarians think you are female, you must be doing something right.
They might even correct you, telling you to use the correct pronouns or possessives in the langauge being used (Why does Elvish has three words for woman? Him, Her, Hir? aaarrrhhhhh).
It is not until you get used to Elves and get in one of their circle of friends that you are ever going to figure this out.
---

Heh. I've yet to ever see an elven submission where the elves WEREN'T smug, superiorist buggers who think that everyone who doesn't have Spock ears is a barbarian idiot. Still, I like the idea, since it explains quite a bit.
---

Elves live a thousand years and use quite some of that time improving themselves and their surroundings - they actually have a reason to be superiorist :D Wouldn't you be smug with seven hundred years of practice under your belt in whatever area of expertise you chose? I would :)
---

Reminds me of the Eldar, those bugger's are much the same in attitude- but only worse. They'd sacrifice millions of human lives to save just a few Eldar, and see the younger races out there as inferior beings.
However, I like to think that a smack across the face with a few Space Marines or Imperial Guard regiments solve the problem quite nicely, if you catch my drift. :)
---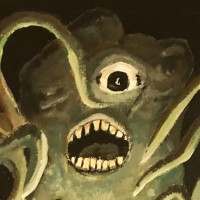 Been playing the new game I see... I've been playing the demo - like it..
" The two cathedrals in the Citadel stubbornly ring their bells two minutes apart, since each believes the other to be too early or too late respectively. This has been done for over two hundred years."
" Enraged by the violation of the Peace Pool and the Whalebone Forest, a dead leviathan has risen from the bottom of the ocean and now hounds ships around the port where the stolen jewels went to land. It capsizes ships and devours sailors whole, spears protuding from its dead and crab-eaten hide."
" Castoria was once a thriving and prosperous nation, a rich trade center for the surrounding lands. This all changed when, on one fateful night nearly a century ago, the Mist of Eternity rolled in and surrounded the land, obscuring more of the outside world as days and nights passed. By the time the Mist blocked out the sun, a new light shone during what was assumed to be daytime: The Starpoint Spire, a mysterious place atop Castoria's highest peak in the northern-central region. Some say that there is some sort of building atop the mountain shining the dim 'sunlight' onto the land, but it is only ever too bright or too dark to fully make out any structure, not to mention the mountain's immense height. Not a month after the Spire's light lit up, the stars fell. Flaming rocks and debris from far-flung edges of space plummeted downward onto the eastern region of Castoria. Once the shower subsided, a strange energy from within the fallen stars transformed the eastern lands in what are now known as The Voidwastes, a barren gray land littered with craters and strange alien creatures (these can vary, but I had Pathfinder's Akatas in mind). To the south, strange mechanism of eldritch origin are again at work after aeons of rest in the Ruins of Kchuthngnl, an ancient city of non-human creation that is estimated by scholars to be no less that five millennia old. To the west, the once peaceful and serene forest, now known as The Plagued Woods, has been experiencing corruptions of the wildlife and humanoids living there. Some humans have reported creatures that appear not unlike a halfling, except that they can open their mouths to massive proportions to swallow creatures the size of an ogre. When adventurers and citizens alike try to make an escape from Castoria, they are never seen again, and it is utterly unknown whether they found hopeful sanctuary or agonizing death withing the Mist's depths. What is unknown to all residents of Castoria is that all of these events occurred because of the actions of a secret but powerful cult loyal to the Elder Gods who call the space between the planes their abhorrent home. The cult still lives on, larger than ever, and their plan is for the alien horrors to incubate and thrive within the dome of mist that now envelops Castoria, so that when the Elder Gods return as the cult's prophecy foretells, they will have an army of blasphemous creation at their disposal that they will use to make war with and enslave the denizens of the Material Plane."