Dugfar's Dangerous Dwarven Drilling Dirigible
The proud dwarven Captain Dugfar stood atop his mighty machine of magic and stone looking down the mountain they had just emerged from; letting the wind whip his beard over his shoulder... "This is a proud day for the Dwarves!" He bellowed. "...and this is just the start!"
Full Item Description
This dwarven made "Dirigible" cant actually fly through the air, it goes through the earth. Its made of 3 large stone sections connected by a thin sheet of rock magically enchanted with the flexability of cloth. At rest this vehicle looks like nothing more than a huge rock. Each section of the "Dirigible" serves a special purpose. The first is to compress all earth it comes into contact with around the ship, making a tunnel for the rest of the ship to pass though. Although the tunnels are not completely sturdy there is enough time for other dwarves to come in behind and build supports. The second section is the pilot housing, it hold up to four people but only two are needed to steer. You can steer the vehicle only if you have some magical capabilities yourself, you need to channel your engergy into directing the first section up, down, left, right or any direction inbetween, then all you need to do is will it forward and the drilling begins. The third and largest section is the cargo hold, also used for passengers.
History
Not so long ago in a mountain little explored by humans... this is where Dugfar's story begins. Dugfar was a young dwarf and thus was always coming up with new radical ideas that The Elders didnt really appreciate. One day while doing his arcane studies of his ancestors and looking through ancient design plans for pulleys and such Dugfar stumbled across the plans for a digging machine. Dugfar immediatly went to The Elders and demanded that he be allowed to attempt to create this. The Elders agreed because they needed some sort of new mining to to reach the other side of the mountain and connect their kingdom with that of their deeper dwelling cousins... and so Dugfar started working on this drilling machine only to run into the same problem at his ancestors: directing the vessel. Dugfar decided that he needed to explore the lands to find a solution, he got permission from The Elders and set off for Human lands to see their "ships" he has heard about. The journey had all the minor encounters one would expect but he finally reached the Great Shipyard. He was immentaitly inspired by a barge towing another barge and he really liked the idea of "sails" but knew they would be of no use underground. So with this idea in mind he set off for the land of the smart and mechanical-minded Gnomes. They welcomed the fellow inventor and took to trying to find a solution to his dilemma, they soon developed a magic spell that would repel earth and suggested a for of mental submersion into the ship to steer it. Great! That was two more problems aut of the way. Finally he returned home and started work again. Everything went fine untill it came time to use it, he realized he could not see where he was going, they tried all sort of methods of shouting and banging of the hull but nothing was very effective. In the end it was a simple crystal Scrying ball that was the solution. Now the dwarves have a grand amount of tunnels thanks to Dugfar.
The Magic
Vision: A crystal Scrying ball.
Steering: Arcane mental submersion into the vehicle.
Digging: A Earth repelling spell
It travels forward by slithering like s snake and is not very fast.it requires two people to drive: one to steer and one to Scy. it can hold 6 dwarves comfortably in the cargo area. Also, the reason this is called a dangerous dirigible (Of course not called that by the dwarves, they simply refer to it as The Tunneling Machine) is because of cave-ins and running out of magic to power it leaving the crew trapped beneath the earth (This last flaw has been averted using a door located on the back of the tunneler.
~Enjoy~ and don't forget to point out and flaws or unexplained bits.
?
Pieh's Awards and Badges
Not Registered Yet? No problem.
Do you want Strolenati super powers? Registering. That's how you get super powers! These are just a couple powers you receive with more to come as you participate.
Upvote and give XP to encourage useful comments.
Work on submissions in private or flag them for assistance.
Earn XP and gain levels that give you more site abilities (super powers).
You should register. All your friends are doing it!
?

Responses (11)

I absolutely love the name, and the fact that it was not automatically palmed off onto the mechanically minded gnomes. (Shakes fist at gnomes). The idea seems fairly well fleshed out, and has a plausible backstory. Even Dufgar (who is never described) seems easy for me to imagine. (A young dwarf not yet grown into his beard)
Now for the axe. There are several grammatical and capitalization flaws that need to be ironed out, but nothing that inspires the wrath of the average reader.
Good luck with this, I don't how others will respond to the normally non-magic using dwarves having a magical tunneling machine.

I love it, enough said. The name is brilliant, the idea even more so. Regardless of the grammatical errors, 5/5!

Silly. Why would they, the technical people, call it a Dirigible? Illiteration is cute, but in this case annoying... to me.

It's just a snazzy name for the submission, they would probably just call it a Tunneling Machine, or something practical like that.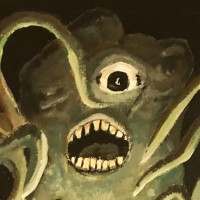 I think this is quite amusing and helps explain how the Dwarves can have so many blasted tunnels! :)
I don't have a problem with spell-using dwarves - the Norse dwarves were pretty magical.
Good Job!

I like the names. Especially if it was named by its inventor who knows he annoys the elders and continues to do so with the name. Imagine the flourish of introducing the newest invention to the counsel. :)
Mabye a little too much for my light magic taste but a fun submission to think about!

I love dirigibles and I looove the name!

What Strolen said: Dugfar would have been exuberant at his first major creation, overflowing with poetry and joy. It's Dugfar's, it's Dangerous, because that's awesome, of course it's Dwarven, it does Dig, and man, for one last D... Dirigible! Tadaaa.

I don't subscribe to the whole dwarfs and gnomes invent a bunch of steampunk stuff. But if you do and that works in your campaign, then this is probably something you would enjoy. (The hypothetical reader of this comment). I do like the title though, right up my alley.
" Molk Peruda is encountered by the PCs on the second day of their journey west from the salt-choked port of Quyn, as they prepare to explore the jungle. He appears a gaunt, wolfish man, with matted, dark hair that sprouts from his head in dreadlocks, contrasting with his well-oiled, blue-black, conical beard. His eyes are hidden ebon shards beneath thick arching brows, his nose, crooked, long, and reminiscent of a snout. His mouth is a thin, dark line, his teeth unseen even when he parts his lips to speak. His skin is the color of tallow, surprising perhaps for a renowned jungle guide, yet his natural helm of dreads and the jungle's canopy keeps the sun from bronzing his originally pale flesh. On his back are tattooed three women from the waist up, side-by-side, each resembling the other but of different ages. This is a tattoo of Molk's mother, sister, and daughter. His wife (don't bring her up to him!) was killed by marauding Qullan years ago, and appears as her own tattoo on his broad but sunken chest. His feet shockingly are turned around 180 degrees at the ankle, facing towards his back! A curse from a pernicious shaman. Molk walks feet backwards (he's used to it) and walks backwards, forwards. This can be very disconcerting and outright creepy to the PCs as he guides them through the rainforest. Slung from his back is an archer's quarrel of treated wood carved to resemble a stalking leopard, in his hand a re-curved composite bow of horn and sinew, with a pair of vivid, red eyes, each one painted on the opposite side of the hand-grip. In a leather sheath at his belt, hangs a falchion, its pommel adorned with a curved bird's head and beak."
" Termites, in certain places, make homes that can be eight meters high and only a half meter wide. They are built facing North to South to take advantages of the suns travel, maximum heat in the morning and evening and little in the afternoon. Imagine grassy plains with vertical structions facing a certain direction all over the place. Ambush? Maze? New creature? Larger structures?"
" If someone is murdered, they can be brought fully back to life if raised within 5 minutes, after that they are Undead and will start decomposing at a normal rate."