Cornelia
Cornelia served the Grand Wizard Elkhorne for many years, tending dutifully to his laboratory and making sure his robes were properly cleaned and mended. That was until Cornelia slipped and fell down the spiraling staircase from the orrey and broke her neck...and died.
Appearance:

Cornelia no longer has an organic body, her having since perished in her terrible fall. Her body is now a complex creation of hard carved wooden pieces, all bound together with pins and bearings of shining brass. She stands just shy of six feet tall, as she was a tall woman during her mortal life. Her body is primarily composed of oak, but some portions have been fashioned out of softer and easier to replace poplar. Her hands are quite remarkable, each a fully functioning replica of a human hand, complete with brass knuckles and joints of brass wire and wooden chucks. Some remark that despite her wooden nature, she is still both dainty, and demure.
Wood may not be the most durable material, but it is plentiful, and very light when compared to clay, stone, or even metal. It wouldnt do to have a servant who cracked the floorboards and crashed into the pantries when she missed stepping on a supported floorboard. Thus, Cornelia survives able to live on in a rather human like fashion.
Her face is not recreated on the wood, instead Cornelia wears a number of hand painted ceramic masks. She lacks any need for the masks, but it is pleasing to the Grand Wizard, and makes for easier interaction with the various dignitaries and supplicants who have regular dealings with the Grand Wizard.
Cornelia takes a great deal of care in the choosing of her attire. While she has nothing to hide other than the wooden representation of breasts (not anatomically correct) she still has a strong sense of modesty and would be mortified for someone to see her bare to the wood and metal. She favors long flowing dresses that hide her legs, as well as thickly padded shoes so that she doesnt tap when she walks.

Background:

Cornelia was raised from a child to serve to position of Grand Wizard, whomever he may be. She did this with skill and grace and was well rewarded for her services. She chose not to take the financial reward but rather stayed as the headmistress of the office of the Grand Wizard, as she had fallen in love with the then young and dashing wizard. She lived with him for years, their relationship warm, but never quite flaring to full flame.
Then, one day, she was returning from clearing out the astology orrey and she slipped and fell. Tumbling head over heals, she fell down nearly eight flights of stairs before coming to a crashing halt. She lay, her bones snapped, and her body on the brink of death. The wizard held her in his arms and cursed himself for not knowing the arts of healing, and in her last moment, they shared their first, and last kiss.
THe wizard drew her spirit into himself, and putting her soul into a slumber set about to the task of building her a new body. Most golems and automatons were coarse and crude, bashing beasts and monsters. His Cornelia would be no such beast. For sixteen months, her labored, carving the pieces himself. The metalworking was the artifice of a cunning demon smith, bound to the wizards service for a year and a day. Thus, her new body was made.
Within the center of the chest, he created a hollow place, and within it, placed a jar of enchanted crystal, blessed by the clerggy of the God of Life and death. Into this, he placed her vital reamins. Within this jar wnet her head, her heart, and her hands. The jar was closed, and he bade himself forget the agony he felt as he prepared her essences for animation.
Thus, sealed into the wooden torso, he made her. He passed her slumbering spirit, now existing in the twilight realm of the half-dead, into the jar. She stirred, moving wooden limbs, touching her wooden face, and becoming horrified. The Grand Wizard was able to calm her, and bring her back to her senses. Thus, she was made to live again, after a fashion.

Roleplaying Notes:

Cornelia is a receptionist, and an etiquette instructior, part french maid, and part fantasy golem. She was created for the position of service and this she does well. She is an intermediary.
(possibly more to come)
?
Hall of Honour (2
voters
/ 2
votes
)
?
Scrasamax's Awards and Badges
Not Registered Yet? No problem.
Do you want Strolenati super powers? Registering. That's how you get super powers! These are just a couple powers you receive with more to come as you participate.
Upvote and give XP to encourage useful comments.
Work on submissions in private or flag them for assistance.
Earn XP and gain levels that give you more site abilities (super powers).
You should register. All your friends are doing it!
?

Responses (10)

Wow,this item NPC is just so bizarre...

So actually, in the fashion she dresses, her state is not apparent at the first glance: awoman hiding behind a mask... her hands hidden in gloves, long skirts concealing her legs, a wig instead of hair... an interesting NPC, excellent for a high magic campaign.

5/5-very good.

Jacks are a great idea. Once an advance in magical technique is made, and they become easier/ cheaper to make, your world would have many jack NPCs to create.
We have an entire thread on this subject
http://www.strolen.com/forums/viewtopic.php?t=1708

rantYeah, because Pinocchio had the dismembered parts of a once living little boy buring in his wooden chest. I dont see any strong Disney, or Pinocchio elements other than the fact that both Cornelia and Pinocchio were both made of wood./rant
Cornelia should ideally seen with pity, as she is not much more than a ghost permanently bound into a wooden body. She has no face, and cant enjoy many things that a living person can, that is, she cant eat or smell, she cant have sex, she really cant sleep or dream either. All she can do is continue her existance in the perpetual service of a wizard that she has the benefit of loving. I can easily imagine other jacks being created without this sympathetic bond.

Now, at least the spirit is still there, thus hope remains...
If the wizard was wiling to laymorals aside, he could use an Exchange Body spell or the like to grant her a new one... and burn the body's old soul with the 'jack :evil:

Or someone could just carve her a superior body with intricate moving parts... allowing her more expression, chewing/ tasting (then she would have to clean out a resevour), and so on.
Sleeping and dreaming is function of the mind/ soul. She has a human mind which knows sleep and dreaming. She would never actually sleep, as she has no body to get tired, but she could 'cat nap' and day dream if she wanted.
The Barbarian Horde comment and vote was annoying in this case.

Being an ardent fan of RuneQuest I am possibly a bit jaded on this since this kind of thing being something of a stock-in-trade for RQ magic (any shaman could do it). Nonetheless, I do like Cornelia, mostly because she makes sense, there is a logic to the Grand Wizards' reasons for creating her hew body, and for her acceptance for this fate.
Yes Scras you're quite right, this can just as easily be done o any spirit, regardless of said spirits' views on the matter.
Overall, definitely a 4/5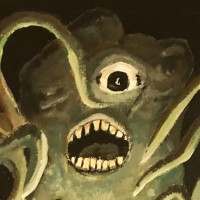 I do like this - an excellent addition to any institution where high magic exists!

The big question is, what happens when the wizard dies?
A beautiful story for an interesting servant.
" Minor Cultural Modifier: The culture believes, for the soul to leave the body, the corpse' eyes must be open. So any member of that culture takes care any dead body they find has its eyes open. Doubly true for those they kill themselves, for then the corpse will surely rise as an undead hunting him."
" These magical boots empower the wearer with several abilities at once. Wondrous leaping, water-walking, and even flying! Yet the boots possess an insidious curse upon them as well. A deep and almost unfathomable (by others) feeling of listlessness, boredom, and even apathy affects the boots' wearer at all times whenever they are donned. Magic will not dispel the effects. And so while the wearer of the boots can perform great feats of action during combat or at other opportune times and key moments, they'll never really want to do so, complaining 'Meh, what's the point of it all anyway?' or 'I would fly up and save us all guys, but sigh, maybe uhm, soonish, mkay? Bit bored by this whole burning tower at the moment.' Naturally the boots wearer's fellow PCs will grow quickly frustrated with this arrangement. There have been numerous occasions when one angry PC literally tears off the boots from his companion's feet in anger, and dons them in turn, only to immediately suffer from the same effects. The solution lies in constantly 'motivating' the boots' wearer with successful rolls, involving threats, flattery, fiery speeches, or even bribery."
" Orcs record their deeds through symbolic mutilation, scarring and tattoo. Perhaps creating the medium of skin as art, which humans followed later. Perhaps tattoos remind the elves of orcs and make them angry..."