Code 7777SOHAT
The hacker had breached the final firewall and was typing code into the command prompt: code/7777SOHAT. Images flashed up on screen and he gazed in terror at what he saw.
Code 7777SOHAT is a command specific to one IP, 192.219.1.666. When activated by a command prompt this code displays a web page. This web page is a hit list for about anything that you could imagine, from normal hits and robberies to terrorist attacks and calls for mercenaries, if you are of a shady nature you can find a job here.
The Jobs
The jobs are organized under tabs for each type of job, such as assassinations and robberies. In each tab the jobs are organized by cost, difficulty, date it expires, and target. The table is very lengthy and could hold the names of some of the characters.
| | | | | | |
| --- | --- | --- | --- | --- | --- |
| Cost | Difficulty | Expires | Type | Target | Claimed |
| 20000 | 3 | 10/22/13 | Robbery | Xenith Warehouse | no |
| 100000 | 5 | 11/20/14 | Terrorist attack | Exim city | yes |
| 10000 | 1 | 10/30/13 | Hit | Levin Crezek | no |
How It Works
When you decide to take a job you simply click on the no button under the Claimed category. If it is already claimed you can not take the job. When you click the button it takes you to an alternate page, displaying mission info and pictures. Then you have to confirm that you want the job by clicking the Confirm button. When you have finished the job and have sent proof to the mission provider your account will be credited with the cost of the mission. When you create an account you will provide name, address, e-mail, and who you are, such as hitman, or terrorist. To place a job you simply place money into your account via a dead drop (cash only) and then specify all the information someone would need to complete your job. To take money out of your account you simply contact the site through your account and they leave the money in a dead drop.
Plots
One of the characters hack into the site and find themselves on the list. They may have to defend against hopeful mercenaries or find a way to get themselves off.

After hacking the site the party faces repercussions from the sites owner. Leading to combat and possibly reasoning with assassins.

After completing a robbery the party find themselves under the wrath of the buildings owner.
Not Registered Yet? No problem.
Do you want Strolenati super powers? Registering. That's how you get super powers! These are just a couple powers you receive with more to come as you participate.
Upvote and give XP to encourage useful comments.
Work on submissions in private or flag them for assistance.
Earn XP and gain levels that give you more site abilities (super powers).
You should register. All your friends are doing it!
?

Responses (13)

+50XP for 5555

Loose lips sink ships. In this case, loose security. I like the thought of a hit database but the way it is described it pretty much lets anybody view any job, take a look, and decide if they want to take it. Way too much information available without commitment. Pay drops aren't very trustworthy either unless you have some kind of failsafe to ensure payment and/or action on the job.
Love the concept, difficulty with execution.

I like the idea however. If your able to hack into the site and in the unfortunate event see your name or the name of someone you know, how would it not also be possible to change the category under your name to completed so no one would come find you? Fairly easy if you ask me if they can hack the site.
---

Until the person who wanted you dead realized that you weren't dead. Or the managers of the site realized that they hadn't dropped the money or finished the paper work.

Nice idea, there is a lot left unsaid, about how there would still be a human element to things, in the way of introductions and granting of access to the site. Presenting just the site may confuse some of the more rigid minded people/players that may focus more on the players relationship with site, when really the site is a mean by which the players contact with or learn about their opponents. Yet it keeps the nature of the opponent mysterious, as is common in the speculative fiction genre. It is another lock that has to cracked before you can get to the real threats.

Only voted.

I think this is a nice solid idea, I would have made it a Location submission, located in Cyberspace, as it is not really a plot as it is a place to find plot. It you gave us a short story about finding the web page, discovering some sort of plot, then trying to shut down the page, it could be a very nice plot. But as is, it's not bad.

Just as a note, i think the firewalls to break into the site would be respectively easy compared to the one to edit the site. Just a thought.

I agree with Pteh. I also think it's very weak as far as ideas go. 1/5.
---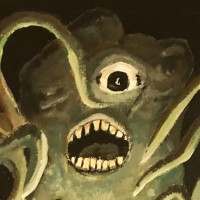 An interesting concept.

This seems kinda, I dunno, bland? Like the standard sort of quest-giving source for a modern/cyberpunk setting. The dark web is full of such things, or so I'm given to understand.
The intro sentences are strong: 'The hacker had breached the final firewall and was typing code into the command prompt: code/7777SOHAT. Images flashed up on screen and he gazed in terror at what he saw.' Kind of led me to believe this would be a cyberhorror kind of sub, something you'd see a good creepy pasta about. Maybe taking it in that direction would be cool? A sort of haunted website that someone stumbles upon, discovers what they think is a dangerous but profitable job, but it turns out to be far darker than they anticipated? I dunno, I'm kind of just riffing here, but you get the idea.
In short, it's a pretty standard concept that has the potential for a unique twist.
" Orchound - A large canine with tusk like bottom teeth. Orcs bred these dogs to help them in battle by grappling with foes, and dragging them to the ground. Despite their fearsome appearance and loud bark, they are trained not to kill, this is the venue of the warrior, not his hound."
" Arkths or Ravagers: These are large landbound crablike creatures about the size of Grizzly Bears. They live partially in the astreal plane. Their food is magic. They can sense it at huge distances. Since spells and such are hard to eat (being in motion) and magical places are the equivalent of a sea of krill to them, they are looking for magic stashed in concrete places. Their primary food source is magic items, alchemical potions, and enchantments. They do a pretty good job of mangling/ eating the physical aspect of said items in the process of chowing down. These things will be the bane of dungeons everywhere, as they will slowly eat away much of the treasure (and the magical traps... so it can be advantagous to follow these things). Note: They will attack people with highly magical natures (i.e. high magic powers). They will probably kill the person in the process of sucking out the power."
" A military organization, the Stalkers are a hunting/mining militia that are known for wearing full body shrouds that easily hide them in snow and other slushy terrain. The lightly armored warriors are known for the speed, stealth, and the vicious wounds inflicted by their hunting hatchets. Many of the Stalkers keep crop-eared warhounds with them, both for hunting, companionship, and in war."