Via Humanitae
Via Humanitae - For Humans to live and thrive, non humans must be removed.
Via Humanitae
The VH is not a very large order, but it is a powerful one. It has roots tracing back many generations, and its power and influence are substancial, far beyond what would normally be the ability of so small a circle of members. There are powerful nobles, well esteemed magi, and personages of import within this order, and they are united by a goal that transcends occupation, politics, and even matters of faith.
The VH is terrified of non-humans. What hope does man have against the near immortal manipulations of the elven races? It is a small thing for an elven lord to manipulate his human neighbors from one generation to the next. How many petty kingdoms exist as puppets and thralls of the elves? Their crafts, their art, everything about them is accorded greater respect than the honest effort of any mortal. Quality means nothing so long as a merchant can whisper elven before making his sale.
The dwarves are also an insideous threat. Their power comes through the markets and economy. They are a major source of gold, silver, and mithril, many of their great halls swimming in such wealth. What protection is there for humans, denied the prime mineral resources of the mountains? Are we left to forever indebt ourselves to the dwarves for their gifts of steel, and gold, held at ransom in times of need. How many a shield, weapon, or armor held sway the popular imagination for the 'dwarven kings of old'? What of the Dwarven Kings of now, they profit greatly at the expense of man.
The orcs are the most straight forward, and the least insinuating. They seek to feed, a parasite, on the wealth and prosperity of mankind. Those few who dont, they actively seek its destruction, and the supremacy of their race. As such, they can be the most 'honorable' of the enemies of man.
The VH works through indirect means, never through confrontation. Indeed much of their effort is to keep the elves, dwarves, and orcs from ever learning of their existance. They will work tirelessly to ensure the promotion mankind at the expense of the other races, always watching, waiting for the next incursion into the realm of human affairs.
Some members are actively involved in locating magic items and arcane and obscure lore to improve the holdings of men. They will also seek the lore and artifacts of other races to either confiscate them, or destroy them if possible.
The turks and mercenaries employed by the VH seldom know who, or what, they are actively working for. Delving into the VH should be like peeling an onion, layer after layer, only exposing the layer underneath. Reaching the core should be a campaign, or multi-campaign task.
?
Hall of Honour (2
voters
/ 2
votes
)
?
Scrasamax's Awards and Badges
Not Registered Yet? No problem.
Do you want Strolenati super powers? Registering. That's how you get super powers! These are just a couple powers you receive with more to come as you participate.
Upvote and give XP to encourage useful comments.
Work on submissions in private or flag them for assistance.
Earn XP and gain levels that give you more site abilities (super powers).
You should register. All your friends are doing it!
?

Responses (5)

It would be good if the PCs ended up working for this racist organization without knowing it.

I need a little more structure on how the organization works, rather than an interview of just its purpose. Is it cells like a resistance networks or are they more "up front" and have actual public meetings and such. (Then they work through various fronts and such). I need to know how they generally work.

This needs to be expanded, yes. So far, it's but a promise of greater things to come, a sketch.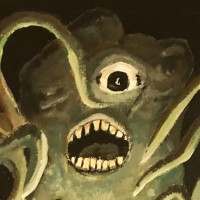 A cool idea - a counter to the oddly egalitarian approach to fantasy races many worlds have.

Short and sweet. A feasible org. that could arise from any fantasy setting.
*Commented on for the Commenting Challenge
" In the middle of the sky over the land of Dankij there is a door. The door is fixed in an upright position and appears to be fastened to the very sky itself. Worldwide rumors say it has been there since The Creation. What could be behind this door?"
" Cold Comfort is a long-sword of star-steel, its blade giving off a wan, blueish light. Its grip is wrapped tightly in snow-serpent hide, and its pommel bears a single opalescent gemstone. This blade is enchanted in such a way, that whoever wields it, begins to fall completely and irrevocably 'in love' with the weapon. This love does not manifest itself as the expected reverence and bond formed between any warrior and his weapon, but as a deeper, truer love, one has for a soul-mate of the same species! The longer the wielder carries Cold Comfort the stronger and more disturbing this love becomes, and only the most powerful of magicks can potentially break the sword's insidious spell. The blade's owner will even speak to and coo to the weapon, convinced that the sword understands and returns this epic love. If the blade's wielder somehow loses the weapon or has it taken away, they will become inconsolable, and will predictably go to 'ends of the earth and back' to retrieve it at any cost. Such is the weapon's curse that even separation from it does not damper the feelings the owner has for the sword. Legends tell of several distraught and mind-addled knights who even years after losing the blade, still wander the country-side searching for their lost love. And woe be to the 'new lover' if and when they find him or her."
" Mining in a certain area turns all exposed skin (maybe just parts that are actively disturbing the chemicals that cause the reaction) of the those doing the mining to a dark blue color. Will wear off taking as many years/days spent in the mine. ... meeting a party of blue-skinned humans armed with pick-axes etc. Strange disease? Demon offspring? Curse? If they meet only one ex-worker, they will very carefully listen to any stories he says, no matter if drunken or insane, or just makes up to get a beer."