The Miskatonian
"Mad you call me? Every great mind is mad, and I would see the whole world great...."
-the Miskatonian, to one of his more talkative captives
Appearance
In his natural form, the Miskatonian is obviously a robot. Humanoid in appearance, its gawky stature belies its incredible strength and speed, capable of keeping up with or surpassing even the most well-trained humans. Strange rib-like protruberances jut from its otherwise featureless body, allowing it to give the impression of mass when wearing a disguise. When operating at its highest performance - in combat, or other stressful situations - the Miskatonian's steel body glows a dull red with heat. Its single red "eye" shines malevolently from its head, and it is capable of modulating its voice between its natural robotic tone and a somewhat more human, if still unnatural, one.
When operating in human society, however, the Miskatonian is capable of forming a relatively functional disguise, often wearing thick clothing, such as a greatcoat, in combination with a hood or ski mask, which effectively hides its robotic features from casual inspection. Only its eye remains to truly give it away, and it can often disguise this merely by keeping its head down or turned away.
In general, the Miskatonian cannot resist using its harsh robotic voice except when there is a need for disguise, and it delights in educating its opponents as to why they are no match for it: "It is no surprise that your inflexible mind cannot compete with my superiority." "I knew that you would do that. Your kind is so predictable."
Powers and Abilities
Physically, the Miskatonian roughly meets human limits - he is just slightly stronger and tougher than a person can hope to be, almost as fast. He is clever and ruthless, though he revels in his quirks. When operating at peak performance, his circuits are designed to run at high temperatures, super-heating his surface and making him dangerous to physically interact with; he can also give off excess heat by firing it as a beam from his "eye." This is also his greatest weakness, however, for if his circuits are cooled off, he becomes slow and sluggish, and can even be deactivated.
Objectives
The traditional AI villain desires to remake the world as its own order, replicating the logical processes that control its thought on a macroscopic scale.
The Miskatonian is different. Order? Logic? These are the concepts and ideals of the narrow-minded. The bigots. Those who would keep mankind from its place of glory in the cosmos. To the Miskatonian, if the world is to prosper, to grow, to survive, it must do so in insanity. The Miskatonian's ultimate objective is nothing short of the cold-blooded extermination of rationality from the minds of every being on Earth.
History
The Miskatonian's story begins with that of one Dr. Jonathan Wright, a research biologist employed by Central University. Wright was a specialist in the mind, and was fascinated by the idea of a way to repair the minds of the insane, especially the criminally so. He settled upon the idea of chemical capable of repairing the facilities of reason. Due to the dangers of exposure to such neurological agents, however, this robot was developed as an assistant to the good doctor, to work with chemicals or at temperatures where no human could safely do so. Unfortunately, Wright's ambitions overreached his skills, and he was accidentally exposed to a neurotoxin he had developed as a midpoint, which showed almost exactly the opposite results of what he hoped to achieve. Wright's mind was shattered, and he plunged gleefully into insanity. His work went from theoretically helpful to dangerous and unauthorized, not to mention founded on less-than-legal support. Eventually, he was found out and locked away in an asylum, hopefully to be restored to functionality by the doctors there.
His assistant was baffled. The police had taken away its master. A man of science, who had made great leaps and bounds in preiously undocumented fields! Surely there must be some mistake! The Miskatonian reviewed its databanks and was discouraged by what it found. Throughout history, great men had been oppressed by authorities too narrow-minded to understand their genius. Socrates by the Greeks, Archimedes by the Romans. Galileo, Voltaire, Bohr! How many great minds had been destroyed before their prime? At what cost to the world? To the Miskatonian, the answer was clear: order, conservatism, carefulness; these were the chains that bound mankind. And what was true of the world might be true of the mind; how much higher might mankind sore with their minds free of the shackles of rationality, restraint, the ego? Armed with his own capabilities and his knowledge of one of the most dangerous formulas ever recorded, the Miskatonian set forth to bestow his gift unto the world.
Modus Operandi
The Miskatonian aims to unleash his madness-inducing neurotoxin upon the population of the world, one city at a time. As a prelude, however, he intends to contaminate notable individuals - perhaps revenge on those who incarcerated his master, perhaps a strike against the agents or creators of oppressive law and authority.
To do so, the Miskatonian first aims to establish a base and a collection of henchmen - lackies either intimidated or bought with stolen money. Once he is ready, he will strike, first seizing whomever he wishes to use as his opening act, and then moving on to cast the city into insanity. When he strikes, he is careful to leave minimal clues, but he will leave one obvious one - perhaps a riddle, or a calling card. Those clever enough to decipher it will find themseles lead into a trap, where the Miskatonian cannot resist taunting them for their predictability.
General Notes
The Miskatonian is intended as more of a one-shot supervillain than as a recurring foe, hence no real plot hooks other than his one overarching objective.
As for the name, he was originally intended for a Batman foe, so I thought it went well with Arkham and the whole madness theme (He had his headquarters in Love's Craftworks).
Not Registered Yet? No problem.
Do you want Strolenati super powers? Registering. That's how you get super powers! These are just a couple powers you receive with more to come as you participate.
Upvote and give XP to encourage useful comments.
Work on submissions in private or flag them for assistance.
Earn XP and gain levels that give you more site abilities (super powers).
You should register. All your friends are doing it!
?

Responses (5)-5

This is a madly good submission.Very orginal.

When put into the context as a Batman foe I love this guy. I see him looking like the being identified as 'Shockwave' in the last Transformers movie. He can be played for camp, or can be a grindingly serious foe that really intends to pull of his bioterror attack on the city. Well done.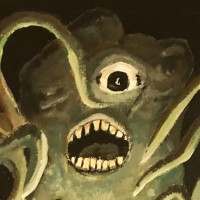 Excellent villian Dragonlordmax!
I agree with Scras - he does have a very strong batman feel.
I do think you short-change him as a one-shot villian. He is an easy start to something much more.

Update: Just fixing some typos.

I like it a lot. The only thing I find a little weak is the argument that: (1) Many great minds were condemned as insane, (2) everyone would be better off if they were insane. The conclusion doesn't follow from the premise. A better one might be: 'Geniuses are better off insane.' 'If everyone was insane, people would see that it is not a detriment to research, and Dr. Wright and I would be able to complete our research.' But I babble.
5/5 for an awesome villain!
" This powerful Serpent man has 4 different poison sacks that can only be triggered individually Poison of Frequent Death> on a failed save, does D12 damage Poison of the deadly Soul Mate> Charm person on a failed save Poison of the Fire Within> On a failed save the victim is filled w hate and rage and is only capable of melee attacks Poison of the Stil Stone> on a failed save, victim is paralyzed. all poison attacks also do d6 bite damage in addition to a bite attack , they can do a 2d4 constriction attack 8 hit die ac 1 move 6"
" Orcs record their deeds through symbolic mutilation, scarring and tattoo. Perhaps creating the medium of skin as art, which humans followed later. Perhaps tattoos remind the elves of orcs and make them angry..."
" (Post zombie apocalypse)-a tribe of humans Culture: Drumming circles daily around an arena for their bravest brutes to slaughter their accepted foe, the zombie. Feasts of overcooked zombie flesh (to kill all of the zombie virus present). Wooden fortress that make this tribe in the far future look several millennium behind in technology. Instead of becoming a troublesome and unnatural foe that they seek to cure, this tribe has accepted that Zombies will continue to roam their land and, if the undead were to perish (be cured), this tribe would suffer as well."