The Cast:
The Heir, Sylvie Blackburn: The words of her player 'She doesn't start fights but she'll end them' describes Sylvie very well. Raised by the Historian Morano, she is a fairly well-rounded young woman- if a bit fiery and naive. Morano is both proud and frustrated with her headstrong independence, although he's really only frustrated when she's being snide with him.
The Spy, Valen Aventura: A compulsively-lying kleptomaniac who hopes to someday gain political power in the land- if he can stop pissing off important people and organizations long enough to actually get any work done.
The Drunk Blacksmith, Ruz: A superb worker and craftsman, Ruz has an appreciation for alcohol that is tempered only by his resolve to stay out of other people's business.
The Huntress, Bretia Faulkner: Preferring the company of most animals, especially raptors, to people, Bretia makes a living hunting and training falcons for local nobles in the area. She's very skilled with animals and taught Sylvie how to use a bow. (GM Note: She has a backstory that connects her to Sylvie to ensure the player will have motivation for Bretia to interact with the world and plot.)
The Ranger, Althalos Yerel: Convinced that trees speak to him, and that trees never lie, Althalos is a very talented warrior. However, the trees do not actually talk to him, he just believes they do.
The Witch, Rowena Foxglove: The local witch doctor, Rowena recently took over the position from her now-deceased mentor. Rowena is an adept healer and spellcaster, and a huge flirt to boot.
The Disgraced Captain of the Guard, Albert Nash: Removed from his post due to the actions of his prior second-in-command, this character wants revenge for the disgrace he has suffered. Is a very capable fighter and administrator, and did a good job of leading the guard while he maintained his rank.
The Heir Pretender, Reginald: <-Just click his name, it's a link.
The Retired Historian, Morano: The now-reclusive historian has raised Sylvie since her birth, and now hopes to place her on the throne. 
---
Gameplay
Everyone left town by wagon with Morano and Reginald riding along. Bretia and Albert are both mounted on their own steeds, while everyone else is riding in the wagons.
It's revealed that Morano's name was struck from history by the late King Bertram Blackburn. He refuses to say why at this point in time.
The players took the chance to get to know one another- in particular, Albert shared his sob story about getting kicked out of the Royal Guards, and Sylvie was asked about her upbringing.
Meanwhile, the trees have been busy talking to Althalos:
'That captain of the guard sounds like a real ass.'
 'The old one?'
'No, the new one.'
 'The new what?' The wagon says. 'I see like... eight asses right now.'
 'Donkeys? What the fuck about donkeys?'
'I don't know, but that witch lady has a nice rack.'
 'STOP CHEATING ON ME.'
'It's not cheating if I don't pollinate her!'

Bretia's falcon, Beatrice catches them a large rabbit for lunch. Bretia has a fairly negative reaction to Rowena's use of magic to start a fire, much like Ruz is having trouble tolerating Valen's constant singing. Valen is currently the least-liked member of the group.
While they're eating, Beatrice notices a man crawling towards them. The man is Lenny, the most skilled archer in the kingdom. He's been heavily wounded, having been ambushed down the road, an encounter he barely escaped.

Rowena helps heal Lenny, who helps himself to some of their stew.

The party decided to sleep in an abandoned farm house. Bretia, Althalos, and Albert take the watches. Ruz, having had quite a lot to drink, sleeps outside in the wagon.
Albert hears one of the horses get startled
At this time, seven men in total have surrounded the house
Albert surprises one man with a knife, instantly killing him
At this point, someone puts their hands around Ruz's neck, attempting to strangle him.
The others inside are woken up by Albert yelling at the first intruder he finds.
After the players rush outside, the battle is joined.
Bretia takes a mining pick through the stomach almost immediately.
Sylvie's leg gets cut open
Ruz manages to seriously injure the man who attempted to strangle him using his booze jug as an improvised weapon
Albert is jumped by a second man with a knife, who had climbed onto the stable attached to the house.
Rowena's healing magic keeps Bretia alive.

Right as combat is coming to a close, Reginald screams once from inside the farmhouse. Injured, battered, and tired, the PCs go inside. Reginald is slumped in a corner, a large welt forming on his forehead, and Morano is nowhere to be found.
---
XP- What my players learned:
Althalos: People still name their sons Lenny
Sylvie: Today I learned not to piss off the blacksmith
Valen: Today I learned no one likes my bard for being a bard
Ruz: I learned that bandits are cowards and not to sleep in the wagon AND to learn the difference between long spears and spears.
Bretia: Today I learned that pickaxes fucking hurt.
Albert: To think before asking about a skill where there are other means to get out of a situation.
Rowean: MAGIC IS FUN!
XP- Giving XP to other players:
Will ask my players to type these out next time instead of saying them in call.
XP- MVP:
Rowena was voted the MVP with three votes. Ruz and Bretia were essentially the runners-up.

Not Registered Yet? No problem.
Do you want Strolenati super powers? Registering. That's how you get super powers! These are just a couple powers you receive with more to come as you participate.
Upvote and give XP to encourage useful comments.
Work on submissions in private or flag them for assistance.
Earn XP and gain levels that give you more site abilities (super powers).
You should register. All your friends are doing it!
?

Responses (4)-4

I like the dialogue you used for the trees, though I didn't expect that it would carry over to wagons and other objects made of wood. Having your characters give a quick sound off on what they learned is a new idea to me, and I might try it in the future.
---

It's something I stole from someone who is currently GMing a GURPS campaign I'm playing in.

I love reading about other peoples games, seriously I do, keep em coming.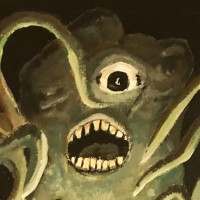 I agree with Axlerows here.
" Mining in a certain area turns all exposed skin (maybe just parts that are actively disturbing the chemicals that cause the reaction) of the those doing the mining to a dark blue color. Will wear off taking as many years/days spent in the mine. ... meeting a party of blue-skinned humans armed with pick-axes etc. Strange disease? Demon offspring? Curse? If they meet only one ex-worker, they will very carefully listen to any stories he says, no matter if drunken or insane, or just makes up to get a beer."
" No one is allowed to do harm to those of Highest/ Imperial rank, those of the Imperial household or those related within two steps of blood. The second tradition is an executioner must be of a higher rank than those he executes. This leads to 'issues' when someone tries to harm a member of the Imperial clan or when these members are subversive. Such people are often killed by the being chained under a giant bell. They die within a day or so from the vibration, but they die untouched by Human hands."
" A man is taken in for a crime years ago. Any who ask or willing to listen, he tells a tale of how he ended up in such a position. So far fetched is the story that many believe it to be false. Perhaps the adventurer who came to town would like to listen to the man's tale?"