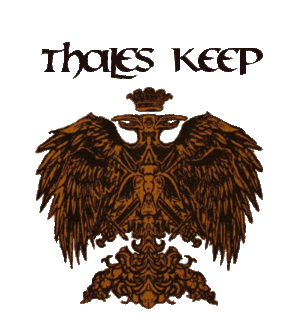 Table of Content
Part I of I: The Thale Legacy
Part II of I: The Last Sire - Prologue
Part III of I: The Keep Beneath the Dusky Star
Part IV of I: Testimonials
Part I of II: Foreboding Road - Approaching the Keep
Part II of II: The Gate and Courtyard
Part III of II: The Great Hall
Part IV of II: Darkened Chambers - First Floors
Part V of II: The Kitchen
Part VI of II: The Barracks
Part VII of II: The Trophy Room
Part VIII of II: Forgotten Knowledge - The Library
Part IX of II: The Pale Garden

Part I of III: The House of the Past - Upper Floors
Part II of III: The Outsiders
Part III of III: The Locked Chamber and the Priest
Part IV of III: Distant Worlds - The Observatory
Part V of III: The Last Lord of the Keep - The Tower

Part I of IV:The Awakening of the Past and Flight of the Living
Part II of IV: Court of Dusk - The Dungeon
Part III of IV: The Burial Vault
Part IV of IV: The Catacombs and the Deep
Part V of IV: The Dusky Goddess and The Forest of Gold
Part VI of IV: The Beyond
Part VII of IV: The Aftermath
Part VIII of IV: Of Things to Come - Epilogue
Additional Ideas
(27)
Please
register
to add an idea. It only takes a moment.
Codex
The Keep Beneath the Dusky Star
( Dungeons ) Mountains - Rooms/ Halls
From that silent place fear flows in unseen waves, like white fog. The shadows are many, and the wind breathes cold through the broken battlements and casements. Through it's frowning walls and dark window openings there's a lantern of the spirit which none see by but those who bear it.
[
Show / Hide Submission
] [
Visit Submission
]
---