Shelter Shingle
A small door, often wood but sometimes metal or stone, that is a doorway to an extra-dimensional room.
A small door, they range from two to three feet square, usually a square shape, although rectangles and circles do exist. They are commonly made of wood, either a high quality wood or other wood of special significance, sometimes can be made of metal or stone, but that does detract from it's portability. It has a handle but no hinges.
To use this item, just place it against a flat surface and pull the handle. The edge facing the surface is rooted in place and the area the door covered is now a portal into a comfortably sized room about twenty cubic feet. Anything placed inside the room is imobilized while the door is in transit, so nice furiture and expensive vases have no greater risk of damage than those that normally encounter an adventuring party. When newly enchanted, rooms are unfurnished and the fireplaces are not standard as the spells required to make an extra-dimensional flue are complicated.
To ready the item for transport, simply grasp two opposing edges and lift. Some doors are equipped with command words to attach and release to help prevent the occupants from being carried off while resting. All door may be mounted to any horizontal or vertical flat surface, even upside down as many door have rungs or other hand holds along the entrance. Once inside, the sense of up reverts to the doors floor, oppisite the entrance. Doors with rooms that are entered into from the side are very rare as the doors as commonly used on streets and trails where a sewer lid style entrance is more accomodating. After all, how many vertical surfaces can one find in the forest?

Magical Properties:

This door does not help heal wounds or resist aging, it merely provides a dry spot to get out of the weather. The room does not provide provisions nor does it magically preserve anything left inside, although particulaly old doors may have had things left inside by previous owners that may have become a bit ripe or worse, animate. The room is an extra-dimensional space and react accordingly to contact with other extra-dimensional spaces. Any amount of material may be placed inside the room with little impact to its weight, which is that of a door of the size in question.
?
Hall of Honour (1
voters
/ 1
votes
)
Not Registered Yet? No problem.
Do you want Strolenati super powers? Registering. That's how you get super powers! These are just a couple powers you receive with more to come as you participate.
Upvote and give XP to encourage useful comments.
Work on submissions in private or flag them for assistance.
Earn XP and gain levels that give you more site abilities (super powers).
You should register. All your friends are doing it!
?

Responses (9)

Reminds me of the Labyrinth door in the oubliette. The perfect getaway for the entire party to rest...as long as they hid the door well enough when they close it.
Perhaps the door emanates magic while it is closed in use though. Make it useful, but also a magnet for the magic sensitive so not horribly useful while invading a powerful wizard's dungeon.

This makes me think of two spells in the 3e spell lists: Mordenkainen's Magnificent Mansion and Phase door.

No, may be definitively useful for invading a powerful magic-user's or a dragon's lair. Get in and take care that it will be found. Ever heard of the Trojan Horse? Better have a cover inside, if the 'new owner' takes a peek!

I see a thousands and thousands of uses for this teriffic item... ;+))

Yeah. I can see it being used as a Trojen by some creative players. And it kinda reminds me of the DnD spells too.

Make sure if you hide in it that it does not get jammed shut.

I voted this one quite high when I voted on it oh so many years ago.
I had, to be honest, forgotten about it. Had I seen it come up on a random list, I would of HoHed it too.

I liked the door. It made me think. Perhaps one of cloth that had to be unfolded and rubbed against the rock? Or one that folded up several times so as not to be so bulky? How about one that, after you were inside, could be taken off the wall and stood in the corner, making the door outside vanish?
I had one, The Playroom, that was 2 inches tall. When stood on the ground and opened with it's key, it became a children's nursery. Great for adventuring mothers.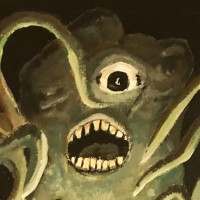 Another variant of the Portable Hole, useful and with lots of potential. One day the door could open somewhere else entirely.
'After all, how many vertical surfaces can one find in the forest?'
Plenty, they are called trees :)
" An old, misanthropic and paranoid man feels his time is coming. There are sons to leave his fortune to, but they are not worth it, not a dime do they deserve! And he doesn't really trust anyone else. And so he has made a decision: as a part of his last will, his henchmen are instructed to burn and destroy all his holdings, buildings as harvest. The lands shall be auctioned off, the proceeds used to pay the servants. Nothing shall stay behind. Nothing. Depending on the status of the grumpy old man, this weird occurrence may be only a family drama, or it may end up bringing an entire region into chaos. Or the son(s) have found what should happen, and want to prevent it before their sick father dies."
" A rich southern landowner once imported hundreds of thousands of spiders and distributed them along his long, tree-lined road. After a couple of days, when the spiders had make an incredible number of webs amongst the rows of trees, he spread fine gold and silver dust on them to create a spectacular shimmering view. (true story) It was for his daughter's wedding day."
" The size of a hippo, fast as a Pegasus, ferocious as a wolverine ,but man do the prime ribs off of it taste FANTASTIC"