Sheild Of Light
A reflective sheild, when a weapon intended to harm the wearer of the sheild is seen in its reflection, the weapon will instantly turn to dust.
Forged by men in an age of darkness where evil ruled the lands, it was used by the champion of men to shine light on to the battle field when there was little light.
It was Made from the jewelery of many Orc Chieftans, gathered from many battles. The steel melted down, it is shaped into a small sun (a round center and rays comeing out from edges) and very reflective in the center., There are peaceful animals engraved along the edges, the sun shining down on them from the top of the sheild, showing them light that was so sparse in those times.
When the champion of men was slain and the battle was over, the brown wizard Radagast walked across the battle field and found the slain champion, dead but still holding the shield tightly. Radagast then took the sheild to his cave dwelling to enchant it to destroy the tools of war and bring peace to the land. Deep in the cave there was an underground lake, Radagast tossed the sheild into the lake, he then raised his arms and shouted out a spell, fire ran up his arms to his hands and a fire ball shot from his fingers, the fire rushed through the air and punched a hole in the cave roof, light came through the hole and shone on the sheild.
Radagast left the sheild, hopeing that one day a brave being would find it, years and years past and the lake got deeper and deeper, and the sheild is still there to this day.

Magical Properties:

If a weapon intended to harm the wearer of the sheild is seen in the sheilds reflection the weapon will instantly turn to dust and blow away, however this is not effective againts missile and magic, but can also light up dark places and can blind the evilest of creatures if used by the kindest soul.
Not Registered Yet? No problem.
Do you want Strolenati super powers? Registering. That's how you get super powers! These are just a couple powers you receive with more to come as you participate.
Upvote and give XP to encourage useful comments.
Work on submissions in private or flag them for assistance.
Earn XP and gain levels that give you more site abilities (super powers).
You should register. All your friends are doing it!
?

Responses (6)

Alrighty :)
interesting idea - I havent been immersed in the roleplaying scene as much as some of the others in this site, but I don't think i've heard of - let alone thought of - a defensive item which destroys weapons. Now! Onto the critique.
Spelling is fine, but keep an eye on sentence structure. Your entire middle paragraph is one long sentence. If in doubt, read it aloud and see if you run out of breath :)
An item to brighten places and blind evil creatures has been done before many times in different forms.
The destruction of weapons is almost over-powerful, though it has been capped slightly by still allowing projectiles and magic a chance to hit. Even still, perhaps putting a limit on it would be wise? Maybe it can only destroy a certain amount of weapons before It must be given time to rest?
I can 'see' this item though. I can imagine a great troll swinging a mighty axe at a warrior. The warrior brings up his puny shield as though to defend himself. A faint glint of light is seen, and the blade of the axe appears to melt away (also lightening the weapon and causing the troll to stumble off balance.)
As such, its a 3/5 for me. As the vote says, its an 'Alright idea'. Not bad at all, but could be better with some more time and thought.
Oh, and it's spelled shield.

GAG!!!!! The correct spelling of Sheild, is Shield.
Please Edit.
Other than that, just a few more details. I like nice generic descriptions, as they are easy to incorporate into any campaign.
After you have written a post, before you press submit, re-read it. You can catch most glaring spelling/ grammer/ punctuation/ capitalization errors that way and clean up any description. When you are rereading it, try to look at it as if you were reading it for the first time. This way you can see what questions (about the post) that you have not answered that someone will ask, and you can answer them.
This adds just a few minutes to the time it takes you to post, but it makes a one star to one and a half star difference in most posts.

Hee hee. Radagast shooting fireballs.
*ahem* Anyways, nice idea! I like how it's defensive /and/ offensive. :-) However-- if Radagast wanted 'a brave soul' to find the shield, why did he chuck it in an underground lake? Seems to me it'd be more sensible to go out and find said soul, and give them the shield. Maybe he wanted people to have to go through the trial of searching and journeying to reach it, before they merited it or could handle it...?

Mister Tolkien would not be glad - you, using one of his characters without permission.

Been thinking about it for a while, while a nice idea, it seems too powerful to me. The limit on the number of uses is a nice thought - the wearer should decide when to use the powerful effect. This is a tool of heroes.
An alternative way for using the shield would require the user actually hitting (intercepting) the weapon, then willing the effect to happen. So in theory, even missiles and some spells could be destroyed in this way, were they not that fast.
At the moment 2/5. It could handle some editing.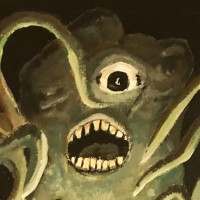 There is a germ of an idea here, but unless it was intended to be a LOTR submission, the use of Radagast is distracting.
" Magic Guitar> allows the user to sing and play as if moderately talented for 1 hour a day. These are EXTREMELY popular w adventuring groups as(if you think about it) it gets very boring while travelling long distances"
" The PCs are stuck in a town with a strict peace policy, the tiniest scuffle can land you years in prison. The town also happens to be a tourist haven, so inn-prices have skyrocketed. The only way the PCs can rest is if they splurge on a room, with their enemy."
" A kingdom where, if there are multiple princes (princesses can't rule unless they have no siblings), the princes fight to the death in the arena to decide who gets to rule. A simple way to make sure your brother cannot make a bid for the thrown, and keeps the royal blood in one line."