Ruby of Par
A startling red ruby with fine cuts that sparkle brilliantly in any light. When successfully balanced on the flat of a blade it rises into the air a swirls around protecting the wielder.
The first incantation of the ruby was a parlor trick created by a poor magician, Par, to simply have the ruby hover and impress some people enough earn a few stray coppers that people may throw. With the money and his concentration on bettering the small act he used his power to make the ruby able to smack thrown copper out of the air to better entice spectators to throw money at him.
He soon had the ruby enspelled well enough to block even the most deftly thrown copper. The young rich in the city quickly helped his fortune grow as it became a contest to see who could hit the street magician. Only one has known to be able to get through the rubies protection. (possible plot point)
Magical Properties:
Once balanced successfully on the blade it swirls around the wielder for 1-4 minutes protecting him/her from any attempt to hit with an inanimate object. Punches and kicks will not be blocked. Will block any human wielded weapon size. Large giant size weapons will hit the ruby like a baseball.
To balance the ruby on the flat of the blade takes good agility and concentration for the way the ruby is carved does not lend to it being easily balanced.
?
Strolen's Awards and Badges
Not Registered Yet? No problem.
Do you want Strolenati super powers? Registering. That's how you get super powers! These are just a couple powers you receive with more to come as you participate.
Upvote and give XP to encourage useful comments.
Work on submissions in private or flag them for assistance.
Earn XP and gain levels that give you more site abilities (super powers).
You should register. All your friends are doing it!
?

Responses (6)

Would the evil fighter not have been the one who got past the ruby and killed the magician?
The ruby could be quite usefull for those with a high dex..
Plenty of posibilitys with a host of plots to be attached to it.
-Retrun the ruby
-Just get rid of the 'thief'
-Revenge the fallen magician...
Just to name a few.

If they Ruby doesn't block punches, wouldn't it not block weapons too?

So if you threw a human being at him, the ruby would not block him. It is all about the inanimate objects.
And it does have limits on mass and energy transfer, as seen by giant clubs whacking it like a baseball into deep left field.

An interesting concept, yet as with most of the 'starter' submissions, it could use a bit more work. Perhaps someone can make a plot to go with this and link them?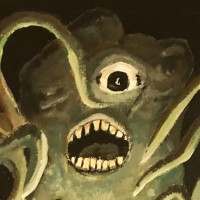 I think there is a place for such small items. Its reasonably complete and an interesting idea.

Vry nice 'color' Item. Could see lots of use out of ths little sub 4/5
" FIREBALL L3 Wiz As I walk through devastated landscape only one thought burns in my head. Revenge.I was a normal adventuring wizard, dungeon delving and putting out innocents fires. Ha, fire.After years of trying to find out what happened, the truth is unfolding for me, a second word has entered my vocabulary. Castinlig. a name put to the scorched earth. The one who did this. He was too powerful and too greedy.He summoned the king of the djinn and a supposedly perfect wish w incredible power behind it. Fire ball now has a 100 mile radius and is locked at 7d6. I didn't know this when I cast it for the first time in days. My party was wiped out and I would have been too except my ring of total fire resistance saved me. But not my friends. I scavenge for food and a potions, really all I can and have to do.I will find him. ( a solo game for a l7 wiz)"
" While setting up camp for the night, the PC's are aproached by another group of adventurers who seem nice enough. The road is somewhat dangerous and the other group suggests camping together. The two bands split watches, one adventurer from each group watching at once. The night goes by without incident, the next day the PC's travel with the other group as they are going the same way. The group consists of Hordel the ranger, who is skilled with the bow. Hordel is a quiet man who speaks little but appears quite skilled. Dremar is a barbarian who is a little excentric, he seems to be an excasive drinker and thiunk that battle is the solution to everything. He appears to be a stout and powerful fighter with his greataxe. Ferrin is the leader of the group, a rouge by trade. He is daft and witty, speaking with the PCs often and asking many questions. He fights with finesse with his rapier. Preminitat as a cleric but he will not say which god he worships. He uses his spells to empower and heal his party and fights with a club. He sticks close to Ferrin. Ferrin is a great talker and tells much of himself and his party, but asks even more about the history and capabilities of the PCs. He tells of some adventures his party has had, and they seem like an interesting group of mercenaries. Hordel is quite and has little interest in speaking with the PCs, he ignores most questions. He spends a lot of time with Dremar and sometimes Ferrin. Dremar seems to not care about any questions ansked to him, nor does he seem to know the answers. He seems battle hardened and is a simple man. Preminitat rarely starts conversations but will speak with the PCs. However, some of his accounts of the party's history seem to condradict those of Ferrin. The Party spends another night and day with Ferrin's group. One of four things can happen on the third night. 1: While eating dinner around the fire, Ferrin gets into an argument with one of the PCs when he/she mentions the discepincies between Ferrin's stories and Preminitat's. 2: Hordel gets mad after repeated questioning about his life from the PCs. 3. Preminitat gets mad after repeated questioning from the PCs about what god he worships. 4: One of the PCs rejects the offer of a drink from Dremar and he takes it as an insult. All of these scenarios result in a battle between the parties. If Ferrin's party is defeated and still lives he swears vengance. His party may then cross paths with the adventurers again."
" Faerie foods with unusual effects. Like faerie sausages that turn the eaters into wiener dogs, faerie wines that make the drinker whiny, etc. There's a table in Palladium Fantasy RPG which has a table of ideas."