Resonance Shielding
A subtle, and effective improvement to the standard gravitic shielding common throughout the Starkin Federation, this device rapidly degrades and destroys energy weapons brought to bear against it.
Full Item Description
A subtle, and effective improvement to the standard gravitic shielding common throughout the Starkin Federation, few but Kir Ironspirit and his apprentices have the ability to implement this shielding.
The majority of energy weapons have a characteristic frequency, brought on by cavity used to collimate the various force-carrying particles which are shortly to be brought to bear on the target. As these weapons strike the Resonance Shielding, the shield generators give out faint gravitic pulses, along the same frequency that they are struck at. Typically, these pulses resonate within the collimation chambers of the weapons that are fired at it, effectively destroying them through the feedback loop, much like the diva who shatters a glass with her voice. Unfortunately, this shielding provides no additional protection against missile based weapons.
History
As the value of his services, and indeed, the bounties upon his head grew, Kir Ironspirit knew that he would need a way to defend himself, and his slowly growing family, from harm. And so, upon the ship that they found themselves living in, not entirely unlike a Salvorathan clan, he began to make certain improvements.
This, he came upon when he dreamed of the image of a sword breaking against a peculiar shield, and struck by inspiration, he rose in the middle of the night, slipping away into the engineering sectors in his nightclothes, and beginning the job of tinkering, before it could escape him. Before morning, he was finished, and found snoozing beneath the shielding generators, with only the faintest memory of what he had accomplished the night before.
Not Registered Yet? No problem.
Do you want Strolenati super powers? Registering. That's how you get super powers! These are just a couple powers you receive with more to come as you participate.
Upvote and give XP to encourage useful comments.
Work on submissions in private or flag them for assistance.
Earn XP and gain levels that give you more site abilities (super powers).
You should register. All your friends are doing it!
?

Responses (8)-8

Yay, minor bits and pieces.

This is an interesting concept, but it seems just a bit too short. Perhaps a bit more technobabble to round it out?

I disagree; sometimes short and sweet is all it needs. This is a simple, easily understood sub; it exists to counteract energy weapons by being the space age equivalent of a sword-breaker.

The technobabble is thick for being a short post. I had to look up at least one word to find out what in the heck it means. The babble is crunchy, but I don't particularly like it, in some aspects it seems a bit too powerful. It pretty much reads to me that this type of shielding destroys any particle based energy weapon fired at it.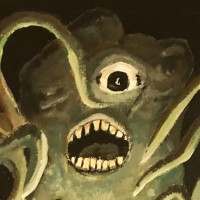 I have to echo Scras here. To be honest, how this works and what it does is not that clear for a layperson.
So to make sure I understand, this is meant to stop continuous beam weapons - cutting lasers, right? You shoot me and your gun explodes?
So if I follow correctly - Attacker generates a cloud of particles within the chamber on their ship. The particals are fired at the ship carrying the system. The ship uses the information gained from being hit to determine the necessary frequency and then emits gravatic pulses (directional or general field?) that will resonate in any nearby weapon of the appropriate characteristic?
---

More or less, though I would expect that the weapon doesn't explode, it just goes out of commission until the parts that make a focused beam are replaced. I would also expect that it is restricted, generally, to not very many more than the particular weapon that shot it, due to the subtle variations between individual weapons.
---

It also seems to me that the resonance frequency of the shield would have to match that of the weapon being fired at it to work, otherwise the ship would have to take a hit, then calibrate for the frequency. Then, (gets out fictitious star trek manual) Their shields have adapted to our phasers, use random frequencies, change quick enough that they cant match our output.
Couldn't an attacker rotate through a certain range of frequencies to prevent such a shield from being effective? I can see a beam weapon
Aside: isn't there some confusion as to if a photon is a particle or just radiation? If it isnt a particle, would the resonance shield have any effect on it? Would this limit it to stopping particle cannons and what-not?
Another question: If multiple weapons, or even multiple ships are firing against the same target, if they are not using the same frequency (which I would suspect they are not) what happens? Does one get put out of commision, do they all?
If you can make a resonance shield, can you make a resonance beam? I want a resonance beam that knocks out the enemy's power creation process.

A high-tech notcher.
" Somehow, someway, a band of gnomes learns how to be ninjas. In fine gnomish style, they open an academy to teach this art to other gnomes. Wacky Hijinks ensue. Or the gnomes become some of the finest assassins in the land. Or both."
" The lengthy process to do something necessary or a magical scroll needed is inscribed on the other side of a great tapestry and can't be removed. For more fun it could be in the kings throne room. Try to hide in shadows with a 20*5 (yards/meters) monstrosity!"
" Sneezing Sickness - A strange plant infection that causes its victim to spread the plants seeds by sneezing them about. Larger lumps of phlegm or saliva sprout is spat out in a sunny place, producing more of the plants. As the Magical version of seasonaly allergies the affliction is limited in term and non-life threatening."