Red P'nash Berries
There are two types of P'nash trees that survive, the Red berry tree, and the White berry tree. Both can be picked and, other than some mild psychological effects, are rather benign. Combined in the right situation ... Well that's something else.
Full Description
The P'nash trees are 'created' trees, from the works of a race long ago. They sought harmony with nature, be still being a civilised people, harnessed it as well. Their philosophy was not to break the trees, or even bend them, but to shape them. To that end, they gained the knowledge to change a plants nature, how it lived and passed on it's seed to further generations, to to change the plant from what it was into something that was better suited for their needs.
The Red P'nash tree produces a berry much like a gooseberry. Typically, these are fermented into a beer with a stimulant effect.
However, if the berries are reduced to a paste and, once applied to a person's body, subjected to a frenzied mental state, the paste has a different effect. Activated paste, by itself, has no effect. If an activated red paste and an activated white paste come into contact, they explode.
Additional Information
Remember that the mental state of the creature wearing the paste is the key. Movement and sound have nothing to do with activating the paste, but if the consciousness of the creature is disturbed, then the mental state is lost.
A humanoid creature covered head to toe in activated paste typically creates a fireball sized explosion.
?
Agar's Awards and Badges
Not Registered Yet? No problem.
Do you want Strolenati super powers? Registering. That's how you get super powers! These are just a couple powers you receive with more to come as you participate.
Upvote and give XP to encourage useful comments.
Work on submissions in private or flag them for assistance.
Earn XP and gain levels that give you more site abilities (super powers).
You should register. All your friends are doing it!
?

Responses (6)

I think this is an interesting idea that has potential. However, I have some questions:
-What is the mental state required for the creature? How do they maintain that state if the berry changes their mental state?
-What exactly do you mean by "frenzied" mental state? Do they become crazy, violent, or just highly excitable?
-Once activated, is it possible to remove the paste and store it in some other fashion?
-Is an equal amount of each paste required to create the explosion? Or will one drop of activated red paste cause an entire humanoid covered with white paste to explode?
Just some thoughts…
---

A creature covered in paste does not experience any change in mental state. Drinking the berries and being covered in there paste is two seperate ways to use the berry.
Frenzied as in highly excitable. Four year old with a double expresso and a fist full of lollipops.
Activated paste is only active while exposed to the frenzied mental state. If removed, it is only paste again. If the person losses thier mental state, it is only paste.
Roughly equal amounts is ideal. A drop of one paste on another will only cause a drop of the other paste to react. If the person can maintain thier mental state, they can keep the rest of the paste active.

I would like to link the two berries with the Ascention of the Burgan tribe plot, but I need some help with the shiney new layout.
---

Easy: On the bottom of the page is a 'Suggest a submission' field. Type there the name or node number of the submission you want to link to. So 'Ascention Ceramony of the Burgan Tribe' or simply 1844. Click Suggest. Done.

Same comment for this and the other berries (I'd have made them one post I think).
I like the concept, and I like the application we discussed in chat where you had a group of 'harmless' monsters become very deadly by using this.
In my campaigns, monsters would not often readily suicide, although some would I reckon. Fanatics... But most animals tend to have a decent sense of self preservation... so I would see this being used more as a last-ditch defense than an attack. Also, in a world with gunpowder or flash powder type item, this possibility already exists, but just isn't used by DMs much. BUT, I like your creative use of berries to do this... it gives it a different feel, and I like that.
I wonder how genuinely one must feel 'euphoric' about being about the explode... maybe they drug themselves up to help.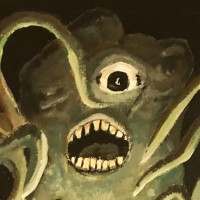 Hmm, this one at least feels as if a middle portion has been gutted out from it.
Perhaps transplanting some of the answers provided in the comments might help this post out a bit.
" Your Pillow> This magic pillow is "+2" comfort and remains cool despite the temperature. It also shrinks to the size of a cigarette box for easy transportation. These are WILDLY popular wth those who have to travel(especially adventurers) . They command a huge price far outside it's true value , sometimes selling for thousands of gold pieces in a world where stating fighters are often equiped w +2 Swords. The method of creation is lost but sevral enterprising mages are trying to recreate this, with no success."
" Small tavern in an out of the way town. Serve a wonderful delicacy that is simply outstanding. It is a creamy white consistancy, sweet, good to eat alone or a sweetener on any dessert. If the explore or ask they are shown where they get it. They breed a group of large catipillars or some other type of insect that basically spit the product onto a setup that they created for that particular reason. Or maybe the delicacy is the byproduct of feeding them something. Instead of city can be a traveller offering the food."
" 'Yn these landes, theye do ryde upone greate flowtinge beastes alike as those thate ye fyshermen do calle nawtilus; Ande these beastes, callede 'pyky-pyky' because of ye noises thate the beastes make, are troubelsome ande beastlye mountes, withe fowle temperes.' -Telliamed ap Ynris, 'Ye Westerne Landes'. (A levitating giant nautilus that makes a noise like 'piki-piki' and is thus called a Great Piki-piki.)"