Promises of the past
The players are sent to find an ancient army that has sworn to protect the land. Beware, nothing is as it seems...
In a country besieged by hostile monsters/invading army, the players are sent to find an ancient army that has protected the country in the past and is now slumbering in mountains/cave/underdark/other plane.
Of course agents of rival nations (or if you want local lords that hope to take adventage of the situation to improved their own standtings) are actively plotting against the players.
When the players finally find & awaken the lost army, they
return to their homes to fight the invaders.
Unknown to all, certain promises were given to the old soldiers in the past, but weren't kept over the centuries that passed (Maintaining a certain faith, keeping watch over the soldiers families & loved ones). When the old soldiers find out (before or after they deal with the invaders is up to the DM) they are furious & plan revenge.
At this point the players will have to find a way to make amends to the veterns & convince them to help. In addition the players might have to find a way to help the veterns re-integrate in that society after the battle.
As this is my first posting of a plot, I would appreciate feedbacks to the plot & if someone actually uses it in their game I would love to hear how it turned out.
Melvin's Cat.
?
Hall of Honour (1
voters
/ 1
votes
)
Not Registered Yet? No problem.
Do you want Strolenati super powers? Registering. That's how you get super powers! These are just a couple powers you receive with more to come as you participate.
Upvote and give XP to encourage useful comments.
Work on submissions in private or flag them for assistance.
Earn XP and gain levels that give you more site abilities (super powers).
You should register. All your friends are doing it!
?

Responses (11)

Interesting...maybe the rival lords are plotting against the players precisely because they know what is going to happen...
I like the idea of interacting with these anachronistic soldiers, trying to explain the modern (medieval!) world to them and get them to understand why the promises were not kept. It'd be great to see some more of your plots, Melvin's Cat.
ephe!
P.S. Who's Melvin?

Yeah! Keep at it, dude!

A very good plot. Maybe the army was from another age, like before the iron age, and is only armed with bronze weapons, or maybe horses were introduced after they slept and now have to try to understand these massive domesticated animals.
Perhaps also they had with them other animals that no longer live in the region. War hounds or maybe even large dogs/lizards/birds that served as mounts before horses were introduced. These animals might have died out in a plauge, and may yet carry this plauge today, unknowingly.

Thanks for the feedback, I'll put it to good use (hopefully).
As for your question ephemeralstability, Melvin was an NPC (wizard) I used, & since I was going for the vain (elf) unliked type, my players were constantly 'burning' him (I also used fireballs way too freely). In the spirit of things I began to 'laugh' at the NPC (melvin) using his famliar (Melvin's cat) until one of my players speculated that Melvin might be the cat's familiar & not vise verse. hence, Melvin's Cat.

What insidious cunning! Why don't you submit this role-reversed duo as a character?

Very true! The cat wizard that keeps a human for a familiar and to facilitate it's travels. Maybe it's not a unique creature, but simply a member of a race of cat wizards that suffered from wanderlust and went adventuring. Very unique idea for a character!

Ok, I have entered Melvin as a character just like you suggested, ephemeralstability.
I might have to work on him a little in the future to guve the complete story but I think that entry should do for now.
As for the cat, I'll be adding him in a week or two (I'm trying to complete his background).

I like the basic ide aof the plot, but I feel it needs ot be fleshed out a little more. It all seems a bit to vague for me. But again this was originally created back in 2003.
This also aspires me to the undead army of LOTR.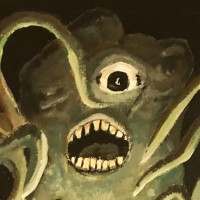 I agree with the possible source idea - the Dead Men of Dunharrow. Even so, this is a useful idea that can be an inspiration for a cool plot.

With a little bit of elbow grease, this has a great base of a story! A vintage 2003 as well as a first submission. All said, great!!
" Sages and naturalists frown at the common name given to these strange creatures by the small folk, but sometimes the silliest nicknames for creatures, places and people persevere in the minds of many. 'Purifiers', 'Pond Jellies', 'Breath-Stealers', 'Lung-Ticklers' and 'River Butterflies' are much less commonly heard appellations for these life forms. Wet Faeries are basically (and simply) a species of fist-sized, fresh-water jellyfish. Several traits steer them toward the peculiar category however. Firstly, Wet Faeries are nearly invisible in the water, much like their marine cousins but even more so. One can swim in a river swarming with these critters and not even notice their presence. Secondly, they possess the unique ability to clean and purify whatever body of water they inhabit. They do this via some sort of biological filtration process, sucking in all toxins present in the water, and releasing it back in its purest form. Needless to say, they are both a blessing and a curse to whichever folk dwell beside the rivers and lakes Wet Faeries inhabit. On one hand, no purer water can be found anywhere than a Wet Faerie lake or pond, and yet, in 'pure' water 'life' tends in fact to die out, lacking the needed nutrients to prosper. Thirdly, their 'sting' is (unfortunately) virulently poisonous to all mammalians. Wet Faeries are loathe to sting anyone or anything, using their barbed fronds as a last line of defense, but if stung, most swimmers will suffer respiratory arrest, and die within minutes, usually drowning before they can make it back to shore. Alchemists, druids, and less savory characters have studied these creatures over the years, and have predictably found all the ways Wet Faeries could be exploited. Morbidly humorous, some bards find it, that the Poisoners and Assassins Guilds as well as the Healer's Union, all prize these creatures. The assassins use the extracted venom in obvious fashion, while the priests and healers use the still-living jelly-fish to sterilize other poison potions and to cure those already poisoned on death's door. It is known that a certain Earl Von Trumble keeps his vast castle moat stocked with Wet Faeries, the waters so clear that every bone of every one of his past enemies can be clearly seen on the bottom, twenty two feet below."
" L1 wizard spell This spell must be cast for 31 consecutive days by one wizard to create a +1 sword,-2 to anyone else holding it(other than sword owner).No special ingredients or quality of blade, the only requirement on this part is it must be a short sword or longer and must be a true sword. The sword must draw blood from a living creature of at least 1-1 hit die every day and The blade is -1 until the 31st casting, when it becomes fully and permanently enchanted .Variants that enchant other weapons could be possible."
" Trying to find a place for this... 'After the famine hit the land, the priest Galen began religious wanderings, drawing his congregation to follow him. Those who took up with him, began to walk, a great outpouring of energy to this religious pilgrimage, coming from an impoverished nation with no true direction other than to find relief. Galen professed to his followers that they would find great resources set by his God down on Earth for them, enough to nourish and slate their thirst. Those that fell as he took them across the barren plains of the western reaches, rose again to join the lines. When finally all had died, Galen led them further, praising Nuh-Erell for that first city they came upon and a feast of flesh that lay in wait'"