What is Oekaki?
Oekaki is a creature of the BBS where artists would upload art they had created in a browser application. These drawings are shot from the hip, unpolished, and often done in a short time frame.
What is Citadel Oekaki?
Like the BBS artwork, Citadel Oekaki isn't about producing a finished polished submission. It's about working within a set of constraints to just see what you can do.
1. The Submission must be completed in 1 sitting. Multiple saves are allowed, also bathroom breaks, etc. But you open the new sub and you don't stop until its finished or...
2. Time Limit: You have no more than 30 minutes from  Start to Submit Post!
3. Subject Matter: Oekaki is about responding to a prompt or a thematic element. Your Oekaki submission must either follow the Freetext Friday prompt or the current Citadel Quest.
4. Must use the Oekaki freetext so everyone knows that you've written a fast, raw submission.
Voting on Oekaki
Oekaki is not a finished product, and it shouldn't be treated as one. Much like the 100 Word Submission, it about the raw idea, getting it from inside that nebulous Mathom ridden place inside our creative minds and out into an electronic format. Points should not be knocked off for grammar or punctuation, run on sentences and so forth. An Oekaki can and should be later expanded (if the idea is good enough to warrant the attention) into a full submission, but not through replacement of the original fast draft.
I hope there are some members here interested in this crazy freestyle writing.
?
Scrasamax's Awards and Badges
?
Community Contributions (1)-1
New Challenge on his Front: The Oekaki Citadel Fan Fic Challenge: Pick a sub at random and write a follow up sub based on that sub. If you get an item write up a plot that involves that item, and if you get a plot write up a character and so on.
Not Registered Yet? No problem.
Do you want Strolenati super powers? Registering. That's how you get super powers! These are just a couple powers you receive with more to come as you participate.
Upvote and give XP to encourage useful comments.
Work on submissions in private or flag them for assistance.
Earn XP and gain levels that give you more site abilities (super powers).
You should register. All your friends are doing it!
?

Responses (8)

Challenge accepted.

Brilliant, I got the first one down, I had somebody else proof read it. So I only gave it one look.
---

I just re-read what I wrote last night and the post is full of errors if with a third party proof read and some because of it. Would the goal of your game here be forfeited if we went back in fixed stuff, for examples 'styluses' should be 'stylus's' and so on.
---

I would say after you've submitted within the 30 minute time frame, you can certainly go back and make grammatical corrections, spelling and punctuation and so forth.

bump

To quote Dozus: 'challenge accepted.' I shall eventually do this. Naturally, the question of when is still uncertain. I'll try to do it now, but Mathom is a genius at what he does. If only he'd delay the bestow meant of his first on me.

I've often wondered what the Oekaki freetext meant. Only just checked it out and yep, this is on my list of things to try.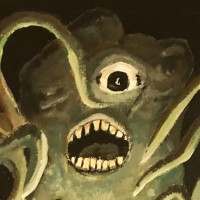 Great thoughts. These can be pretty sweet.
" Khor are a monsterous and violent race. Within five years of being born, they grow to about half human size and are very, very inteligent. As they get older, they get larger... unfortunately they become less intelligent. After their adolecesence (about seven years), they grow to human size and are of a low human intelligence. As they age, they grow larger, slower, and stupider. Most of them end their lives 3 to 4 meters in height. Khor have been reported upto 10 meters tall, though those elder giant Khor do little but hit anything that disturbs them. As they age they get larger, they don't seem to ever die of natural causes."
" God has been slayed by a mortal man and his head is now worshipped and put on a pedestal. The PCs are hired to steal the head and bring it to a mystic that claims to have the power to revive God."
" The characters are wandering through the bustling crowds of Lasopolis. A street conjuror is performing a simple summoning spell, something for the kiddies. A bit of odious purple powder in the fire, an incantation and out pops a saak-lizard or a muhmentarsh, writhing from the flaming brazier. But the conjuror has only a poor grasp of the arcane magical tongue. A few stuttered syllables could lead to Other Things coming through the brazier and giving the crowd more entertainment than they had paid for..."