Nickol Nacker
Every winter, a humble tinker man wanders through the villages, giving toys to the children...
Winter's bite crept into every crevice, haunted every corner, when the ancient tinker Nickol Nacker came to the village. Wandering from door-to-door, offering to mend their pots and kettles, the jovial man was full of energy. While others were huddled for warmth around the meager fires the villagers could afford, he seemed impervious to the frigid winter winds.
The village children ran out into the frozen streets to see the eccentric man. When they tugged on his threadbare coat of bright green, he'd pretend not to see them until they were filled with laughter at the funny man. Then, pulling his patched and tattered satchel from his shoulder, he'd dig around in it until he'd found small presents for each of the children. These gifts were humble, but well crafted. The little boys might receive wooden toy swords or penknives, the girls would perhaps receive dolls of calico cloth or jumping ropes.
When the man headed on his way, the village was filled with smiles.
Sometimes, travelers pass Nickol the tinker as the humble man sits by his campfire in the wild, carefully whittling at toys for future visits to the villages. Smiling as always, he even tosses simple gifts to some of the passers by. These might be simple, such as a wooden spoon or a calico pincushion, but they always come in handy later. Apparently, the simple tinker has a knack for knowing what will be needed.
Not every visit of the Tinker's is so jolly, however. Many villagers have no use for the Tinker folk and rudely send them off. Nickol has been known to stop where these ungracious folk dwell and ostentatiously shake the snow from his boots at the edge of their village. Frequently, ill fortune has befallen that village soon after.
Possible explanations:
1.) Nickol is the incarnation of a Saint, sent by heaven to teach kindness and compassion to the village folk. The humble gifts he gives are predictors of the future; where he gives weapons to little boys, the land will someday need defenders; where he gives baskets of fruit, famine waits to haunt the people. Those who have learned by his subtle signs are sheltered from what ills may come.
2.) The elderly Tinker is actually a simulacrum, the artificial creation of a powerful mage; he travels the land to ensure that village folk are content with their lot. When he finds a village where the folk are not content, he investigates to find out why. The ones responsible for spreading discord will be brought to justice, whether they be peasant or churchmen, knight or rogue.
3.) No, Virginia, there is no tinker. One of the local lords sends a band of men out every winter, all chosen from the eldest of his knights. Disguised as tinkers, these men wander through neighboring provinces, assessing their military readiness. They have found that disguising themselves in this way wins the affection of the local peasants.
This is an experiment in designing adventures in a format similar to that of the short 'Tales of Terror' plots that have been used in horror-themed games. In this format, a short adventure setup is followed by three different explanations, each leading in a different direction. If enough of these are collected, a

Tales of Adventure

Codex will be assembled.

Those interested in seeing the original 'Tales of Terror' using this format may wish to go to Steve Hatherley's website: http://www.talesofterror.net
Not Registered Yet? No problem.
Do you want Strolenati super powers? Registering. That's how you get super powers! These are just a couple powers you receive with more to come as you participate.
Upvote and give XP to encourage useful comments.
Work on submissions in private or flag them for assistance.
Earn XP and gain levels that give you more site abilities (super powers).
You should register. All your friends are doing it!
?

Responses (5)

I like it, right up until the 'Possible explainations'. The three options for it just seem tossed on, and don't really fit the feel of the piece. So, my vote is for the nicely done beginning.
Edit: Just figured out why it doesn't fit. The three plotlines format is supposed to be used for adventure/plot hooks. This NPC doesn't have any real buildup to plot hooks. *shrugs* Random commment.

I liked it-Merry Christmas and here is a link to some Christmas music for you.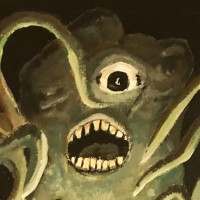 Well done:)
Another take on ol' Saint Nick!

Interesting. I can so imagine a group waiting to catch Nickol
Super Cleric or Lawful Outsider?
" 'The world has an immovable dark red sun in the centre of the sky that produces very little light. The heat is totally unbearable and the aroma of delicious cooking meat is in the air. To look around it appears as though you are surrounded by giant black mountains with no vegetation anywhere. The ground is soft and an oily liquid flows into your footprints. Travelling reveals nothing else.' Any character without some resistance to fire or heat is slowly being cooked. The ground if you haven't guessed it is the cooked meat. I've wanted this world to be part of a dimensional hopping 'chase'. I thought maybe to populate this world with giant carnivorous beetles or perhaps this could be a 'Nirvana' for deceased or living (but dimension travelling) fire dragons. Perhaps I've just been grilling a little too much meat or perhaps there are some great ideas out there on how to spruce up the place. Any suggestions?"
" You wake in a pub and see that it's full of were creatures, and they're all staring at you with a scared look on their faces. As you continue on into the pub you look at your arm. You notice that your arm is covered in thick brown hair. As you continue on into the pub you look in a mirror, and staring back at you is a 7 foot werebear. As you continue into the pub people start to shy away form you. Once you go the bar you ask the weretigress that's the bartender and begin to ask her why everyone is shying away from you, and she begins ro tell you why."
" A religious group has a vow of poverty. They have nothing except what is donated to them. Once a day the group walks through the town holding small baskets for offerings. Main purpose is to recieve their food for the day. Most families believe it is good luck to give the group small foods that they can spare. The group is very grateful for the donations and all bow in unison to each that gives a donation much to the amusement of many kids that enjoy giving the donation."