Lyrian Necklace
The silver necklaces whose inset gems display the status of the wearer.
The silver necklaces worn by the people of Lyria contain a single gem set at the apex. The colour and shape of this gem are determined by the wearer's status and occupation. The gem worn changes over time in much the same way as a heraldic crest: a marriage, a promotion, an achievement: all are marked by changes in the gem.
A man with a red gem marries a woman with a blue gem. The result is a purple gem whose hue is determined precisely by the hues of the original gems.
The more edges a gem has the higher the class of the wearer, so whereas the aristocrats can afford to wear richly coloured spherical gems, visitors or immigrants to Lyria are forced to wear black tetrahedral (d4) gems.
Thieves and murderers are given leather necklaces with granite stones in place of silver ones with gems.
There is quite an underground trade to be had for nefarious gem-cutters.
?
Hall of Honour (2
voters
/ 2
votes
)
?
ephemeralstability's Awards and Badges
Not Registered Yet? No problem.
Do you want Strolenati super powers? Registering. That's how you get super powers! These are just a couple powers you receive with more to come as you participate.
Upvote and give XP to encourage useful comments.
Work on submissions in private or flag them for assistance.
Earn XP and gain levels that give you more site abilities (super powers).
You should register. All your friends are doing it!
?

Responses (11)

It sounds as if the 'real' gems are magical and change with the wearer, whereas the fake ones then would actually have to be cut by the gem-cutters. So, you could presume this is known and perhaps, those that can afford it, could have 'alarm systems' at the entrances of their places that search for the proper aura to be projected by a true gem.
To take this thought further, thieves and secret cults could have the same, allowing only those that have certain gems to be able to enter their lairs.
Where do the gems come from initially then? At birth are their destinies intertwined with a gem in some elaborate ritual. Do they always have the same gem as their parents or, depending on the fate of the child, the gem may reveal a vague future? Baby born with a certain gem shows that it will be the future ruler perhaps, or this one is destined to be a tailore etc.
Can use it to introduce the fulfilling of a old legendary poem come to life, a royal embarrassment when the king's son is show to become a simple merchant. Could the worst of the destined thieves be destroyed at birth, or is that something that only happens in life to change the gem?
For destiny's that are unwanted, there could be an entire 'religion' that studies the ruby and has good success changing the future for those parents that can afford it for their offspring. So the future can be changed and the gem change with it, but what point in the person's life will it take to make the new reality come to pass. The cult claims to be able to find the point and use it to direct as the owner wishes.
What if this cult's ways are known by evil ones? What if the cult has their own agenda and kidnaps babies born with the gems and turns them to their own devious agenda? What if, what if, what if?

How would the world react, if a baby is born, and its gem changes to a perfectly round crystal (no edges)? Will it be a messiah? (no edges=lowest class, will serve everyone) Will it be something like an Imperator or a god? (infinite number of edges?)

THAT is cool.

Random Thoughts
What is the relation between the gem's magic and the wearer's life force? Whatever, sooner or later someone makes the connection. There will be people reading your fate, healers that feel your problems and can do something through the necklace. Magic can have numerous uses, from detecting still-living soldiers on the battlefield,quickly making diagnosis to easily detecting sneaking people (with necklaces).
Some more serious use: This sounds to be quite a lawful and regulated society. Those rich would pay well for a ritual that would assign a still unborn baby a necklace, its mother carrying it. Not for show, but to know whether it is a son or daughter, or to see if there are any defects. Should the results be not pleasing, it is possible to stop the pregnancy... Whether it is against the law or in sync with it, is your decision.

Big brother is watching you ... could the gems be tracked? Or even through a central crystal ball observed what the gem reflects?
You know this could be the birth of an entire campaign setting?
5/5
Simply wonderful. I like the 'no edges' bit most :) go manfred go!

How had I missed this one? I like it a great deal. It is LifeClocks from Logan's Run plus magical destiny elements. This has so many story and game uses that I am suprised this concept is not more prevolent.

This I really like.

It's an interesting idea, but i would like to see you build off this. Their is a lot of potential here for a civilization, adventure hook, a Race of people, even an outstanding Culture.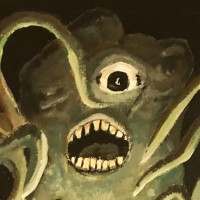 Neat, though the whole mixing colour thing will mess things up pretty quick. Eventually they would all be brown or black.
I would think it better if the colours did not change on marriage, and the children would get colours similar to genetic inheritance of eye colour.
Also, the term is faces or facets generally. Edges is technically true, but facets is a better term.
" What do you do for overnight healing? I usually do Level plus CON bonus as overland healing, x3 if you rest the whole day How about you? Do you do binding? I did d6 binding of woulds after a fight that you must take at least one, but I have had a lot of variations on this Only so many times a day Must be done by clerics must have the medic skill d4 instead of d6 don't need to take a min. of one Some ideas d4 from taking one strong drink once a day(crypts and things) heal d8 from taking a second wind(D&D4th) acupuncture (varies on technique) mine"
" Swordbiters are parasites. They are long, thin and silver, and digest metal, somewhat like rust monsters, but smaller and more insidious. They resemble stick insects, but when they cling to metal they are very well camouflaged, and one can be biting your sword for a week before you notice it. They cannot be removed by hand, as they are very strong, but if the blade is inserted into fire they will leap off to escape the flames. Sometimes, old treasure hoards are infested with them, and the first glimpse you get of the 'glittering' weapons is a pile of rusted swords encrusted with these thin silvery insects."
" Castoria was once a thriving and prosperous nation, a rich trade center for the surrounding lands. This all changed when, on one fateful night nearly a century ago, the Mist of Eternity rolled in and surrounded the land, obscuring more of the outside world as days and nights passed. By the time the Mist blocked out the sun, a new light shone during what was assumed to be daytime: The Starpoint Spire, a mysterious place atop Castoria's highest peak in the northern-central region. Some say that there is some sort of building atop the mountain shining the dim 'sunlight' onto the land, but it is only ever too bright or too dark to fully make out any structure, not to mention the mountain's immense height. Not a month after the Spire's light lit up, the stars fell. Flaming rocks and debris from far-flung edges of space plummeted downward onto the eastern region of Castoria. Once the shower subsided, a strange energy from within the fallen stars transformed the eastern lands in what are now known as The Voidwastes, a barren gray land littered with craters and strange alien creatures (these can vary, but I had Pathfinder's Akatas in mind). To the south, strange mechanism of eldritch origin are again at work after aeons of rest in the Ruins of Kchuthngnl, an ancient city of non-human creation that is estimated by scholars to be no less that five millennia old. To the west, the once peaceful and serene forest, now known as The Plagued Woods, has been experiencing corruptions of the wildlife and humanoids living there. Some humans have reported creatures that appear not unlike a halfling, except that they can open their mouths to massive proportions to swallow creatures the size of an ogre. When adventurers and citizens alike try to make an escape from Castoria, they are never seen again, and it is utterly unknown whether they found hopeful sanctuary or agonizing death withing the Mist's depths. What is unknown to all residents of Castoria is that all of these events occurred because of the actions of a secret but powerful cult loyal to the Elder Gods who call the space between the planes their abhorrent home. The cult still lives on, larger than ever, and their plan is for the alien horrors to incubate and thrive within the dome of mist that now envelops Castoria, so that when the Elder Gods return as the cult's prophecy foretells, they will have an army of blasphemous creation at their disposal that they will use to make war with and enslave the denizens of the Material Plane."