Horn of Magic Power
Are your players running roughshod over your monsters and ransacking your dungeons? Are they disrespecting you as a Dungeon Keeper?
DungeonCo here to help, with the handy dandy Horn of Magic Power

Creating new monsters to throw at marauding murder hobos has long been a challenge for dungeon keepers. Collections of books have been put into writing, entire archives of monsters exist for this sole purpose, and any DK worth their dice has a tattered book of home brew monsters. That still takes time and energy, a resource that can be tapped out by the most ardent of slaughter monkeys hunting for gold, XP, and magic items.
The Horn of Magic Power
The Horn of Magic Power is something you can put on almost any pre-existing creature and turn it from mundane into magical. Once the mundane creature has access to the power of magic, it can talk, it becomes dangerous and intelligent, and it's spell like abilities only have to stick together thematically and require only the smallest level of justification.
Example: Camel + Horn of Magic Power = Camelocorn
The Camelocorn is a denizen of the deserts, the strange offspring of bestial djinn and camels. They love riddles, insults, spitting at people and generally being ornery. On the magic side, they can create food and drink once a day (usually for themselves), summon sand devils and imps, cast spells of protection from the elements on others, and according to legend, elder camelocorns can grant a single magical wish, but they are under no compulsion to do so, as they can only do this once, and afterwards they either shed their horn, or they die.
The Power of Improvisation
As a dungeon keeper and story teller, you are likely already well versed with the contents of the Monstrous Manuals and the other sundry bestiaries. The same goes for the omnicide commandos sitting at the table. With the Horn of Magic Power, any mundane animal can become an entirely new threat, one that they might not be prepared for.
Mouse + Horn of Magic Power = Shrink Rat
The Shrink Rat has two powers, it can make itself human sized, or it can make whatever it is chasing rat sized.
Snake + Horn of Magic Power = Striking Serpent
The Striking Serpent can fly through the air, it has acidic venom it can spit 20 feet, and it can hypnotize threats into leaving it alone
Goat + Horn of Magic Power = Baphomet Goat
The Horn of Magic Power doesn't make a three horned goat, that would be silly, it grants the common goat magic power, such as Dispel Good, Protection from Good, Smite Good, Curse, and other suitably evil things.
Responsible Use
There are limits to what the Horn is effective on. The Horn has no effect on creatures that are already innately magical, thus putting a horn of magic power on a unicorn does nothing. Likewise, the horn has no power over already fantastical creatures that lack specific magic powers, thus putting a horn on a chimera, a golem, or some other creature will have no effect. (Because that's just getting absurd) Finally, the creature in question must be able to use said item, thus cannot be used by the incorporeal, those without fixed form (oozes, slimes, and jellies) elementals, and so forth.
The Horn as a Magic Item
The Horn of Magic Power can be a stand alone item, and functions as a wand. As such, whatever spellcaster that uses it will have strong advantages added to their spellcraft, though typically limited to brute force augmentation and not greater understanding. It can't help you learn a new spell, but it can take one you already know and supercharge it.
Authotr's Note - A silly item, but a theme I noticed in an idle click monster game, a number of mundane creatures appear with unicorn horns for no apparent reason. Thus, the Horn of Magic Power was born.

Not Registered Yet? No problem.
Do you want Strolenati super powers? Registering. That's how you get super powers! These are just a couple powers you receive with more to come as you participate.
Upvote and give XP to encourage useful comments.
Work on submissions in private or flag them for assistance.
Earn XP and gain levels that give you more site abilities (super powers).
You should register. All your friends are doing it!
?

Responses (3)-3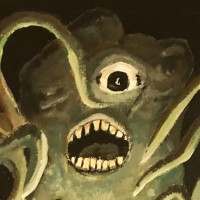 If we are talking silly, then let your players put this on. It fuses permanently (maybe can be removed with a quest) and grants them some magic effect. As well the ability to be the subject of much curiosity and derision.

I personally feel like this should be put under Items rather than Lifeforms but that's a nitpick and I find this sub greatly amusing.
" The air had grown chill the minute they descended into the strange valley, which was unmarked on any of their maps. It was so strange here, devoid of animal life and completely silent. The horses were nervous the entire journey through the vale. As they set about to collect firewood for the campfire they could hear their own voices as dim echoes through the eerie silence. The food didn't taste anything that evening and their sleep was cold and troubled by nightmares. While they are clearing camp the next morning, one of them stumbles over a piece of stone jutting out of the ground nearby the horses. On closer inspection there seems to be runes engraved into the polished surface. The symbols true meaning is no more known among mere mortals and if they decide to dig deeper, they will discover that it is an ancient altar buried within the soil. Any historically oriented party member will recognize the largest symbol to be the insignia of the powerful warlock who ruled this realm several centuries ago. At their departure from the area, something will seem amiss with one of the party members and all will remember the stories of the warlock's thousand curses."
" SeaClans: The six seaclans are Dolphin, Gull, Ray, Kraken, Shark, and SeaDragon. These totem animals serve as mascots rather than any deep symbol of the clan. These seafaring organizations are filled with land based saliors and fishermen. They ply the seas and deeper waterways. They function like guilds for ocean sailors The clans have their own homeland. These people live on large floating rafts- human made islands, as well as vessels of all varieties docked to it. These wetfoots never set foot on land (or only do it for a few hours at most). Rat Clan: This guild is nominally related to the seaclans. The Rats ply the rivers and marshes of the world, as well as do longshoreman work. The seaclans hold the self proclaimed 'rat clan' in contempt and the officials see them as just a Guild of River saliors and longshoremen with a funny name. The Rats hold their title with pride and will take it out on anyone who gives them grief about it."
" Thieve's House or thier main front: All the floors are designed to squeak when stepped upon or to sag or bend sending a small shake along the beam, somewhat like a spiders web, to alert those inside."