Helms of communication
Once two or more matching helms are found and worn, they enable the individuals to communicate like they were standing next to each other. The helms transmit all sounds including the surrounding noise and at the same volume as the original.
These helms were originally forged for the royal guards of the western kingdoms. They are full helms made out of iron. They are very ornate and are identified with the code or arms for the king that commissioned thier building. The effective range for these helms is about one mile; obstacles like walls and mountains do not seem to interfere with the reception.
The Royal guards would don the helms and coordinate their attack on the roving bands of thieves or whomever they were out to get. The helms proved useful when they wished to remain unseen and still be able to flank a target at the most opportune time for them.
The helms only transmit and receive when worn. The down side to these helms is that they transmit all sounds at the same volume as the original. If Dirth the assassin is wearing on of the helms and his partner Silious is wearing a matching helm and within a mile of Dirth then Dirth will broadcast the sounds from Silious's location and vise versa. You can see how having one person wearing a helm and sitting in a noisy area would make another person wearing a helm who is trying to sneak up on someone have a hard time trying to be quite.
The exact magic's used to allow the helms to transmit to each other have been forgotten for centuries.


Magical Properties:

These helms have the ability to transmit anything at the same volume. They only work when worn, and do not have a volume control. Only Helms with the same code of arms will transmit and receive to each other.
?
drphluid's Awards and Badges
Not Registered Yet? No problem.
Do you want Strolenati super powers? Registering. That's how you get super powers! These are just a couple powers you receive with more to come as you participate.
Upvote and give XP to encourage useful comments.
Work on submissions in private or flag them for assistance.
Earn XP and gain levels that give you more site abilities (super powers).
You should register. All your friends are doing it!
?

Responses (6)

Many a fun (or not fun) thing can happen with these things.
I am not sure I can or want to incorporate this into my campaign, as the helms can prove quite a problem when my players get a hold of a pair or a triplet of these things.
Hmmmm, perhaps I should add a crystal, that once distroyed makes the helm useless...
At any rate, this again is a item that stirs my mind into new paths. I am gratefull for its existance

Interesting idea: These things were made for groups, maybe even regiments. Where are the other helms? If the players get ahold of a couple of these, they might work fing for a while, but perhaps after a short time, they start hearing things that they think is the other wearer, but the other wearer is unaware of.
For example, say there's a set of eight and the players have two. They're jaunting about enjoyint there new toy when one hears 'Traitor.' whispered from the other. Some time after that, one hears 'Coward.' then the other hears 'Theif.' The words could become threats and become louder and louder untill the players either ditch the helms or discover the source of the noise.
The two helms that survived were worn by a couple of gaurdsmen that betrayed their fellows and led them into an ambush. The spirits of the dead gaurdsmen now want revenge, and foucused on the helms because that was the last place they heard their betrayers from.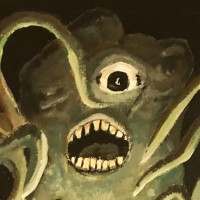 I like this item - magical teamspeak!

This gave me a couple of neat ideas!
The items themselves are okay. Does seem overpowered, but have faith: Sound is a double edged sword... In ways more than one.

I rather liked the downside of this one -- sounds like these would be pretty difficult to use in an ambush if you had a party of more than a few people. Too many chances for someone to blow everyone else's cover. I might introduce a few plothooks to strengthen this piece. Perhaps these come in a set of 6 and one of them is missing. Is the missing helmet being used to monitor the party's movements and communication somehow? Or perhaps all helmets are linked to a central communications hub (maybe a crystal?) for the kingdom when they are created, so that The Crown can broadcast a message to all helms at once. Unfortunately, that communications hub has been captured and the soldiers are now getting contradictory or nefarious orders from the villain.

Bonus points for the downsides of the helm
*Commented on for the Commenting Challenge
" Temple of some malign being invites you warmly and offers help (curing,needed spell etc) for some minor sacrifice . Sacrifices must be everytime bigger to work - up to living inteligent creatures. Maybe you pay some other price,too..."
" It is said by the village gray beards Of Breen, that the band of human exiles who founded their prosperous farming settelment almost a century ago,had to fight a long,savage struggle with the original inhabitants of the fertile valley;monstrous trolls that saw the new arrivals as meals, rather than as potential neighbours.After 5 long years, the humans with their superior steel weapons, drove the troll tribe into the bleak highlands and hills sourounding the valley.But as time passed, the old tale begun to become legend, rather than history and is regarded by most, as a mere story used by parents to frighten disobediant children.And yet the village leaders have always forbidden their people from wandering the hills...."
" A wild species, vinus homophagus, more akin to sea-grape rather than the terrestrial variety, is not a monster despite its fanciful name. The grapes, a deep purple color when in bloom, and oozing dewdrops of perspiration, like the most prized and delectable of drinking wine grapes, do however deserve their moniker. Wine made from this fruit, is deadly to most humanoids, as is the raw berry, if plucked and eaten from the vine. It is the unnatural chemical concoction found within the fruit's tart skin, which gives the man-eating grape its name. The chemical stew found inside each berry, functions as a necrotic agent, the same as found in some species of venomous snakes. The grapes literally eat the victim from the inside out, via cell death, dissolving organs and flesh in quick succession. The tribes of Pra-Oohk Crater, from the jungles of Ghlush are known to sell the fermented 'wine' of this grape to merchants of distant lands. Sadly, the taste of the concoction is divine when first quaffed, and even worse, the man-eating grape wine will never detect as poisonous via mundane means, its horrid natures somehow masking all attempts. Luckily the man-eating grapes are extremely rare, and endemic to humid jungles."