Get Smarty
The most important horse race of the year is fast approaching, thousands are expected to attend. Too bad that the horse favored to win has gone missing...
Being full time adventurers generally means that said adventurers seldom have time to attend such liesure events as the horse races. The races run generally year round, and garner a fair share of attention, except for this year. There are three major races, that if a single horse can win all of them, the party owning the horse (owner, trainer, jockey, etc.) all gain something really impressive, aside from the accolade of winning a grueling tour of some of the largest, and most famous of the horse tracks in the realm. To those of us not lucky enough to actually live in a fantasy realm, we call it the Triple Crown.
Excitement ran high when Spellshaper won the (insert large city name here) Derby. He is an undefeated two year old, fielded by a young trainer, jockey, and owner.
Fans packed the (Insert City name #2 here) stands to watch Spellshaper absolutely destroy the competition in the (City #2) Stakes. For the first time in 100 years, it look like someone will win the coveted Triperfecta!
The last race, the longest and most punishing of the stakes is less than a week away. The (City #3) Stakes makes or breaks a grand champion. The King and Queen are going to attend, as are almost all of the nobility. Seating is being built to accomodate the thousands coming to the race to see Spellshaper become the first Triperfecta in their lifetimes!
The Problem, Spellshaper has vanished into thin air! Officials are panicked, and are afraid that if the public finds out, and Spellshaper doesn't race, there could be riots in the streets, or worse. Was he kidnapped by a competitor? Worse yet, has he been stolen by another party? Is there a radical group who thinks that racing is cruel and they released Spellshaper to run away?
Now, finally, the twist. Everyone knows horseracing is just a bunch of horses running in a circle really fast. What happens when its pegasi being raced, or hippogriffs? 1200 pounds of flying horse, enjoy yourself.
Not Registered Yet? No problem.
Do you want Strolenati super powers? Registering. That's how you get super powers! These are just a couple powers you receive with more to come as you participate.
Upvote and give XP to encourage useful comments.
Work on submissions in private or flag them for assistance.
Earn XP and gain levels that give you more site abilities (super powers).
You should register. All your friends are doing it!
?

Responses (7)-7

I love it when reality and fantasy collide violently. Orson Scott Card. paraphrasing Gibson, once said, the best sci-fi/ fantasy stories are those of the real world taken just a touch farther.

Updated: Updated: Added freetext

Cool idea. Did you intend for the twist to be used on the quest? When you said horseracing, I simply assumed it would be with mundane horses. It's cool to adapt a common real-world event into fantasy, though. However, I would like some details as to who could have stolen the horse, who is involved in the races, etc. Oh, and I like the name ;).

Simple yet interesting all at the same time. I like the difference of making it fantasy creatures instead of your basic horse race. Kind of like the Triple Crown meets Quiddich.

I like that this would give the PCs both a personal interest quest and a light hearted quest.
Idea: What if they are hired to find Spellshaper, and track him to some dangerous maze somewhere (dungeon, catacomb fortress etc). They manage to secure the horse, but then they have to get it back to race on time and uninjured. Combat when you have to protect a big dumb supernatural animal as well as yourself could provide a unique challenge.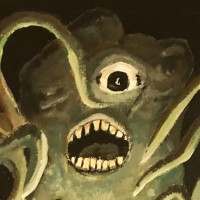 Nice little plot!

I kind of like this. A solid, useable quest. Depending on who actually did the taking, this could be a quest for all levels of PC.
" What if dragon-sightings and evidence of such was treated with the same skepticism and mockery as modern UFO sightings? More for a low magic world where dragons 'dont' exist."
" The third son of a candle-maker, and secretly a spy, Tsiao Fong Wei betrayed his family, clan, and town to the merciless Qongg Dynasty, causing the deaths of his own family members. He survived to an old age hiding out in the country side and keeping a low profile. One day however, the 'Paper Knife' finally found Tsiao Fong Wei , and exacted his revenge on behalf of the folk, dead and tortured. After a furious struggle, the 'Paper Knife' plunged twin burning candles into the eyes of the traitorous old man and laughed, as Tsiao Fong Wei howled in dismay and pain. Some say Tsiao Fong Wei died that day. Others say that the old man somehow escaped despite his sudden anguish and utter blindness. The truth is lost to time. But to this day the children of the Red-Ridge County towns and villages are told by their parents to always beware twin lights in the darkness and to never venture into the woods at night, and to keep an ear open for the Groaning Ghost, for somewhere out there Tsiao Fong Wei the Traitor, now a vengeful spirit, stumbles about the darkness moaning and wailing, candles still sticking forth from out of his otherwise empty eye sockets. And though the candles plunged into his eyes all those years ago were a'flame going in, now the wax protuberances are somehow lit from within and burn without, and two flickering lights in the darkness, always portend his coming."
" A wild species, vinus homophagus, more akin to sea-grape rather than the terrestrial variety, is not a monster despite its fanciful name. The grapes, a deep purple color when in bloom, and oozing dewdrops of perspiration, like the most prized and delectable of drinking wine grapes, do however deserve their moniker. Wine made from this fruit, is deadly to most humanoids, as is the raw berry, if plucked and eaten from the vine. It is the unnatural chemical concoction found within the fruit's tart skin, which gives the man-eating grape its name. The chemical stew found inside each berry, functions as a necrotic agent, the same as found in some species of venomous snakes. The grapes literally eat the victim from the inside out, via cell death, dissolving organs and flesh in quick succession. The tribes of Pra-Oohk Crater, from the jungles of Ghlush are known to sell the fermented 'wine' of this grape to merchants of distant lands. Sadly, the taste of the concoction is divine when first quaffed, and even worse, the man-eating grape wine will never detect as poisonous via mundane means, its horrid natures somehow masking all attempts. Luckily the man-eating grapes are extremely rare, and endemic to humid jungles."